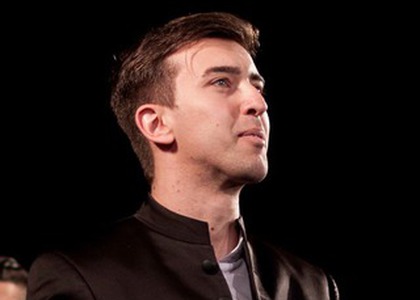 Interview with Razvan Rados, the conductor of the Children's Radio Choir
Monday, 2 March 2020 , ora 10.58

There are two concerts dedicated to the Symphony No. 3 by Gustav Mahler at the Romanian Athenaeum. The Children's Radio Choiris invited on the institution's stage during the two events. The ensemble's director, Razvan Rados, gives us details on the training of these young artists.

The Children's Radio Choirwill take the stage of the Romanian Athenaeum together with the George Enescu Philharmonic Choir and Orchestra, during the concerts on February 27th and 28th dedicated to the Symphony No. 3 by Gustav Mahler. Knowing that the little musicians have performed large scale works and creations which were not so easy, I was wondering how you present them such works that have great issues, even for mature performers.
As you said, they are used to this large repertoire. They had to deal with it and consequently, they overcame this small psychological shock you face when dealing with a large work. The Children's Radio Choiralready sang Symphony No. 3 by Mahler during one of the previous editions of the Enescu festival, so part of the ensemble knows the work. First of all, we talk about the composers and about the idea that led to the work. It's a great joy to set up in Romania this monumental symphony, which, Mahler himself said that it is dedicated to everything, the whole. Their great stage experience and the fact that they deal with a lot of works make them familiar with this musical vocabulary, through which we can explain certain technical aspects of such works and with the status of such works. I've said it once, I've said it twice the Children's Radio Choir is not an ordinary children's choir, but it's a children's choir with a fantastic experience. So, we are not scared of Mahler and we sing them as well as we can. In fact, now both the children and the musicians have access to a lot of information through the Internet, even the youngest children can even search for information on these works, information that can be found either in English or in German. Therefore, the internet helps us to discover together more information that is useful to us on stage.

Have you ever noticed over time that the ensemble has developed preferences for a particular type of repertoire?
They are attracted to many types of repertoires, but I can tell you a lesser-known phenomenon, that often, when dealing with a difficult work, at first theydon't like, but eventually, after mastering it and understanding its message, it becomes the favourite of the ensemble, that's what happeningwith Mahler and that also happened with Richard Strauss, "The Woman without a Shadow", which was a very difficult work in the children's choir repertoire and that got to be interpreted very well, we consider, and with great pleasure by the little artists.
Interview by Petre Fugaciu
Translated by Ioana Ghiță, Universitatea București,
Facultatea de Limbi și Literaturi Străine, MTTLC, anul II