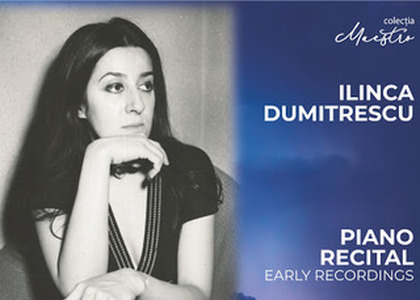 Ilinca Dumitrescu, release of the album "Piano Recital"
Monday, 9 March 2020 , ora 11.34

On Sunday, March 8th, 7 PM, "Casa Radio" Printing House will be welcoming you to an event, hosted by "DinuLipatti" House of Arts: the release of the album "IlincaDumitrescu - Piano Recital". The album, released within the Maestro collection of the "Casa Radio" Publishing House, contains the recordings from the Fonoteca Radio Romania of some emblematic works from the romantic piano repertoire, signed by Robert Schumann, Franz Liszt, AleksanderSkriabin and Sergey Rachmaninoff, in the unmistakable interpretation of the prestigious pianist IlincaDumitrescu. We'll find out more about this album release from the artist herself…
All of my recordings, or almost all of them, except a few made in the USA - all of them have been made in the Radio Studio, currently called "MihailJora" Studio. Ever since I was a child, when I made my first recordings at the age of 7, until a few years ago, all the recordings have been made in the Radio Studio. Therefore, I was very closely connected to Romanian Broadcasting; I have profound gratitude and beautiful memories related to my collaborations with the sound engineers and all the technicians in the radio world. Now, these recordings on the last album - which is created by "Casa Radio" Publishing House and which will be released on Sunday - are recordings that I hold dear; they're early recordings, from when I was 23-25 years-old, but I cherish them deeply. There is Kreisleriana by Schumann - one of the most important works for piano, a monumental work, Mephisto Waltz by Liszt - as I've written in the album foreword, maybe the most difficult work for piano, with all the technical means and extraordinary inventions that Liszt came up with in front of the keyboard. Then, several songs I love… I regret not having managed to record the entire prelude op. 11 cycle by Skriabin, which I've interpreted many times. Here, on the album, you will find two preludes op. 11 and another prelude, op. 16 by Skriabin. They are ambiance tunes, they're in contrast with the previous ones - Liszt and the last study on Rachmaninoff, which is the last track on the album, a portrait-like study in D major op. 39. I intended it to be a CD with romantic music, with pieces I've interpreted along my career in very many places in the country and abroad and I wasted this to be a reminder of them.

The release of the album "Piano Recital", published in the Maestro collection of the "Casa Radio" Publishing House, will take place at the "DinuLipatti" House of Arts in Bucharest, where, starting at 7 PM, on Sunday, March 8th, on which occasion you'll also hold a recital. What are you preparing for the audience?
First of all, I want to tell you that "DinuLipatti" House of Arts is an entirely special place in Bucharest, in our country and internationally. I've always enjoyed playing in memorial houses. During my numerous tours, in many places I've played in several house - that of Chopin, of Skriabin, of Bartok in Budapest, not to mention all the places related to Georges Enesco, in Bucharest and other places across the country, in Stupca, the "CiprianPorumbescu" Memorial Museum. These houses keep a thoroughly special atmosphere, and when you play there, you're thrilled and overwhelmed. I've also played at Beethoven-haus in Bonn. When you're aware that those instruments or places have been ennobled by the presence of the great geniuses, you walk in with great shyness. Well, this new apparition on the cultural scene of Bucharest, the "DinuLipatti"House of Arts is a thoroughly exceptional thing, and Well done! to the director, Alice Barb, who is the manager of the House and who has splendidly conceived the renovation of the house and everything related to organising some truly special programs. I've already played here several time, during a festival, then last autumn during the Meridian Festivaland now, here we are: Romanian Broadcasting Association, the "Casa Radio" Publishing House is collaborating with the House of Arts and we're releasing the CD. And, of course, I thought then that it would be a good idea to have a live performance, to have a recital of nearly an hour, including primarily romantic works and somehow related to the composers on the album, but also related to spring, to these first days of March, that always bring us such an unsettling-pleasant feeling, of awaiting spring and positive thoughts. This is what I wanted it to be: something of great joy and maybe og a lovely colour - fresh green.
I will be interpreting Arabesque by Schumann, certainly connected to Kreisleriana - Kreisleriana is op. 16, Arabesque is op. 18, then, Fantaisie Impromptu by Chopin, which I play often. From Tchaikovsky's The Seasons, I've chosen March - Song of the Lark, and April - Snowdrop. Then Skriabin - a live interpretation of the three preludes that also appear on the album. Of course, every time I play at the "DinuLipatti" House of Arts, I also interpret one of DinuLipatti's works and now there will be the Nocturnal again, with a Moldavian theme, dedicated to master Jora. As you know, master Jora was also my teacher - I was his last student - and it's an emotional moment, knowing that this work by Lipatti is dedicated to MihailJora. Then, three lyric pieces by Grieg: To the Spring, Little Bird and Butterfly - famous pieces, magnificent miniatures. And then, the very well-known three pieces, the last, Spring Song by Felix Mendelssohn, Lilacs by Rachmaninoff and Rustle of Spring by the Norwegian Christian Sinding. I hope the program will appeal to the audience. At the end, there will be a pleasant moment for them - for me, it will definitely be very lovely - an autograph session. "Casa Radio" will be there as well, and will accompany the music lovers.
Now, I'd like to tell you about a very important moment related to this album release; I have a few special guests. First of all, from the "Casa Radio" Publishing House, there will be two people I greatly care about and appreciate: Mrs. Gilda Rădulescu, who leads the Printing House, and the musicologist TiberiuComandașu. Along with them, who are just like hosts, together with Mrs. Alice Barb, I have four special guests, four ambassadors, Their Excellencies D. SimonaIoan-Corlan, D. CălinFabian, ambassador Petru Petra and ambassador NeaguUdroiu. They're personalities I've met during my tours, all over the planet, and with whom I've maintained beautiful relations based on friendship and great appreciation, and whom I've invited to a nonconformist colloquy, also thinking of DinuLipatti's brother, ambassadorValentinLipatti, a man of great culture, a personality of Romanian diplomacy, who lived in this house with his brother. Therefore, I wanted this to be a sort of special intellectual and spiritual connection. So I'm also inviting you to this colloquy, a discussion that will take part after the recital.

Translated by Eleonora Manea, Universitatea București,
Facultatea de Limbi și Literaturi Străine, MTTLC, anul I