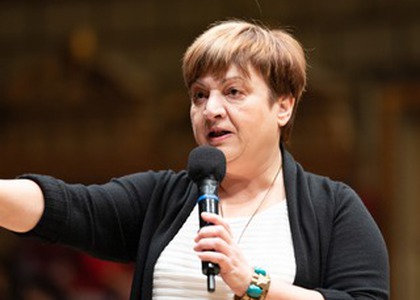 Cristina Sârbu about the new Tuesday Evening Season
Thursday, 15 October 2020 , ora 16.14

I'm delighted to announce that the Tuesday Evening Season will be resumed in this autumn, too, despite the strict conditions in which we operate. The philharmonic wanted to go on with this project. This is the 12th Season, and, as the music lovers who are coming every Tuesday to the Small Concert Hall of the Romanian Athenaeum know very well, we've set out to acquaint the public with Romanian students, musicians who are studying abroad, but also the young interpreters who, even though remained in Romania, had stood out in a particular way.
It was the most exciting season. We had many interpreters from Lyon, London, Glasgow, Chișinău, and Salzburg. Unfortunately, they will not be able to come this time. Still, we're trying to catch some of them when they happen to come to Romania during some happy vacation, but we cannot guarantee the success of such an endeavour. That's why we've tried to reorganize the whole thing. Of course, the bar remains set very high. Each of those who are playing in the Tuesday Evening Season has an extraordinary calling card. Also, we've tried to focus on the other direction we wanted to associate to this project - chamber music, which has been quite ostracized lately. And I am not referring to the violin and piano, but trios, quartets, quintets... the chamber music ensembles.
We begin with a chamber recital, with a trio composed of RalucaStratulat on violin, Valentin Simion on cello, and Eliza Puchianu on piano. The trio came up with two significant compositions of the chamber repertoire: Trio No. 1 in B major, Op. 8 by Brahms, and Piano Trio in G major by Debussy.
I hope you will enjoy this rendezvous with the two titans - Brahms and Debussy - but also the rendezvous with several young interpreters, who certainly have something to tell, and not only in person but also in the trio format.
You know that there is no audience present at our recitals. The Philharmonic broadcasts live our concerts every Thursday evening. Because it takes place in the Small Concert Hall in Athenaeum's basement, where, unfortunately, there is no internet connection, the Tuesday Evening Season will be recorded and streamed on the George Enescu Philharmonic's YouTube channel, as well as on the Facebook pages of Radio Romania Music and George Enescu Philharmonic. We hope that the stream will reach as many chamber music enthusiasts and those interested in Romanian musicians as possible.
Unlike the previous seasons, when we had four or even five recitals a month, depending on how many Tuesdays there were, this time we agreed with the philharmonic's administration to organize only two concerts. A while ago we agreed upon the idea of unfolding these concerts with the audience present in the hall, but now we have to cut it down to two concerts a month, with no audience. If nothing extraordinary happens until then, on October 27th, we will have Valentin Șerban and IoanDragoșDimitriu as guests. Violinist Valentin Șerban is a semifinalist of the current edition of the George Enescu International Contest, and IoanDragoșDimitriu is the youngest manager of Romanian philharmonic (the Brasov Philharmonic), and also an exceptional pianist.
I do hope that nothing terrible occurs so that you could listen to them in the live broadcast in Tuesday Evening Season, on October 27th.

Translated by Cotar Alexandr,
University of Bucharest, Faculty of Foreign Languages and Literatures, MTTLC, year II
Corrected by Silvia Petrescu