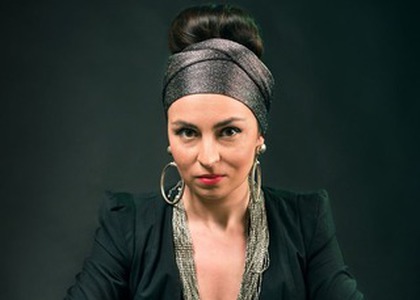 Interview with Luiza Zan, about the Night and Day record
Monday, 19 October 2020 , ora 10.35

At the Radio House Publishing it's about to be published a new record signed by LuizaZan, alongside Radio Big Band, led by Ionel Tudor.Entitled "Night and Day", the album holdsfamous works from the repertory of jazz, as well as original pieces.

When was the CD recorded?
The recordings were made during a live concert which was held on the 21st of February 2019 in the memory of Nat King Cole, a concert that included love songs only, and an additional song that I wrote, which is based on lyrics by MihaiEminescu, translated by DimitrieCrin, after the poem Lacul. It's entitled The Lake. During the concert I also played Her Violin, which is a composition of mine as well, in the arrangement of Dave Stamps Big Band.

Tell us more about these two pieces of work, please.
I'll begin with The Lake. It's a composition after Lacul by MihaiEminescu, as I said, and it was a challenge at a personal level, to write starting from a Romanian piece of work something close to what I felt when I read and interpreted Lacul. I sung it in various choral forms in Romanian and for me Lacul by Eminescu meant the experience of some very deep feelings of love and loneliness and I tried to bring in my music what I felt when reading it for the first time many, many years ago. Her Violin is a composition from the album Herritage, an album that I launched in 2016, in the memory of my mother, and it's a record dedicated to my mother, orchestra and voice by Dave Stamps, a very famous trombonist, composer, arranger, a very good professor from the United States and a very good friend of mine.

What meaning have to you the rest of the work you've written?
The album opens with a song very dear to me, it's called Cherokke. I didn't listen it under the interpretation of Nat King Cole, even though this album was somehow conceived in his memory, but we were keen on working with the Big Band on this song because it's a very, very beautiful arrangement made by Peter Helborzheimer. It's one of the strong songs from the album. So the album opens up with a very strong song. The other songs are part of the standard Nat King Cole repertory. There are songs like Almost like being in love or Orange colored sky, Angel eyes. I heard each of these songs for the first time when I was 12 or 13, and they marked my entire musical journey from that point on. One of the songs is my favourite jazz creation, the one which my youngest daughter adores. It's called Orange colored sky. Another song that I think would be very much liked it's the bis on the album, named Kansas City, in which the public's input can be very much noticed. There's a moment when there's a dialogue made with the public and I'm really thrilled that Mr. CălinGibescu, the sound engineer who mixed and mastered this recording managed to convey with so much accuracy the physical presence of the public in the auditorium from that night. The public's voice can be so unmistakably heard that it practically belongs to the soundtrack of this album.

If we were to talk about the public's presence in the concert hall we can't help but think about the moment in which we're finding ourselves now. How did these times affect you?
At this moment in particular it's harder for me to find my words, because these days the decisions that are being made at a governmental level regarding artists and live concerts have a hard impact on me. There are decisions taken from day to day and the consequences on us are very impactful. The uncertainty which all of us are feeling from March on, especially the people in the independent cultural district which was deeply affected, makes it harder than usual for us to find our wordsand encourage the public to continue to come at our shows. So it's really hard to encourage the public to come to concerts when they're not held or are held under very strict pandemic rules. It directly affected me because I lost lots of tournaments, but I want to say that this album will be available for physical purchase, for online purchase and we'll find a way to stay close to each other in these conditions. This is the crisis of the moment, it's a medical crisis and we have to adapt in order to survive both mentally and spiritually. We need music and we have to make it, even online, because we can't just take a break.We're musicians, we have to sing every day. Even though the public doesn't see us, we study daily. I can find pride in becoming a good accompanist for myself, being unable to work with my colleagues. We try to perfection staying at home, we try to stay in touch with the public from distance, online, keeping them updated with what we've been doing, posting videos, posting little moments from home, the study session, encouraging them to continue to express themselves through art. Even the act of coming to a theatre performance or at a concert is a way of expressing emotions. This album, first and foremost, wouldn't have been possible without the Radio Big Band and the master Ionel Tudor who invited me to sing together at that concert, which was an astonishing one. I remember the feeling that I had at the end of that concert and I'm absolutely thrilled that Mrs. Gilda Rădulescu decided at the end of that concert to keep its memory alive and share it with the rest of the world, who will want to buy or simply listen this record on the radio.
Interview by Petre Fugaciu
Translated by Codescu Paula-Silvia,
University of Bucharest, Faculty of Foreign Languages and Literatures, MTTLC, year I
Corrected by Silvia Petrescu