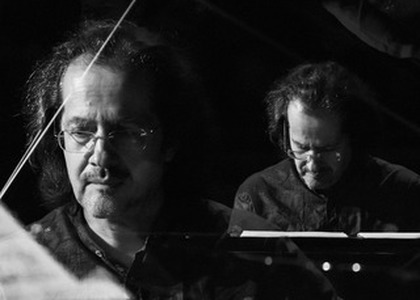 Interview with the pianist George Natsis
Monday, 19 October 2020 , ora 11.00

A new series dedicated to jazz at Radio Hallbegins on Thursday, the 15th of October: concerts with the members of the Radio's Big Band.
''I have the pleasure to greet all the Radio Romania Music listeners and invite you to let the musical waves lead you tothe opening of a series of shows, jazz concerts, in a relativelysmallassembly. We have an assembly of eight instrumentalists on stage. This series which begins on Thursday, the 15th of October is called Seri de Jazz la Sala Radio or, in English, Jazz Evenings at Radio Hall.

The first project we propose you is called Hituri românești, namely Romanian Hits. We do not intend to make a top of Romanian music hits, nor do we intend to organize an evening of popular songs- because, after all, it's about jazz- but we do intend to presentto our listeners some of the very well-known pieces of Romanian pop music, newer or older, transformed, adapted, with several solos. We hope that the surprise of listening to these pieces in another version, never heard before, to be a very pleasant experience for each and every listener.

These concerts which we will be having throughout the season that is about to begin are, more or less, a natural confirmation of some concerts that we had last summer in June, named The Pink Concerts.

Another special thing regarding this concert on the 15th of October- it is dedicated to the Composers Union on the occasion of the 100th anniversary of the founding of this guild of the Romanian music elite. It is an homage brought to this institution which has been promoting musical excellence for 100 years. However, there seem to be fewer and fewer who promote this excellence. This is not a reproach to anyone, but rather an observation. We do try to keep it up and bring into your homes as much quality music as possible.

I can reveal you the names of the artists we will be singing- I still do not want to reveal you the pieces' titles. You are to find these titles while listening to our concert. But you will be listening to these artists'pieces: 3Sud-Est, Direcția 5, Vasile V. Vasilache, Vunk, Cornelia Tăutu, a theme song from a very well-known Romanian movie, Horia Moculescu, Partizan, Holograf and, last but not least, Aurel Giroveanu. As you can see, there is a very large variety of artists, both from the point of view of the style and the period in which all these pieces have been written. Probably one the most interesting challenges regarding this kind of project is to bring together pieces apparently very different and to try to transform them into a unitary project. I hope I managed to do this and mycolleagues and I are looking forward to seeing you on Thursday, the 15th of October, 7 pm, Radio Hall.

Translated by Dumitrescu Mihaela,
University of Bucharest, Faculty of Foreign Languages and Literatures, MTTLC, year I
Corrected by Silvia Petrescu