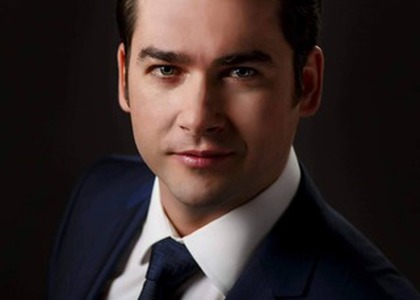 Interview with tenor Teodor Ilincăi
Tuesday, 27 October 2020 , ora 14.12

Please tell us a little about your collaboration with the Margareta Royal Foundation! I understand that it was also materialized through the presence at the concerts as well as under other circumstances.
The partnership started very well and fruitfully in 2015 and it continues to this day. In 2015 the first royal concert in which I gladly took part was held and I played alongside the foundation fellows that were there at the time. After that, I was invited as a jury member for four years in a row, I think; only last year I couldn't because I was out of the country. I sincerely hope to still be invited because it is an honor and a joy to collaborate with the Margareta Royal Foundation and, implicitly, with the Royal House of Romania, which I greatly admire. I am so happy to see talented young people and I am not so happy to see young people who have a lot of financial problems and are in need of support. This is exactly why I agreed to collaborate with the Margareta Royal Foundation of Romania.

This support is manifested in both their inviting to the concert as well as pushing them to continue their musical education, right?
Of course. We must say that we are going through tough times. Neither our system, the education system, in general, nor the government system supports this aspect… because Romania is not investing as much in its young people as other countries do. And we, who are aware of this, must put our elbow to help them financially, but, especially, morally, because that's what they need, guidance and support.

From the involved artists' point of view, it looks like moral support is essential. Financial support must come from others. From your experience on the big stages, have you ever encountered such support offered by foundations to young artists, on other meridians?
Of course! Developed countries, mainly developed European countries, are very supportive of young people who don't have the opportunity to support themselves through scholarships, first of all, and through guidance, masterclasses, meetings with professionals, people with a lot of experience.My collaboration with the Margareta Royal Foundation of Romania is my way of putting my elbow to support the Romanian culture. And in these difficult times, because of the pandemic, culture needs more support than ever. Regarding this, I also offered a scholarship, three years in a row, to the former scholarship holders of the foundation - another way of mine of supporting the culture. I'm talking about the "CorneliuFânățeanu" Scholarship, worth 2500 euros, which was offered to a former scholarship holder of the foundation, a scholarship holder who could not apply - there are some rules, you cannot apply for several years in a row for the scholarship - or a scholarship holder which simply didn't catch the list of fellows and was below the line, but I saw his value and considered it worth supporting.Only this year, due to the pandemic, I couldn't offer this scholarship because I was not part of the jury, not being present in the country at that time, and I also offered the scholarship after consulting with my colleagues from the jury, skilled people with experience in the field.I sincerely hope that from next year I'll be able to continue offering this scholarship and I will still be invited in the jury that selects young people for the "Young Talents" program.

So, starting from your activity with the Margareta Royal Foundation, it looks like you continued to offer support to those whom the foundation has selected or whom you have met through the foundation!
Interview by Anca Ioana Andriescu
Translated by Alma Teodora Miron,
University of Bucharest, Faculty of Foreign Languages and Literatures, MTTLC, year I
Corrected by Silvia Petrescu