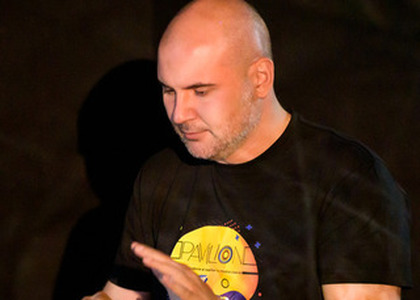 Guest of the week at Perpetuum Mobile – Ovidiu Andriș, manager of the Artistic Tribe Association, in dialogue with Gabriel Marica
Sunday, 8 November 2020 , ora 12.54

The guest of the week at Perpetuum Mobile is Ovidiu Andriș, an instrument player who has specialized in carrying out cultural projects, especially in Timișoara, but his projects have an impact in the whole country. Welcome, Ovidiu!
Thank you for having me! I am very glad to be here with you.

To give an example, one of the national projects is Romanian Chamber Orchestra, now at its second edition.
Yes. We name it the second project. Basically, we entered the second season with this project. It is a national one, but hopefully next year it becomes an international one. It is a very cool project, which brings together musicians from the diaspora, Romanian musicians who have gone abroad, who return home and sing with local musicians and try to do something for their country.

We know about the activity of the Romanian Chamber Orchestra from its first edition, and this year, about the instrument master classes, the conducting course with maestro Cristian Măcelaru, the concerts you had in the summer and the fact that you said somewhere that it is the first Romanian orchestra that plays entirely on digital media. Let's talk about the other projects you started in the fall - that you also completed - Eufonia Festival and Brass International Days!
Yes, these are two recently completed projects. Eufonia is at its third edition this year. It was a slightly smaller edition than we would have liked, because we would have wished to integrate the brass part in Eufonia. But, fortunately, we were able to do the brass part separately, and so we did the International Brass Days - Brassy Business project. This year's Eufonia project had 20 events, master classes and music therapy courses in the western part of Romania. The festival has reached its third edition and it is practically the largest festival in the western region of Romania.

It is actually the first festival in Romania that incorporates music therapy in the program, isn't it?
Yes, it is the first festival to do this and I am very happy to greet Angelica Postu through this medium. She is the one who founded the first music therapy association in Romania. She works at the Charite Hospital in Berlin and we're very glad for her. Just today we received a positive response for an European funding that we earned in order to go to the countryside and do music therapy sessions with children.

Let's now refer to the project you recently launched. A project meant for freelancing artists - Scena din cartier. A very nice initiative, especially in these times we live in.
It was generated during the lockdown, when I realized that many of my colleagues and friends do not have a funding source and I wanted to support them. We wanted, as an organization, to support them. We discovered these quick reply calls, the funds are Norwegian, they come from donor states like Norway, Iceland or Liechtenstein; three donor states, and we thought it would be a very good source for local musicians, in order to somehow support them, to give them a chance and a compensation for what they do, especially in times like this.

I understand that registrations continue until November 6th?
Yes, until Friday, November 6th the registrations are open. On November 7th, we will announce the participating artists and, together with my uncle, Johnny Bota, who is the artistic director of this project, we will start to form bands with these people, so they can sing together. The concerts will be held, unfortunately, online, and they will be for two months - November and December.

How many artists are involved in this project?
A total of 30 musicians will be supported by this project. They either come as a band and participate in this project as a band, or we will have to do the artistic direction, to see who can play and do the concerts with who.

It seems to me much more honorable for an artist to be rewarded for his artistic performance than to receive help. Of course, the help should come from the state, especially in these times, but freelance artists still have problems surviving during this period of time.
Yes, and they practically don't even declare themselves. We don't even know very well, we don't have a very good mapping of the independent system, of the musicians or the independent cultural sector so that we know who would be the people who need help, and that seems to me quite vital at the moment. At least to know those 30 musicians, to get to know those who are in difficult situations and to be able - not only through this project, but also through other projects - to support them, of course.

Obviously, this project should also spread at a national level. I'm sure that in other places there are artists who have a great, great need for support. I know that you, the Artistic Tribe, the association that you lead, carry out educational projects and I want us to refer to projects specifically for music education. One of them is Pavilion, isn't so?
Yes, it's Pavilion. This is its second edition. The first edition took place physically and we were able to go through the villages in Timiș County to sing for children. It held educational content with young national artists. The second edition - since we started calling it edition - was held online, where we created six music education shows for children. It was right during the pandemic, in May this year. Everyone was at home, but we rented a performance hall and started filming, which was very exciting. All the projects you have listed come from an identified need. Basically, we identified this need to bring young audiences in the concert halls, and that's why we started this endeavor with Pavilion.

And there's one more aspect, the music resources for examples in the classrom, that I think the music teacher uses - I'm referring here to music teachers in public schools. We, at Radio Romania Muzical, also have a similar project. I'm talking about "Listen to 5 minutes of classical music", which has been taking place since 2014 in Romanian schools. For the music teachers you said that there's a project you have been planning for next year?
Yes. We won a project through Erasmus+ funding, an European grant. We thought, at the national level, where we, as an association, could contribute. And one of the aspects identified is this, to help music teachers have the materials needed to teach in schools. And, together with three partners, a partner from Cyprus, a partner from Greece and one from France, I submitted this project three months ago and received a positive response. And, in 2021 and 2022, we will work with 120 music teachers from these countries, and together with them we will create materials - videos, various games for children - that can be used in middle schools for music teachers. To offer them extra materials in order to make the music class more interesting, that would be the target of this project.

Music brings us closer, music heals was a motto of this year's Romanian Chamber Orchestra concerts, wasn't it? Personally, I honestly believe that music is the chance and hope of humanity, especially now, in these times.
It is a source of inspiration and a source of healing, of course.

And if we teach our children to understand music, maybe in the future we will have a better society.
Yes. For a better society you must first have contact with culture and, given that 87% of children in Romania have not been to a classical music concert, I believe we can change this balance and it is our responsibility, as young musicians or people who have studied abroad, to come home and try to change this balance, and bring more young people to the concert halls.

Ovidiu Andriș, good luck in carrying out your projects! I hope that at least some of them, such as Scena din cartier, will spread in other places in the country.
Interview by Gabriel Marica
Translated by Zofotă Andreea,
University of Bucharest, Faculty of Foreign Languages and Literatures, MTTLC, year I
Corrected by Silvia Petrescu