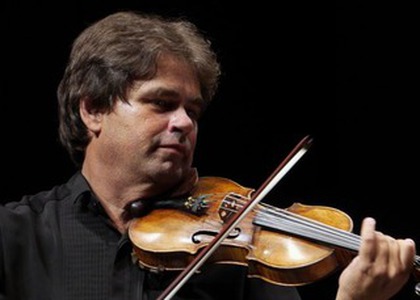 Interview with the violinist Gabriel Croitoru
Sunday, 8 November 2020 , ora 13.01

On Thursday, violinist player Gabriel Croitoru and pianist HoriaMihail will hold the second recital of the series of three, organized at the Radio Hall with all of Beethoven's sonatas. Included in the "Enescu's Violin" Tour, the events are meant to mark the Beethoven anniversary year, by presenting his complete works in Bucharest and a few other Romanian cities. We'll hear about this series and the concert at the Radio Hall from the violinist Gabriel Croitoru, in the following interview.

The recital on Thursday, November 5th 2020, continues the series dedicated to Beethoven's complete works, held in the Radio Hall, which started on October 20th. What compositions are you preparing this time?
In this second recital of the complete works of Beethoven's sonatas for violin and piano, we'll play the Third Sonata, The Primavera Sonata, which is the Fifth and the Eighth Sonata.

We know that you've already interpreted this integral together with pianist ValentinGheorghiu. This time, you will collaborate with HoriaMihail. What do you think about Beethoven's sonatas? What do you feel about this music that is special?
I think that each collaboration with a new stage partner brings something extra to the interpretations and the feelings we all have. Of course, there will never be two identical performances, except for the notes; otherwise, the interpretation itself is totally different and I hope the audience will appreciate this new collaboration of mine.

In a recent interview, you said that the recitals at the Radio Hall will be surrounded by performances in various philarmonics around the country, as part of the "Enescu's Violin" Tour. Where have you held performances and what was the audience's reaction?
So far, I've only performed in a few cities. We started the series in Ploiești, at the PloieștiPhilarmonica, and now we'll go to Pitești, Brașov, Craiova, Deva. I'm convinced that the audience will appreciate, as it has also happened so far, these compositions by Beethoven, especially because we're going through such a dark period. And, as a result, the concerts and recitals at the Radio Hall take place without an audience. They're only broadcasted and it's a good thing that this happens because it's a way for us to somehow stay in touch with our audience.
Interview by Alexandra Scumpu
Translated by Manea Eleonora,
University of Bucharest, Faculty of Foreign Languages and Literatures, MTTLC, year II
Corrected by Silvia Petrescu