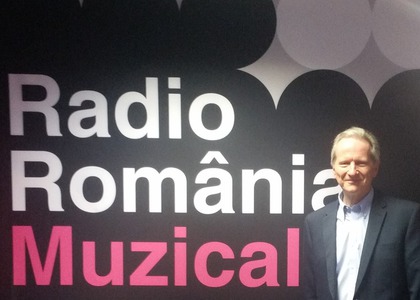 Interview with Edward Blakeman, program director for BBC Radio 3
Sunday, 8 November 2020 , ora 13.30

First of all could you explain the context of this discussion - how has the coronavirus pandemic affected musicians in the UK?
I think the effects the coronavirus pandemic has had on musicians in the UK are similar to those in Europe and, increasingly, in the rest of the world. In March we saw right away how almost all concerts were canceled. Suddenly the entire musical world seemed to disappear, which was obviously a cause for concern for us. We immediately started thinking of how we could respond to this situation, especially when it became clear there could be no concerts on stage, which meant that live broadcasting also became very difficult.

I understand you've started a series of projects in order to support musicians during this time. What can you tell us about them?
There were three things that we immediately thought of. The first was that wherever there were already arrangements in place to broadcast orchestra ensembles during our evening sessions - called "Radio 3 in Concert," which is usually a live broadcast of a BBC orchestra or of another UK orchestra - we would replace the concert that had been canceled with another concert from our archive, from the same orchestra. This way we were able to present the same ensemble in our evening sessions, and thanks to the system we have in the UK in which a rerun is paid through a new broadcast fee, we felt that the orchestras and soloists were not deprived of the income they would have received had we been able to broadcast the concerts as planned initially.
We also had two other initiatives. We knew that musicians were losing their concerts, so we invited a wide range of performers, with priority being given to those we considered to be in danger: musicians at the beginning of their career, musicians who work freelance, who don't have a regular job; this way we established a program we called "Home Sessions." It involves recordings made by the performers themselves, in their own homes, with whatever equipment they had available, sometimes just a mobile phone; the recordings were five minutes long each, and we broadcast them as part of our afternoon sessions called "In Tune." We were then able to pay musicians for recording these pieces, exactly as if they had come and recorded them in our studios. We've been doing this for six months now and we offer at least one such recording a day. We had a wonderful series of recordings made by all sorts of people. It's fantastic how ingenious musicians have been during this time.
And then we thought of composers. Considering these troubled times, the fact that concerts are canceled and that it must be more difficult to get commissions for new pieces, we thought composers were affected as well. We came up with the idea of "postcards" written by composers. The idea was to commission composers for a short piece, no longer than one minute, for a single instrument, whichever they like, and we would then record this piece with one of the instrumentalists who are part of the BBC orchestras. And they, in turn, could make these recordings at home. And the point of these "postcards" was for each composer's piece to be a message full of hope. As I was saying, these are very short pieces which we broadcast in the morning, and they proved to be very popular. So far we've had fifty pieces, and one fascinating aspect of this initiative is that we were able to commission pieces from composers we were already familiar with as well as young composers at the beginning of their career who were affected at that moment. It may not look like much - one minute of music - but it's interesting to see how unique and satisfying many of these pieces were, and the composers themselves had fun writing them. Each of them also recorded a message in which they explained how they got their inspiration.
At this moment we are continuing such initiatives, we are still dealing with difficult problems in the UK. We're trying to keep a light burning - the light of music, the light of performance and the light of new creation of music, in very dark times for us all.
Interview by Petre Fugaciu
Translated by Cristina Fliter,
University of Bucharest, Faculty of Foreign Languages, MTTLC, year I
Corrected by Silvia Petrescu