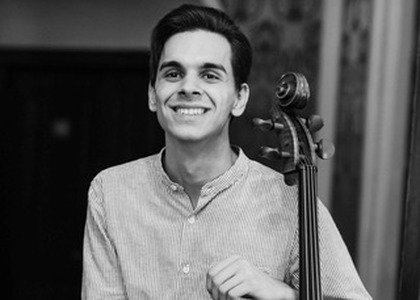 Interview with cellist Cornelius Zirbo
Wednesday, 11 November 2020 , ora 15.11

Today at 7 p.m., at the Small Hall of the Romanian Athenaeum, the recital held by cellist Cornelius Zirbo, accompanied by pianist Gabriel Gîțan, will take place. Without an audience, the event will be broadcast live on George Enescu Philharmonic Orchestra's Facebook page and YouTube account, as well as on our station's Facebook page.

During Tuesday's evening season, you and pianist Gabriel Gîțan will present a recital at the Small Hall of the Romanian Athenaeum. What have you prepared for your online audience and how did you select the program's pieces?
The pieces I will interpret with my colleague Gabriel Gîțan are a series of opuses representative for the chamber music repertoire and the cello repertoire we are currently studying in college. We thought it would be beautiful to present them to our virtual audience. We're talking about two cycles of Schumann - Fantasy Pieces op.73 and Adagio and Allegro op.70, Brahms' Sonata in E minor and Claude Debussy's Sonata.

As winner of a special prize at "The Heirs of Romanian Music '' Contest organized by Radio România Muzical and Rotary Club Pipera, you presented a recital from the Concertele Roz series, together with pianist Gabriel Gîțan this fall. You therefore have the experience of performing without a physical audience, with you being broadcast live. How do you feel about this type of performance, with an existing but invisible audience?
I can honestly say it's a challenge for us. Every time we had the chance to play for somebody and have an audience, a connection was formed between us, the interpreters, and the audience, a vital connection which made us open up in front of the public and play. Without an audience, everything feels a bit more austere, a bit nonsensical, but we know that behind the screens are people listening and that motivates us, gives us an impetus to sing for them with love, even during the current circumstances that are impossible to change for now.

Also a prize of "The Heirs of Musical Romania" Contest was the recording session offered by Radio România Muzical. The chosen program included Sonata in D minor by Claude Debussy, which we will also hear in Tuesday's recital and Sonata op. 26 no. 2 in C major by George Enescu. In what stage are you right now? Did you complete the recordings?
We have completed them and look forward to hearing the final result. The sound engineer is still editing the recordings, but we are anxious to hear what we have achieved.

What do you have planned for the near future?
Gabriel and I have a few more recitals up until December, but our priority is to accumulate as much repertoire as we can, to become accustomed to the various languages of different composers. We want to learn from as many masters as possible, to go to as many teachers as we can - to chamber music teachers, to specialized teachers. Our aim is to grow as a group and when the halls open again, as well as the courses and concertos, to be able to share what we have learned with others. This is perhaps one of the advantages of this period, the fact that you can focus a lot on your growth and individual study; it is a good time for that.
Interview by Florica Jalbă
Translated by Zamfir Lavinia Corina,
University of Bucharest, Faculty of Foreign Languages and Literatures, MTTLC, year II
Corrected by Silvia Petrescu