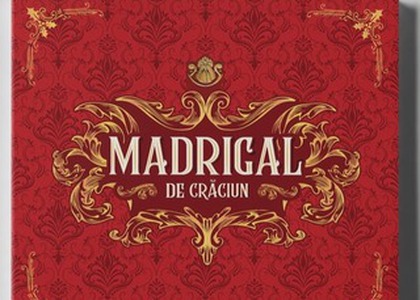 Anna Ungureanu, conductor of the "Madrigal- Marin Constantin" National Chamber Choir, this week's guest to Perpetuum Mobile in dialogue with Gabriel Marica
Friday, 20 November 2020 , ora 14.30

The main reason we are having this dialogue is a recent release of a double album about which we will kindly ask you to give us more details.
Thank you for bringing two of these songs, which we promoted with Roton Music Records, to the audience. We are very happy that we will manage to bring two very special albums in front of the large audience waiting for our typical Christmas sensitivity this year, even if it is a rather special year, an atypical one. These two albums contain Romanian and international music - each separately, on a CD - songs that are selected from the last Christmas concerts, respectively from 2017, 2018 and 2019. They are live songs from our concerts and I am even more excited that these sounds have not been processed, they are exactlyhow they resounded in the concert hall. We are very excited that this was possible and that it will reach the listeners through the network of Cărturești bookstores, for example, or all the gas stations and not only, and through Apple Music - Madrigal National Chamber Choir, through our virtual store. We are happy to offer this gift to those who wereof courseexpectingour traditional Christmas concerts across the country.

The release of this double album took place on November 16th. It's the first record of its kind released by Madrigal in 20 years, isn't it?
With Christmas content, yes.

You are continuing a tradition started in 1968 by maestro Marin Constantin. The Christmas songs and carols performed by Madrigal have become "classics" and the Madrigal Christmas concerts as well. What should we expect by listening to these recordings?
You don't have to expect anything, you just have to open your heart and gladly receive what we hope to offer youwith great pleasure and sensitivity. I reckon it's the only time we listen to ourselves. Alone with ourselves, within ourselves, discovering our beautiful and deep sensibilities. The only request is to receive us with open arms.

Unfortunately, this year's long-awaited Madrigal Choir concerts will not take place due to the pandemic. However, after the "Madrigal - 57th" anniversary concert in March and that season of open-air concerts that you held this summer, in these special conditions that you were talking about, how do you carry out your activity?
I want tojoyously let you know that the Madrigal Choir has never stopped, not even for a day. During this pandemic, we have found ways and working formulas beneficial for our soul, in smaller groups, in large groups, at another location...of course, the six concerts with five different themes, different settings, different costumes delighted us and our minds and souls were practically occupied. We have had typicalartistic preoccupations and that helped us to go through this rather difficult perioda lot. We never stopped! That's what I can tell you. We still managed to work both online in small groups,in larger groups when and where it was possible, respecting everynecessary rule imposed during this pandemic, and it was absolutely wonderful for us, as artists.

Anna Ungureanu, what does it mean to conduct the Madrigal Choir, this valuable living instrument, related to the name of maestro Marin Constantin? Madrigal - then, Madrigal - today...it is an inevitable comparison!
In two simple words, but which I hope will explain as much as possible - responsibility and pleasure. These two combined go every second in my mind and soul when I deal with the Madrigal phenomenon, with my personal study, working with the choir and organizing all the events behind this wonderful choir.

Let's talk a little about the future projects of the Madrigal. I know you're preparing a third double CD, right?
It is true. In fact, the third option of these Madrigal CD releases at Christmas is the double-CD, in which our listeners will be able to find both CDs. Practically, it is a third form this Christmas. But of course we are already preparing next year with great joy. We hope that this absolutely superb concert, which is postponed for the time being - Mozart, together with maestro Ion Marin, which was to take place in January in Salzburg - can be resumed and that we will be allowed to sing, because it is a work very close to our soul. . Of course we are already thinking and selecting and we have started to study a repertoire for next year's Easter. We work a lot on the Cantus Mundi side with children and for children, for materials that will reach them usefully and easily before Christmas. And in this regard we work a lot with teachers and conductors across the country during our free webinars, offering themmaterials as good and as complex as possible online, so that children can also benefit from these songs and how to learn to sing a carol. But at the same time, throughout December, we will have many surprises for the little ones. We are making a video with most children who will sing a carol together, we are preparing specific workshops and of course we have complex dreams and wishes for next year. We hope it can all be done.

Anna Ungureanu, I wish you success, health, because it is the best of all - as the carol says - and I hope we can speak in the Radio Romania Music studio before the first Madrigal concert with audience. That, as soon as possible!
Thank you very much! We have not yet forgotten the feeling of meeting the audience in September and we are still feeding on this beautiful energy. And we have high hopes that it will happen soon!
Interview by Gabriel Marica
Translated by Drangoi Ioana – Alexandra,
University of Bucharest, Faculty of Foreign Languages and Literatures, MTTLC, year II
Corrected by Silvia Petrescu