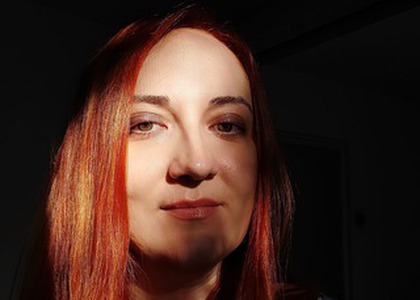 Interview with Diana Rotaru on the Fidelio is you project
Tuesday, 8 December 2020 , ora 16.31

The Fidelio is you project, an ambitious project, which started in the November of last year. The only piece of opera that Beethoven composed, Fidelio, was the pile around which this project was conceived, and its purpose was to rethink and reimagine some librettos and compositions, centered on the message of this piece of opera, in order to transpose it in a contemporary language. Being such a complex project, I will ask you, Diana Rotaru, to unfold to us its development until the moment of its premiere on the 12th of November.
The development was very beautiful and very difficult, because we had the misfortune to find ourselves in a terrible year. Indeed, the project started from a replica of the Fidelio opera, Beethoven's only piece of opera, specifically: "whoever you might be, I want to save you". It's a line of the main character, Leonora, who appears in our film as well. It was the idea of the two initiators of the project Catherine Milliken, compositor, and Robert Lehmeier, opera director. They were the ones who got in touch with the Goethe institute at the beginning and I want to thankOanaLăpădatu for her dedication for this project and for the tenacity with which she coordinated all the complicated turns that the organizational part took. She started the project with some workshops, a librettos workshop held by Lehmeier and a composition workshop held byCatherine Milliken and Dan Dediu. There were created five small opera pieces, approximately 20 minutes each, that don't have a direct connection with Beethoven. If someone expects to hear some musical references or even references to Beethoven's opera libretto, they won't hear such a thing. The theme of salvation takes some cotemporary forms and contexts. The five composers were, as we were expecting and we were thrilled by this, very different in the way they approached the contemporary opera genre and the way they approached the stories they had on hand, which were very different themselves. We had, so to say, conventional librettos, from a structural point of view, not from the story's point of view, on a traditional structure. We had some librettos which appeared to me as a challenge to put on music and the five had the best idea to do so successfully. I'm referring to Sorin Marinescu, who had the Salvation won't come from above, on Sabina Balan's libretto. That was the closest to the traditional opera genre, even though the subject with the terrorist is a very current one, but from the point of view of the libretto's structure and music's structure, it was, so to say, the part that followed the classic pattern. After that we had The Stage on which we danced. It was a contemporary opera from all points of view. A libretto very close to theatre.A contemporary scene, with a party, with characters that don't have names, but have many emotions which they disclose on the stage.There it was BogdanPintilie's inspired music and MădălinaStoica's libretto. A libretoo very ludic and tragic at the same time, my favourite I think, is 3560 chractersby RuxandraSimion, for which Andrei Petrache composed a very colourful music. The story of an engineer who is forced to become a creator and after that an asparagus grower. You must see the opera to understand what is about. Furthermore, we have a piece, more with ensemble voices, that even the director chose to put on stage as an opera concert, combined with some film sequences, Neverland by Bianca Trifan, on AlexandruMihalcea's music, which is practically a dialogue between a girl and the voices she hears. It's a story about depression. And in the end, The noise inside of us, with the librettos of dramatistMihaelaMichailov, who coordinated the rest of the young librettist, onVladGînța's music, and who benefited from a fabulous production of Robert Lehmeier.A utopian world, which is presented as a golf game. And I should mention two actresses as well, who opened and closed the Fidelio is you film, namely Mara Căruțașu, who played Leonora, and likewise Maya Burneci, who played Leonora in a contemporary context, who is a child that had a very important role which I won't spoil and let you see the film. You can find it on Goethe Institute's YouTube channel.So there are five very different situations, which the ten young and not so young creators, composers and librettists, approached with an outstanding passion, and I was glad to discover that their perception of opera might have been changed. Naturally that, on one side, the composers dreamt to compose at the Conservatory. In the terminal year they write for orchestra, at master they write for ballet, opera or a vocal-symphonic work, and unfortunately these pieces end in a drawer or folder, because now we work on computers, and from obvious financial reasons they don't get to be played on stage. So, for the composers, it was a dream come true, to see their music assembled with decors, production, with extraordinary artists. Some of the five young writers weren't quite fond of the opera genre and their opinions have changed, because in some way that was one of our undeclared goals, to change certain preconceptions about the opera genre.For some it seems an ancient genre, a bit dusty, and the Fidelio is you project had an absolutely extraordinary team, that proved that that couldn't be more far from the truth, at least for contemporary opera. Everybody was very implicated and wanted to obtain the best possible result, in a short time and under some terrible circumstances.

The project was coordinated by the Goethe Institute from Bucharest, The National University of Music Bucharest, The Replika Educational Theatre Center and lastly, The Musical Information Center from Romania, CIMRO, represented by you. What was the contribution of CIMRO in the project, and was the contribution of the composer Diana Rotaru, because we know that you offered feedback to the composers from time to time.
We realized the AFCN project. It's a project that had financings on behalf of AFCN through The Musical Information Center. For me it was a great joy, because, I say again, I think it's very important not only the things that we accomplished through this project, but what it started. On one side, the curiosity of those implicated to look deeper in the direction of contemporary opera and the Goethe Institute, and I have to mention again OanaLăpădatu, she had the extraordinary idea to continue this project and we, CIMRO, hope to remain a partner, in order to continue to support contemporary opera, even in a miniature form, because it's extremely important, it's absolutely vital. The world of contemporary opera is almost inexistent in Romania, unfortunately, it's not supported at all, with very few exceptions. We are thinking now of the composer Dan Dediu's work, who had the extraordinary chance to have his works played repetitively and successfully on the stage of the Bucharest National Opera. We'd want that other operas to have the same chance, but we hope that this project will prove to it has to that contemporary opera has a public and that there's very much creativity. As far as I'm concerned, I took care more of the organizational part, I let Catherine Milliken and Dan Dediu take care of the advice given to young composers.

If there hadn't been the unexpected situation with the pandemic, would've been the project still be finalized in a digital format or in a physical one, on a stage?
That's a good question. Initially, this project was thought in a more conventional manner, as an opera on the stage of the Odeon theatre, with two performances. The pandemic made us rethink this somehow and I believe we ended up with a better alternative, because now the film is, as it appears to me, excellently realized and I have to mention here the film directorRuxandraȚucheland all the film crew, who made wonders in a very short time with a very low budget. This film can be found on the Goethe Institute's YouTube channel and we intend to bring it in as many places as possible. It ended up a very well made documentary, extremely professional, extremely well interpreted by the SonoMania Ensemble, under the lead of SimonaStrungaru, who was the engine and the soul of the project and, of course, the five soloists that, yet again, are not only some extraordinary and very diverse voices, which was very good for our characters, but some professionals and very kind people too, very kind, Mihaela Maxim, AntonelaBârnat, Elena Dediu, IustinianZeteașiCătălinPetrescu. So, somehow, every cloud has its silver lining, because now we have a product we can proudly present around the world and that remained on the internet, so whoever wants to watch or watch again this film, spectacle, or spectacle-film, can do so at any time.
Interview by Maria-Isabela Nica
Translated by Codescu Paula-Silvia,
University of Bucharest, Faculty of Foreign Languages and Literatures, MTTLC, year I
Corrected by Silvia Petrescu