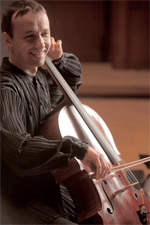 Cellist Răzvan Suma Returns on Romania's stages, in an Extraordinary Tour Together with Spanish Pianist Josu Okinena
Thursday, 30 September 2021 , ora 9.33

In 2012, the cellist Răzvan Suma, one of the most active Romanian musicians, with a generous list of concerts in Europe, Asia and America captivated the audience from seventeen towns in Romania with the two editions of his first solo national tour: "Do you like Bach?".
Thanks to the positive response offered by more than 9,000 fans who have filled the performance halls of the country this autumn, Răzvan Suma will return to the music lovers from Romania with a new challenge: "Do you like… Brahms?", an event organized by the "Analia Selis" Cultural Association between 8th - 29th October in 13 cities. Given that there is little time until this new project begins, a project which will surely arouse the audience's interest, we have thought of asking for some additional information, right from the source, i.e. from cellist Răzvan Suma:

After the two editions of the "Do you like Bach?" tour, now we have a new challenge. This edition's starring composer is Brahms, more exactly the two sonatas for cello and piano created by the great German author. How did you think of this new tour?
After I chose the title of last year's tour, "Do you like Bach?", it seemed that a name that was similar to this one, was expected and after all the novels, movies and topics of the kind, the most appropriate was Brahms. It was not an accidental choice because both I and Josu Okinena - the pianist with whom I will scour the whole country in 13 cities starting next Monday, on 7th October - are very familiar with this repertoire. Therefore, those who love Brahms' will attend a very, very well prepared recital.

As you have said, you have a rich itinerary which includes 13 cities all over the country. How did you think of this musical map which stretches from the South of the country to its North?
Usually, the maps of these projects are randomly planned, but as we are performing on tours, for several years we have started thinking of the artist's comfort, as well, because it's very strenuous to have a concert in Baia Mare today, and another one in Constanța tomorrow - I have just given you two extreme cities, as an example. Considering these factors, the construction of this tour will be as close as possible to the previous town where we have performed. So, if we start in Iasi on 8th October, we have the following recital in Suceava on 10th October and so on.

What are your feelings now that at the beginning of this new tour?
I have some very good feelings and an unparalleled craving. Usually, you begin a tour fearful, tired and worried. This time, almost everything has been arranged better than usual, the organization goes like clockwork and all that remains for us to do is to concentrate on music. We will perform in some important auditoriums of famous cultural centres, such as: Iasi, Timisoara, Cluj, the last concert being at the Radio Hall in Bucharest on 29th October. Nevertheless, we will go to smaller cities like Suceava, for example, but also to Carei, where we have never been and it will be the first time for us.

During this tour you collaborate with the Spanish pianist Josu Okinena, a musician with whom, I know, you performed in the past. Who is Josu Okinena for the Romanian spectators who do not know him very well and why did you choose him to be your partner on stage this month?
I have chose him because he is the colleague I collaborated the most with. We have been performing together for ten years and during this time we have performed many scores. We have a rich repertoire performed on stage, a studied and even printed repertoire. We have released an album together at a Spanish music recording and publishing company and I think he is the most suited soloist I would choose for the repertoire I propose for this tour. He is also a very good friend to me.

The musical universe of Johannes Brahms is one of those areas which have the privilege of never exhausting their meanings. How do you perceive Brahms as an interpreter of the two cello and piano sonatas?
There are two very different sonatas in terms of expressiveness. The first one seems to create a softer atmosphere; it has another type of expression, given that we are talking about an earlier opus (op. 38), not opus 99, which was written towards the end of Brahms's career and compositional activity. Each has a different atmosphere and this is beautiful because those who will come to the concert will pass from the ingenuousness or warmth of the first sonata in E minor to the victory and energy of the second sonata.
Ioana Marghita
Translated by Eugenia-Daniela Lupașcu and Elena Daniela Radu
MTTLC, The University of Bucharest