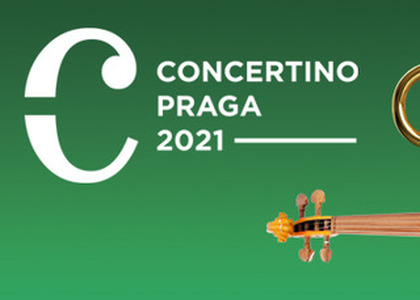 Concertino Praga 2021. The rounds of the competition and feedback from the Romanian contestants
Monday, 18 January 2021 , ora 9.00

Romania's National Culture Day will be celebrated on Radio Romania Music with recordings by young musicians. On our Facebook pages as well as on YouTube Radio Romania Music, on Friday the 15th of January, starting 6 p.m., you will be able to watch, every half an hour, the audio- video recordings of four young musicians aged 11- 15 who were selected by our radio station to represent Romania in the prestigious music competition Concertino Praga 2021. Octavia Galescu, who was designated by Radio Romania Musicto coordinate the preselection round, updates us on the event:
''Radio Romania Music is involved in the 2021 edition of Concertino Praga, a competition for young musicians up to age 16, the only competition of its kind and of great importance, organized by the Czech Radio and held under the auspices of the European Broadcasting Union (EBU).
Starting 2020, the competition has been held differently so we had to adapt in order to meet the new requirements. Thus, they only accept now the submission of recordings that were made during a recital, audio- video proofs. In the first round of the competition, following the registration, a jury evaluates the submitted recordings and selects 25 musicians, irrespective of age or musical instrument. They compete in the next round with the same recordings, but a different jury is appointed to select four finalists. The four of them will be after that invited to perform with an orchestra in a concert on the stage of the Rudolfinum in Prague, again being evaluated by a jury - they will present a concerted piece this time. In the final round of the event, which is live broadcast worldwide by the EBU network, the winner is selected as well as the other laureates and, of course, other special prizes and distinctions are given.
It really is complicated but the stake is high. There are high expectations of everyone involved so the tension is also high.
Deciding the repertoire for each contestant is vital as it needs to be diverse and well- structured so as to reveal each young musician at his/her best both in terms of musical technique displayed and expressivity conveyed. The programme includes a wide range of pieces, from pre- classical to contemporary, as well as Czech and Romanian pieces. Staying focused and being able to handle the pressure that such competitions come with are also key elements as for most young musicians each performance is a new and unrepeatable experience in itself.
For this year's edition, Radio Romania Music has submitted applications for 4 contestants ages 11- 15, coming from the George Enescu National College of Music and Dinu Lipatti National College of Arts in Bucharest and the Augustin Bena Music Middle School in Cluj- Napoca, respectively. They take cello classes with Ani- Marie Paladi, guitar classes with Viorela Filimon, clarinet classes with Ovidiu Căplescu, as well as violin classes with Magdalena Ursu.
These four musicians who have been chosen to represent Romania in this year's edition of Concertino Praga have already won numerous competitions, both national and international.
Ștefan Iordachi is an exceptionally gifted cello player, an prominent figure of his generation.
Tudor Torge displays a unique technique as well as charm, he is a young artist who has made himself known as a virtuoso on the guitar.
Ioana Tomescu is a clarinet player of warm epressivity and outspoken in attitude.
Sofia Smărăndescu is a fascinating piano player who is known for her commitment and insight, as well as her flawless technique.
In order to make the proper recordings for the Concertino Praga, these four young artists collaborated with some other famous pianists, as follows: Raluca Iordachi, Ghizela Tulvan, and Cătălin Răducanu.
For this Radio Romania Music project to take shape we need to mention the contribution of Lucian Zbarcea, Andrei Cazan and Dan Popescu as musical directors, as well as that of the Romanian Television representative, Valentina Băințan, and the support of the National University of Music in Bucharest.
We are looking forward to this year's Concertino Praga results, event in which RRM as Romania's representative within the European Broadcasting Union took an active part, thus achieving its mission of promoting Romania's most promising music talents.

Feedback from the young artists:
Ștefan Iordachi: This competition is really challenging as it starts with a national preselection round. In the next round, there are contestants who are up to 4 years older than me,which does matter as each year of study usually means significant progress for the artist. I have prepared music pieces which are different from each other both in terms of technique and nature. It's hard to perform in front of a camera, with microphones placed all around. The responsibility is huge. My performance must be flawless. Microphones record everything, even the tiniest mistake. Radio România Muzical plays a key role in promoting young musicians - we are provided with the opportunity of playing on European stages, of meeting famous musicians, which motivates us to give our best.
Tudor Torge: Concertino Praga is a rare opportunity for us the musicians, all the more in these troubled times, so I'm happy to be part of it. My repertoire includes pieces from different time periods, from the Classical period to the present day. I wanted it to be diverse so as to highlight my strong points both in terms of musical technique and expressivity. Radio România Muzical has been of great help to me. I have been given the chance to record in conditions that are far better that what I was used to. I liked it. It was a very enjoyable experience, quite similar to the real thing on stage.
Ioana Tomescu: To me, it is both a challenge and a good opportunity to improve myself as an artist. Concertino Praga is a competition that enjoys prestige outside its own country, so musicians of different nationalities enter the competition. It's a good chance for us to prove our worth. Radio România Muzical has helped with the recordings, and I must say I this collaboration honours me.
Sofia Smărăndescu: It's the first time I have been selected to participate in this competition, and I must say I am impressed with the sound quality and the joint effort here, all to make it possible for us to enter the next rounds of the competition. I am also impressed with my fellow contestants who are one hundred percent committed to their work, very concentrated and, of course, well- prepared. Radio România Muzical has done a terrific job promoting and broadcasting this competition. It was on RRM that I learned about Concertino Praga, and then I decided to enter the competition. We, young musicians, need to be seen and heard, we should get constant support as we are the future of music.

Translated by Florea Elena,
University of Bucharest, Faculty of Foreign Languages and Literatures, MTTLC, year I
Corrected by Silvia Petrescu