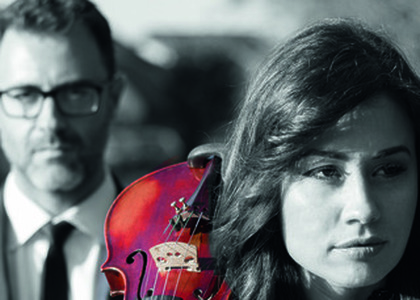 Interview with pianist Stefan Doniga about the "Eminesciana 2.0" project
Monday, 18 January 2021 , ora 9.17

On the occasion of the National Culture Day, the violinist Diana Jipa and the pianist Ștefan Doniga start a new series of online recitals. Under the title Eminesciana 2.0, the two musicians will be able to be listened to until January 24th.

Eminesciana 2.0 is the title of the series of events you propose together with the violinist Diana Jipa. For a start, I would like you to say what does Mihai Eminescu's creation mean to you and what are the reasons for which you still consider him relevant?
The significance is difficult to define… not only for me, but also as I consider it for our entire culture. Eminescu is a creator of language and culture. I grew up with Mihai Eminescu. I don't know if the school we went to immediately, in the early 1990s, was a tribute to this model of thinking directed or subject to the great poet of the nation, but I don't think it was necessarily a bad thing that we got closer, those generations, of this huge personality. So, I, within this generation, remained very, very attached to the personality of Mihai Eminescu. We approached this because the connection between music and poetry is organic. It was natural to approach poetry through music, it was natural to follow this very, very used model of recitals, shows and music and poetry events. And I also think it was normal to bring this model of event into modernity.

Let's talk about the guests that you are going to host during the event!
We wanted to open this project to a very, very wide audience. It is normal that when you want this, you use a form that is as easy as possible to communicate, online communication. Also, image communication. And it is normal that when you turn to masterpieces, such as Mihai Eminescu's poems, to think that they must be entrusted to the most important actors of the Romanian scene. Therefore, Mrs. Maia Morgenstern, Mrs. Cristina Deleanu, Mr. Gheorghe Visu, Mr. Eugen Cristea, Mrs. Simona Vintilă will be with us in this project, for recitations not only in Romanian, but also in different languages. I think that here is the peculiarity of this project that I proposed, namely the recitation not only in Romanian, but also in French, Hebrew, German (Simona Vintilă will have a beautiful version of the sonnet Trecut-au anii, by Lucian Blaga in German). They are joined by our dear friend, Charlie Ottley, a band actor and television man, for a unique version of the poem Ce te legeni in English.

How did you choose the program of these events, especially considering the connection with Eminescu's poems?
It was something that, again, we tried to place as much as possible in modernity and in the original, to stay connected to Eminescu's poetry, but to offer as much as possible a new perspective. So, we chose the music in relation to the languages ​​we wanted to use for the translation of these poems. I chose as a support for the French translation, for example, which will be recited by the master Gheorghe Visu, George Enescu's Impromptu concertant. Then, for the poem La steaua, which Mrs. Maia Morgenstern will recite in Hebrew, translated by the distinguished poet Adina Rosenkranz-Herscovici, I chose music by Hilda Jerea, knowing that Hilda Jerea was a representative of the Jewish community in Romania. For the German version, I also chose music written by a Romanian composer of German ethnicity. Initially, I chose a version of Walter Michael Klepper's Sonata for violin and piano; let's see to what extent this music will fit on the sonnet Trecut-au anii in Lucian Blaga's translation.

The scenario in which we return to normal life is still far away. However, some artists and musicians claim that vaccination is a step in that direction. What is your position in this regard?
I find it useful, I think it is a very good thing that this possibility of vaccination has appeared. I think it is the fastest and best chance for all of us to return to life without worries from this point of view, which we had a year ago. So, yes, I am for vaccination and for opening all the social gates back to the life I had.
Interview by Petre Fugaciu
Translated by Dumitru Bianca,
University of Bucharest, Faculty of Foreign Languages and Literatures, MTTLC, year I
Corrected by Silvia Petrescu