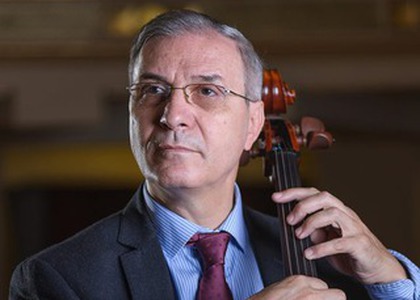 Interview with Marin Cazacu about the concert dedicated to the National Culture Day
Monday, 18 January 2021 , ora 9.20

On Friday, January 15th, from 9 PM, on the occasion of the National Culture Day, the public will be able to watch the recording of the concert held at the Romanian Athenaeum by the Romanian Youth Orchestra, conducted by Cristian Mandeal.

On the Day of National Culture, on Friday, January 15th, the Romanian Youth Orchestra will hold a concert. How will it be carried out and what works will be interpreted?
For the Romanian Youth Orchestra, it is a special moment to participate on the occasion of the National Culture Day in a concert organized by the Ministry of Culture together with the National Center for Romanian Youth Arts, at the Romanian Athenaeum, a concert that will be broadcast on national radio and television. The first part will start, first of all, with a rhapsody by George Enescu, respectively Rhapsody II in D major. Also, a work by Bela Bartok and an exceptional contemporary composer, such as the maestro Sabin Păutza, George Enescu Rhapsody II, Bela Bartok, Romanian Dances and Sabin Păutza, Romanian Games. The orchestra will be conducted for this repertoire by maestro Cristian Mandeal, and after a poem recited by the actor Adrian Păduraru from the creation of Mihai Eminescu. The Romanian Youth Orchestra, together with the band Direcția 5 will perform one of the most famous hits of this band, arranged for symphony orchestra and the band Direction 5, by Ionel and Andrei Tudor, who will also be the conductors of this part of concert. An event that wants to be received by as many people as possible, an audience that loves both classical music and light music, is true, symphonic, but that attracts young people in particular, because, here, music is the one that creates emotions for any age group. The concert can be watched from 21.00, on January 15th, 2021, on TVR 1, Radio Romania Muzical, Radio Romania Cultural and on all Facebook, media channels, etc.

What future events are scheduled in the orchestra's agenda?
We would like a lot of events. Unfortunately, we are still waiting for a while. We have several European projects underway, with Austria, Greece, which should take place in April and May, with trips, of course, to Vienna and Athens, we expect the evolution to be favorable even after the start of vaccination. population against the coronavirus virus and after that we have events, during the year, with Wynton Marsalis, Cristian Măcelaru, Cristian Mandeal, an extraordinary trip, to a festival in Berlin and to the Gustav Mahler Festival in northern Italy. Participation in the George Enescu festival. These are just some of our landmarks. In addition, there are many more that we would like to see fulfilled, but everything depends on the epidemiological situation in Romania and beyond.

One last question. We cannot ignore the current situation, which affects us and is still uncertain, that of the pandemic and the new vaccine. I ask you; will you opt for vaccination?
Surely. I cannot wait. I really want my colleagues and more people to opt for vaccination, to be able to escape, because we in the cultural sector are very affected and we are responsible for what will happen in our relationship with us and with the public.
Interview by Maria-Isabela Nica
Translated by Crețu Elena,
University of Bucharest, Faculty of Foreign Languages and Literatures, MTTLC, year I
Corrected by Silvia Petrescu