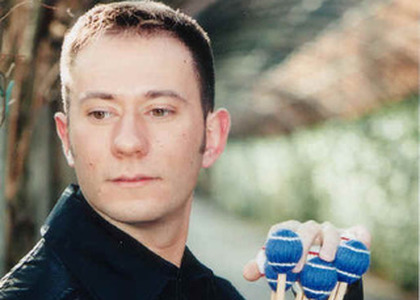 Interview with percussionist Bogdan Băcanu
Wednesday, 20 January 2021 , ora 14.26

Radio Romnia Muzical will broadcast live the concert performed by The Wave Quartet in Munich, a quartet whose founder is the Romanian BogdanBcanu. The Wave Quartet is one the top rated international percussion ensembles and they are currently collaborating with the record label Sony Classical.

The channel Radio RomniaMuzical will broadcast live the concert that you and your colleagues from The Wave Quartet will perform in Munich. How will this take place?
At first, we had the initiative to have a concert at the BayerischerRundfunk concert studio, but, in time, it became very clear that this concert would not be taking place as it had been planned. Ultimately, BayerischerRundfunk didnt want to give up on the concert, seeing as we are only a quartet, so not a very big ensemble. They eventually decided to go forward and we are all tested. Its a huge deal, with a ton of certificates and papers and all that. So, its easier for us to travel to Russia now than to Munich, but the concert will still take place, in the concert hall, without an audience, and it will only be broadcasted live on the Radio.

In the concerts programme there are names of composers who are lesser known in Romania. How did you put together the programme and what are the pieces that will be performed?
The repertoire was a compromise, lets say, between the wishes of those at BayerischerRundfunk and The Wave Quartets distinctive repertoire. The Wave Quartet had a very clear vision for the collaboration, and those at Bayerischer Rundfunk wanted this vision, along with something more, so they wanted to have arrangements too, for instance. Therefore, we decided to pickGypsy, for example, from Suzanne Vega, a Singer-Songwriter from America, among others. Same as the first piece from the repertoire, which is called The Wandering Kind, by Josh Groban; on the other hand we have, in complete contrast, Carmen by Bizet, actually, the arrangement Shchederin made for Bizets Carmen, which we rearranged in two different versions: four marimbas and percussion, or only four marimbas, because of the restrictions. On the other hand, we have the typical percussion repertoire, so, for instance, Avner Dorman, an Israeli composer who is very, very famous at this moment, who, years ago, has written for a percussionist duo named Percadu, he composed a piece named UdacrepAkubrad for them, which he then developed for concert for two percussionists and an orchestra. After we contacted Avner Dorman he decided to rearrange this concerto for The Wave Quartet and an orchestra. We will only be performing part I. We also planned to have Arena, by Tobias Brostrm at the beginning, but, because of the restrictions, Christoph, who will be performing this solo, has rescheduled a new piece by Maki Ishii, calledThirteen Drums. We will have, for example, something by Astor Piazzolla, and a premiere, a new piece, not newly composed, but newly arranged by us, titled Aconcauga, originally for piano, bandoneon and orchestra.

The Wave Quartet had its debut in 2008, and has given many recitals so far, constantly being very active in the musical world. How did the ensemble continue this activity during the pandemic?
Approximately a year ago, when this pandemic started, it suddenly put the breaks on everything related to culture, I guess, all around the world, not just here, there are many concerts now being rescheduled for the third time. We have a tour in Moscow and Sochi which we are now reinitiating for the fifth time in a year. Difficult, extremely difficult. We were lucky because we work with Sony Classical, so we were invited on the radio very often. We were also lucky because, two or three times, a concert hall had the possibility to reopen its doors for a few days and it was just at the time we were supposed to have our concert. So, we managed to play a bit, but compared to how it was before, we are on vacation quite a lot, of course, at this time. But, on the other hand, we used the time for our repertoire and we managed to set up two new projects with Sony Classical, for two new albums, which we will be continuing to record during this period.

Finally, while were on the subject, I would like to ask you how does a musician see the solution of vaccination, strictly from the point of view of returning to the previous musical life?
At this time, the vaccine is something that is polarizing the society a lot, so there are many who dont want to take it at all, and many who want to, but, we must see it strictly from this point of view, I suppose it is the only way we can go back to being normal. As long as this vaccine will not be embraced by our society, I guess we will continue with lockdown after lockdown, until there will be nothing left, especially from the cultural life.
Interview by Maria-Isabela Nica
Translated by Teliban Cătălina-Diana,
University of Bucharest, Faculty of Foreign Languages and Literatures, MTTLC, Year II
Corrected by Silvia Petrescu