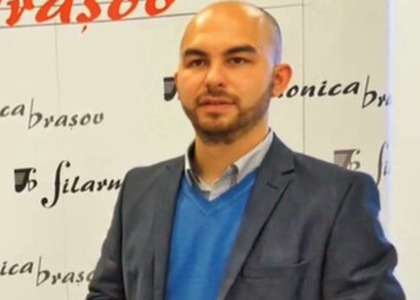 Manager of Philharmonic Brasov, pianist Ioan Dragos Dimitriu talks Perpetuum Mobile with Gabriel Marica
Friday, 22 January 2021 , ora 15.59

Ladies and gentlemen, tonight my guest is pianist Ioan Dragos Dimitriu, manager of the Philharmonic Brasov. Good evening.
Good evening. Good to see you. Thank you so much for the invitation.

Last year in September a headline was published that read: the youngest director of Philharmonic Brasov. It is about you, DragosDimitriu. Tell me, how do you feel in this position?
First and foremost, I would like to tell you that I feel absolutely amazing, that I had this opportunity. Because ever since I was little I would sit in the gallery of the Philharmonic, I would listen to the orchestra and I would think. Actually, after hearing this, I just remembered how I would think back then, how great it must be to be able to work in such an institution and to mobilize such a large group of artists with such a great repertoire. And twenty years later, this happened.

We must also mention that you are a pianist that performed in concerts on important stages in the world, that you have a talent agency in Vienna, isn't that right?
Yes, yes. Currently, however, with the pandemic, the activities have kind of stopped.

But, your name is also tied to festivals that the Romanian public knows, TAMTAM Festival by Transylvania International Piano Competition or the SoNoRo Festival. So, seems like you have experience in the artistic domain, so to say and in artistic management. How is it to work in Brasov after Vienna?
I will tell you a brief history. I started working with several festivals including from Austria, Croatia, The Netherlands, and Germany of course. Even alongside RazvanPopovici from SoNoRo in Germany, many years back. I kept building experience during this time, I had collaborations with cultural institutes in Vienna and founded a youth orchestra over there, which is still functioning. I mean, again, during a pandemic we had to halt activities, but regarding orchestral work, I managed to gain experience and collaborated with many artists. Among them including Ramon Vargas and Anna Netrebko, even with our orchestra in the golden hall of The Musikverein in Vienna for a program that raised money for children with autism. And about two years ago, together with HoriaMihail, I decided to launch the TAMTAM festival in Brasov and then I got a lot closer to home for personal reasons, but also for professional reasons, I thought that it's about time to give something back to the place where I got myself started. I say, with this opportunity now that there are many young people returning from abroad during a pandemic I am convinced that many new ideas will begin to appear. For example, if we look at how Daniel Ciobanu in Piatra Neamt handled it or Dragos Andrei Cantea in Iasi with the Classics festival. There are many, manynew successful projects and I am happy for all and I am happy that there are many of us that are somehow coming back home. This is how new ideas are born.

At the start of the year, you presented a series of projects that you want to put into practice together with the Brasov Philharmonic. Please say a few words about that to the Radio Romania Musical listeners.
It was about some art culture promotional campaigns, in general through the Philharmonic of course, the Philharmonic's main focus is community, Philharmonic Brasov is here for the community and by this I'm referring to the community of Brasov and not only that, but also to the community within our country, as well as to those from abroad. For example, we receive many messages from people who left Brasov, who now live in New York, Paris, in various countries in the world, and write to us that they are very happy to be able to see what is happening in their city. I could talk briefly about these campaigns, the biggest being the Symphonic Show which prioritizes partnerships with professional institutions, private cultural organizations and independent artists and much more.

You also have a very interesting summer season, I saw.
Exactly. Yes. From my point of view at least, the summer season will be very important this year 2021, in that, you see, only just now the halls in Bucharest opened up, in certain cities they have opened, but not yet in Brasov. But, when it will be warm outside here I am convinced that the world will greatly enjoy the artistic shows outside of the halls and in nonconventional spaces and I thought of a number of about 35 events that will take place outside.

The collaboration with Philharmonic Sibiu?
Yes. We already collaborated on a concert on the 30th of December 2020, a New Year's concert that brought those from PlaCello with Razvan Suma, Stefan Cazacu to the stage, CristianLupes to the Conductor's stand, a few members from the Philharmonic Sibiu and some ballet dancers. It was a very, very large production that took place in Brasov and then in Sibiu. Following this new tradition that started here in Brasov,we will also go with La Boema by Puccini with concertmaster David Crescenzi in Sibiu on the 12th of February, during the Carnival Festival organized by the State Philharmonic of Sibiu. It is one of the first collaborations.

Green Philharmonic, another project that, at least to me, seems interesting.
Yes, this is a campaign that focuses on supporting the environmental conservation projects, of the nature in which we live in, of the natural environment. By this, I'm thinking of non-profit organizations, I'm thinking of even state authorities that are fighting with various problems, with the goal of improving the people's quality of life in general, by conserving nature, by improving it and making new projects. I thought of this too, which is why I named it Green Philharmonic, in order to join the musical events that share this goal, for example, like how in South Romania project Green Barrier is being considered which shall reforest areas which suffer from desertification, in order to help improve groundwater and I was thinking we could go with a score by Handel, Water Music for example to support this cause, why not? There are many other ideas. Here, Brasov's mayor, Mister Allen Coliban, proposes to turn the forests around the city into parks and reservations and I say it would be a very good thing for the Philharmonic to join it through its musical programs, even with chamber music, even collaborating with other institutions in the city.

Concerts in nature, practically.
And concerts in nature and not only. We can send a message also by offering the soundtrack of a video for example. It depends on how this awareness campaign is made, which in our times is starting to become even more important. The awareness that nature must be kept alive and as much as possible.

Ioan Dragos Dimitriu, please tell us, how does playing the piano fair compared to management?
It is a very delicate subject, I admit, but currently, to tell you the truth, I am very glad to deal with this organizational aspect because a lot of artists need people like me, so to say, without much modesty, but the point is that they can focus a lot on the artistic side and I can take over the management side. Including in the institution that I am currently leading, I think it is very relevant to have someone who is present, who is an ambassador of these artists of the administrative personnel for community relations, for relations with other institutions, for bank relations. I would say there is in fact a symbiotic relation here and about the musical part of my life, of course,I will never give up on it, I could not do such a thing. Actually, tomorrow we will play the Triple Concerto by Beethoven with the Philharmonic in Brasov, along with Stefan Cazacu and Valentin Serban. We invite you to listen to us at 19:00.

It is a concert without a live audience isn't it, broadcast on the facebook and youtube accounts of the Philharmonic Brasov.
Exactly. Andpartnered with Radio Romania Musical and we thank you very much for supporting us actively and intensely for several months and we are very happy about this collaboration.

Ioan Dragos Dimitriu, I wish you success in your goal to realize these projects that you have proposed to Philharmonic Brasov and what we all wish for: sold out concerts.
I wish for that too, sold out concerts and to enjoy the sensation that art sends to us live, in person, for us to return once again to the halls the same way we could go to malls and plazas and other places. Thank you so much.

With great pleasure.
Interview by Gabriel Marica
Translated by Yang Jin Cristian,
University of Bucharest, Faculty of Foreign Languages and Literatures, MTTLC, year I
Corrected by Silvia Petrescu