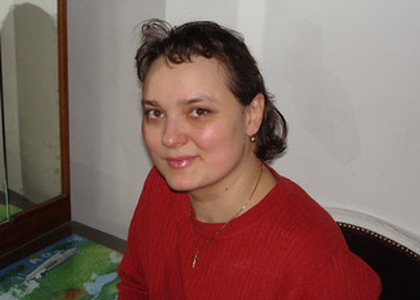 Concerto for violin, cello and orchestra by Laura Ana Mânzat – in premiere at the Sibiu Philharmonic
Monday, 1 February 2021 , ora 9.39

On Thursday, January 28th 2021, at 19.00 o'clock, the Sibiu Philharmonic will present a symphonic concert performed by the institution's Orchestra, which will air on the online platforms of the Philharmonic. The evening's guests will be conductor Cosmin Morariu, violinist RalucaStratulat and cellist Valentin Dimitrie Simion. The Concerto for violin, cello and orchestra composed by Laura Ana Mânzat will be performed for the first time, an absolute premiere. The evening's programme also includes Antonio Vivaldi's Concerto in F Major, RV 544 "Il Proteo o siailmondo al rovescio" for violin, cello and string orchestra, as well as Richard Strauss' piece Metamorphosen for string orchestra. The event will also air live on Radio România Muzical's Facebook page.

Composer Laura Ana Mânzat, violinist Raluca Stratulat and cellist Valentin Dimitrie Simion have spoken about this event during Perpetuum mobile's edition from Wednesday, January 27th.

A warm welcome to my colleague Laura Ana Mânzat, Radio România Muzical producer and composer.

Good evening, Lucian! Good to see you!

Laura, you're in Sibiu these days because the State Philharmonic Orchestra, which is located at Sala Thalia, is going to premiere tomorrow the Concerto for violin, cello and orchestra which you have composed. Before we speak about the piece, how are the preparations for the event going?
Everything is going great. I'm very glad that the Sibiu Philharmonic and its director, Cristian Lupeș, have given me the chance to premiere a concerto for violin, cello and orchestra which I've written in 2019, I have readapted it during the pandemic… an exceptional idea from the Sibiu Philharmonic to have an incursion in time, contemporary-baroque, to put together on the poster, side by side, my concerto and the Concerto in F Major, RV 544 "Il Proteo o siailmondo al rovescio" by my bigger and more renowned colleague, Anontio Vivaldi. Actually, they are similar in length, 12-13 minutes each, and this is exactly what made putting them together possible, during the first part of the evening on Thursday, January 28th; during the second part of the evening, one of Richard Strauss' pieces will be performed, Metamorphosen.

It's an event which the audience at home can watch both on the online platforms of the Sibiu Philharmonic, and our Facebook page. Laura Mânzat, the soloists will be two young musicians - violinist Raluca Stratulat and cellist Valentin Dimitrie Simion, your son. Have you written the concerto specifically for this soloist formula?
Yes, it was written for them. Therefore, violinist Raluca Stratulat, who already is an established and well-known violinist for the Romanian public and that abroad. And, indeed, the cello will be played by Valentin Simion, who is my son, a first year student at the National University of Music Bucharest, in maestro Marin Cazacu's class.

Finally, Laura, how do these two activities go together - being a producer for Radio România Muzical and a composer?
Being a radio producer is, especially for Radio RomâniaMuzical, a career which presupposes constant, daily effort, extraordinary discipline, because you can't afford to miss one minute of emission, as you very well know. Indeed, it's not easy at all to combine the radio work - which, creative as it may be, involves a continuous perfecting of the self - with musical creation in itself. And there are moments when, although I have time, physically, I don't have it mentally. Still, you can find a balance between the two worlds. During holidays and weekends I enjoy myself writing music, not just listening and presenting.

Thank you, Laura Mânzat, for this intervention at Perpetuum mobile! Best of luck tomorrow night!
Thank you.

***
We have on the telephone violinist Raluca Stratulat and cellist Valentin Dimitrie Simion. Good evening!

Good evening!

You will perform in premiere, along with the Sibiu Philharmonic's Orchestra, the Concerto for violin, cello and orchestra written by Laura Mânzat, tomorrow night. You are two musicians who approach contemporary works frequently. How does each of you see this piece?

Valentin Dimitrie Simion: We really enjoyed performing it, especially since it's written by my mother. I've been going to contemporary music concerts with her since I was a child, so I acquired the taste for this kind of music. So, we're very delighted.

Raluca Stratulat: It's wonderful for me too. We are at the philharmonic right now; you can still hear a few different instruments. We're still practicing intensely for tomorrow's performance. The pleasure is all the greater for me because I've known Valentin for a long time, he's been my student, and here we are now, collaborating. I can say that I was very happy with the piece, especially because of its musical content, which gives a lot of possibilities to the player, but also because of its nature, which makes us think of our Romanian roots and the Romanian identity which is exacerbated by using folkloric elements, and extremely varied musical feelings - both in what regards the character and the technique.

I'll take advantage of you mentioning that you're at the philharmonic to ask how the rehearsals led by conductor Cosmin Morariu have been going.

Valentin Dimitrie Simion: Today we had the first rehearsal, the first contact with the orchestra. We got along very well. The people in the orchestra were very nice, very careful.

One of the most recent times you've been on stage, in trio formula back then, was together with pianist Eliza Puchianu, during the Tuesday Evening Season. An online recital, without audience. How was this switch to the online, caused by the pandemic, for you, and how did you await to meet the audience again in the concert hall? I understand that during tomorrow's performance there will be people in the room; few, but still.

Valentin Dimitrie Simion: We're very eager. It's a completely different sensation to play in front of an audience, than to play in front of a camera. When we see the room, hear the clapping, the audience gives us a feeling like we're infinite, an extraordinary zeal; which doesn't happen with an online concert.

Raluca Stratulat: I can't wait for tomorrow night's event either. Indeed, it's a different kind of communion between the artists and the audience when they are face to face. And even if we know that the online broadcasts are watched, it's like the emotion of seeing the audience so close is more intense during live concerts, when they are in the room.

Violinist Raluca Stratulat and cellist Valentin Simion - this week's guests at Perpetuum mobile. Thank you for being here and best of luck moving forward!

Thank you.
Interview by Lucian Haralambie
Translated by Teliban Cătălina-Diana,
University of Bucharest, Faculty of Foreign Languages and Literatures, MTTLC, Year II
Corrected by Silvia Petrescu