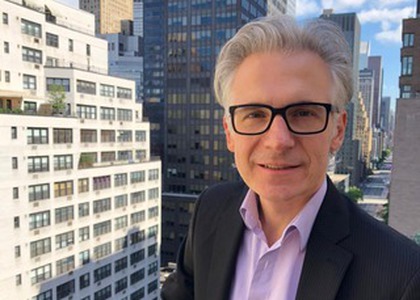 Interview with Dorian Branea, director of the RCI from New York
Monday, 8 February 2021 , ora 10.02

Mr. Dorian Branea, in the fall of the last year, in pandemic conditions, you developed through the Romanian Cultural Institute from New York, a very elaborate and dense online program for artistic events. We would like to know how is that going now?
We are now, obviously, extending our digital program from last year. Practically, from the point of view of sanitary security and sanitary protocol, not much has changed in New York and in the United States. Unfortunately, the pandemic continues to expand. All the spectacle halls and cinemas are closed. Overall, the cultural field experienced and still experiences the negative impact of the medical crisis. Obviously, once we moved to the digital space, which was practically right after the pandemic installed, in March 2020, our online program continued to extend and we are in the extension of that program which we developed starting with the Spring of 2020.

You announced that the Enescu Soirees series, held online, will continue in 2021. Who are the artists invited in this new edition?
Because you mentioned the Enescu Soirees series, the Enescu soirees from New York, it must be mentioned that it is one of the 6 permanent series which we are broadcasting. We've already presented a recital of the violinist Ion-Alexandru Mălaimare and the violist Yoobin Lee and the pianist Ji-Min Sung. The Arcadia quartet, one of the most known Romanian chamber ensembles, we will have the pleasure to present next week; Ana Maria Bibescu and Raisa Mihai, in a guitar recital. The violinist Vlad Maistorovici and the pianist Diana Ionescu will offer a recital in the Enescu soirees too, Maria Tănău, Sujin Lim, Michael Chen, Jeremy Crosmer, an international ensemble, Cristian Ganicenco, Rus Olka, Elisabeth Fessler, Gabriela Iștoc, our famous soprano, accompanied by Mihaela Spiridon, Irina Rădulescu și Răzvan Florescu, marimba and vibes, the pianist Sorin Frișan and the violinist Vlad Hontilă and a piano recital, Lorena Țecu. These are some of the recitals we are preparing.

In the end, how do you see the solution given by vaccination, if we take into consideration that it could represent the chance of the musical life of coming back to normal?
I support the vaccine. I can't wait for me and my family to get vaccinated. I think that the vaccination process will allow us to come back step by step in physical spaces, when it will be offered to masses and large categories from society, obviously. We obviously miss our audience very much, of course that certain arts can be expressed only through this very unique experience between artists and audience, but I think we'll wait a bit more until then. From our appraisal, we will try to have some physical events in the second half of the year probably. Of course that thing will happen with serious precautions and a pretty strict sanitary protocol too.
Interview by Maria-Isabela Nica
Translated by Codescu Paula-Silvia,
University of Bucharest, Faculty of Foreign Languages and Literatures, MTTLC, year I
Corrected by Silvia Petrescu