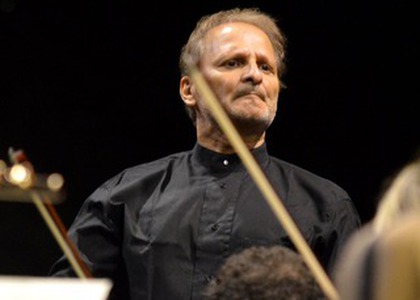 Interview with conductor David Crescenzi
Monday, 22 February 2021 , ora 10.00

Tonight, the Radio National Orchestra performs under the baton of David Crescenzi on the Radio Hall's stage starting from 7PM. The Italian conductor tells us about the programme of the evening and the absence of the public.

How did the rehearsals go?
I am very happy about the orchestra. I have seen a very enthusiastic orchestra and I am extremely content about the result of this production.

Please, tell us a bit more about the programme!
It is very attractive, as we have Mozart and Rossini, two different but close periods. Mozart - a great genius, Rossini - entitled the Italian Mozart. We have three short overtures by Rossini, each under five minutes. These overtures are parts of shorter works by Rossini, which he wrote when he was younger than 22. Then, we will finish with a monumental symphony by Mozart, Symphony no. 41 - Jupiter, which is closer to Beethoven's style, and to that of Haydn. It is a very interesting programme. I hope the public likes it.

What does the public's absence mean for a conductor and how did this period affect you?
It is not as easy as it was before. Last week I visited the Brașov Philharmonic, where I conducted an opera in concert, Puccini's La Bohème, and I saw a deeply interested public, a public that needs music, culture, opera. This situation is a drama, a nightmare, and it is not easy for us.
Interview by Petre Fugaciu
Translated by Lica Alexandra,
University of Bucharest, Faculty of Foreign Languages and Literatures, MTTLC, year I
Corrected by Silvia Petrescu