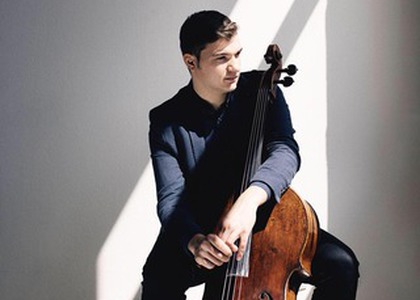 Interview with cellist Andrei Ionita about the Europe @ Home project
Monday, 22 February 2021 , ora 10.04

Cellist Andrei Ioniță and pianist Daria Tudor participate in a project initiated by violinist Daniel Hope. The recital will be broadcast live online.

For starters, I'd like you to tell us what this project entails.
It is a wonderful project, which started in March 2020, so from the beginning of the pandemic, under another title, Hope and Home. Daniel Hope organized these mini-concerts broadcast live on Arte TV. It seems to me an extraordinary initiative, also a wonderful platform for young artists. In almost every weekend there were three such concerts, broadcast internationally on this television station Arte TV. In the third season of these concerts, Daniel Hope thought of highlighting European countries, and for Romania I had the honor to represent it, to sing Romanian works, with pianist Daria Tudor, who also lives here, at Berlin. Also, some texts were read by the writer Herta Muller.

How did you meet pianist Daria Tudor and how did this collaboration begin?
I have known Daria for a very long time, when we were both still studying in Romania, they had also sung a trio with the violinist Georgeta Iordache. Daria also studied at the same university I graduated from at the University of the Arts in Berlin. We remained friends, we sang together from time to time and it was a happy constellation for this collaboration. I sang very popular works from the Romanian repertoire. There are songs that I sang since childhood and songs that are also very popular with the Romanian public, for example, the famous Peasant Dance by Constantin Dimitrescu, an old song by Paul Constantinescu, which probably all cello students study at some point. dat. There were also some works by Enescu and Bela Bartok, because Bela Bartok was also very inspired by Romanian folk music and composed several works during this time.

When will we be able to listen to this?
The concert will be broadcast on Sunday evening, at 19.00, as far as I know, German time.

How do you see this period of home recitals, concerts without audience and isolation? How have you spent the last few months, given the minimal contact with the public?
It was extremely difficult. For all of us, it is a bizarre period, but at the same time, we still have a few rays of hope, such as this opportunity to give a concert for television, for radio. I also learned the school of patience, it took me some time. I somehow come to terms with the thought that these years will be sacrificed years, but at the same time I do not lose hope. I am confident that the world will return to normal, although this new normality will not coincide with the previous one, but I am still confident that we will return to the stage soon.
Interview by Petre Fugaciu
Translated by Alma Teodora Miron,
University of Bucharest, Faculty of Foreign Languages and Literatures, MTTLC, year I
Corrected by Silvia Petrescu