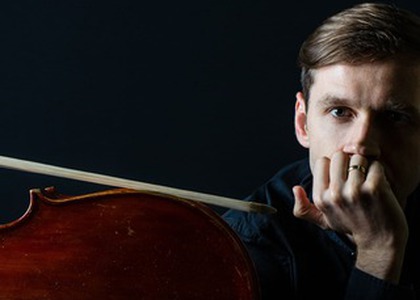 Cellist Octavian Lup – This week's guest at Perpetuum mobile
Monday, 1 March 2021 , ora 13.47

A musician that performs in both Bucharest and Cluj. A legitimate question: "Why can't Radio România Muzical be heard in Cluj? What can we do to change that?"

Live by telephone, cellist Octavian Lup - University lector, doctor and soloist concert performer of the Bucharest National Opera House. Welcome, Octavian!
Good to see you! Good Evening!

For starters, let's talk about one of your goals regarding Radio Romania Muzical. You perform in Bucharest as well as in your hometown Cluj-Napoca, where unfortunately, there is no frequency for Radio Romania Muzical so far. This is where you and your goals come in, please tell us more about them.
Radio Romania Muzical is the most important radio station for me. Of course,I'm being subjective, because due to the nature of my profession, it's normal for me to say that. Setting aside my bias, everyone knows that everything involving Radio România Muzical is ofvery high quality. For instance, every time I'm driving, Radio România Muzical is there, with me, on the road, in Bucharest. It's true that I have work to do in both Cluj and Bucharest and when I'm in Cluj, I really miss this radio station. And I was wondering what would it take for one day to bring Radio Romania Muzical to Cluj-Napoca - my beloved city, my hometown which happens to be the cultural capital of Transylvania, which is how us Cluj folk like to call it. With this in mind, I thought to get in touch with people who have a say in this subject and with the heads of cultural institutions and I proposed to them this new idea of mine to make it possible to bring Radio România Muzical to Cluj-Napoca. I won't hide the fact that I spoke with Miss Manager Cristina Comandașu which approved of my goal and idea and said she will offer us her full support and assistance to widen the reach of Radio România Muzical.

I would like to keep talkingabout what you said earlier. You approached the musical world of Cluj-Napoca during this first step. You talked with the director of the Transylvania State Philharmonic and with the general manager of the The Romanian National Opera in Cluj-Napoca. How did they react to this proposition and how are they supporting you exactly?
They were very happy to hear that someone was aiming for this goal. Practically, on the promotional platforms for the institutions that I lead, we will try to start a petition to get the number of signatures needed for the CNA (National Audiovisual Council of Romania) or those who can allow the Radio România Muzical station to broaden its horizons, to take notice of the voices of musicians and music enthusiasts of Cluj. I won't hide the fact that I had this conversation about Radio România Muzical in Cluj-Napoca with a few members of the Transylvania State Orchestra and they were very happy to hear that Radio România Muzical could be coming to the radio frequencies in Cluj-Napoca. It is also known that the performance quality of the Transylvania Philharmonic ensemble is extraordinary just like the National Opera's, as a result I believe there is merit in having this collaboration and in being able to communicate amongst ourselves through the radio stations. And in this manner, the philharmonic and the opera musicians can listen to classical music and why not also provide materials for Radio România Muzical because, as I was saying, we have plenty of material to choose from. The overall material of the musicians - we're referring to the human aspect as well as the music itself and conditions that we have…they are extraordinary.

What is the next step, precisely? What can people do from home? How can they support you and those who initiated this?
Precisely, there will be these petitions that they can find on the Facebook page during the first step, then on the National Opera sites and the Transylvania State Philharmonic respectively, where they are gladly invited to sign this petition if they also wish, much like us musicians, to hear Radio Romania Muzical on radio frequencies in Cluj-Napoca.

Now I would like to talk about another project of yours. This year you gathered young musicians for the New Hope Project, an orchestra that had already performed for the sick and medical staff during this difficult period we have been living through for a year. How will the ensemble that you are conducting evolve? What are you preparing and what musicians - that you are free to tell us about - will be invited alongside you?
Thank you for the question. New Hope is my child, it is a project born from my soul. During this period and darkened worldthat keeps getting darkerbecause of this virus, I think that it is very important that us musicians keep providing music and art for hospitals, for the sick, for those who are in pain. I managed to gather around me dear colleagues of mine, most of which are already well-established - we're talking about the concertmaster of the Philharmonic and National Opera Rafael Butaru or Adrian Vasile which is, of course, soloist of the National Radio Orchestra - and so many more such as scholarship students of The Margareta of Romania Royal Foundation, very good people. We managed to get together to perform hand in hand for people who are suffering. I must admit that during our last event which took place in October we had an extraordinarily beautiful experience. I saw medics with tears in their eyes, patients who waved to us from the hospital windows as sign of appreciation for the musical act we offeredand so this project took off and wasvery wellreceived. I must also thank Radio România Muzical, which was alongside us and who broadcasted the news from that concert on that day. Of course, in these conditions it is very difficult to hold concerts in closed halls and it is even more difficult in hospitals, but we are waiting for it to get a little warmer outside. In June, we have a tour planned that will be carried out in seven cities in Romania. We plan to perform The Four Seasons by Piazzolla, we will have an amazing guest, none other than Alexandru Tomescu who gladly joined our project, and we are very, very excited for what is to come. We believe that music can heal, music is adistraction to the horrible news that circulates everywhere, music can and will be that which can touch the hearts of those in pain. Lastly, music can and must be dedicated to medics and tothose who stood on the front lines fighting with this virus.

We are awaiting for music to return in sold-out concerts as well, as we are all waiting for events to be performed in crowded halls. With this in mind, I want to ask you because the vaccination campaign is taking place, do you believe that this offers the possibility for musical life to return to normal? Will you get vaccinated?
I asked myself that question as well. The answer is yes, I will get vaccinated. Of course, now everyone must wait for their turn. I am also part of university staff so I really have to get vaccinated. But, from my point of view - of course it is a personal opinion - I think that concerts could have been held with the previous conditions, with distancing, by being careful, by wearing masks and by taking temperature at the hall's entrance. I don't think new cases were recorded then. From what I know, no new cases appeared in this context. Still, we must obey authority figures like the good citizens that we are - and here I am not being ironic - and we will do what we are told. But, with this in mind, after we get vaccinated the people who lead us must hear and know that we need the public, the public needs us and that music and art mark the cultural identity of a people.

Octavian Lup, I dare now to speak in the name of the Radio România Muzical team, we thank you for your drive to bring the FM station to Cluj-Napoca and we will talk about every step took in this direction. We hope to receive a positive result!
Yes, I hope so too wholeheartedly! As I was saying, the manager of the National Opera in Cluj-Napoca, Mister Florin Estefan and Mister Rares Sangerozan, manager of the Transylvania State Philharmonic, were very happy and told me that they offer their full support to give everything we got so that the radio frequencies in Cluj-Napoca can have classical music and jazz music. Because what you are doing, what Radio România Muzical is doing is truly wonderful and fills us with joy every time we travel or whenever we stay home and wish to listen to a radio station. I am not the only one who thinks that! For that, I also want to thank you, for the inspiration, guidance and joy that you bring to my soul through the radio frequencies.

Thank you for your appearance on Perpetuum mobile, but I wish to end on one of your recordings, It's about the finale of the concert by Edward Elgar, a moment of the competition conducted by Jeunesses Musicales in Bucharest. What do you remember regarding this competition?
I was invited by those from JeunessesMuzicales to perform as a soloist alongside the George Enescu Philharmonic for a competition for young conductors and I fondly remember the recording that we are about to listen to. It was made alongside conductor Nil Venditti, a young Italian conductor, half-Turkish.We did great work together and I treasurethat moment. That is why, somehow, I also subscribed to the idea of having this recording for this night. I hope the listeners will enjoy it just as much as I enjoy this variant of the finale of Elgar's Concert.
Interview by Lucian Haralambie
Translated by Yang Jin Cristian,
University of Bucharest, Faculty of Foreign Languages and Literatures, MTTLC, year I
Corrected by Silvia Petrescu