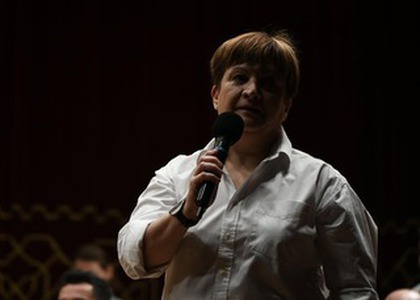 After a year Classic is fantastic! returns in the concert hall. Cristina Sârbu, the coordinator of the project in dialogue with Gabriel Marica at Perpetuum Mobile
Monday, 8 March 2021 , ora 13.37

My guest this evening is Cristina Sârbu - musicologist and writtenpress and radio journalist, the one who's been the initiator and coordinator of the project "Classic is fantastic" for many years.
Good evening, Cristina!
Good evening! For 11 years.

Classic is fantastic has been in the Romanian musical scene for 11 years. Has it been hard?
Ooh, don't ask me! Yes, but it's been beautiful too. And, after all, it's worth it. Because when a mother stops you on the street and tells you "Oh my God, ma'am, my child grew up with Classic is fantastic!" it's like you don't need anything else. You're happy.

On Saturday, the 6th of March, Classic is fantastic returns in front of the public, doesn't it?
Yes, exactly a year later, because we had the last concert in March last year, after which we were closed, the same as everyone else. So here we are, a year later, coming back on the stage with an audience, which makes us very happy, especially that in the first two days all the 210 tickets - unfortunately so little - have been sold. And then we decided - just today we put our communicates - that we'll stream the spectacle on the Facebook page of the Philharmonic, the "Classic is fantastic" association and the Radio România Muzical station, on Saturday, at 11 a.m., so it can be viewed all around the country, because I discovered that we have many followers all around the country, which makes us happy.

Talking about this year with so many restrictions, how did Classic is fantastic work in during this period?
Classic is fantasticworked with the brakes hit, but it worked. And it worked somehow in solitude. We didn't have concerts. We had a Beethovenand two Ceaikovski on Facebook with the help of the Odeon Theatre. We had in January a jazz lesson too - common and traditional on our behalf - "Let's sing to Santa Claus in jazz rhythms", but only with an empty hall, only online. Instead, two teams worked hard and with joy to put together a book collection. It's called The Classic is Fantastic Collection - the childhood of the great musicians. On one hand, Irina Sârbu and Mona Ciută, on the other hand, me and my oldest daughter, Ana Sârbu, started writing books. We transformed the librettos, we completed the theatrical texts which are very, very small as texts, because they're being filled with music, with interactivity, with all the joy of the game between stage and audience, we amplified, we enriched the stories and, until now, in the virtualclasicefantastic.ro library there can be seen and downloaded completely free, besides the Classic is fantastic album, 10 years that mirror all of the activity.And there the one who reads will figure out if it was hard or not. The books… Beethoven's childhood was a very interesting experiment in the January of last year, in the year of Beethoven. I gave the text to be illustrated by children and the result was very interesting.After that, with professional illustrators, we have three titles by now: Ceaikovskiand the story of a nutcracker, Chopin's childhood and a few days ago we posted Gioachino Rossini and The Story of Wilhelm Tell. Rossini's birthday is on the 29th of February and we posted on the 1st of March; so let's be generous and say that the 1st of March could have been the 29th of February, because Rossini has been deprived of his birthday for three years. This is our last publication.

On Saturday, as I was saying, you will return in the concert hall. What surprises have you prepared? On the poster it says: The spring jazz lesson. Irina Sârbu will be on the stage. She was on the stage of the Radio hall too last week, with the Big Band conducted by Ionel Tudor in a concert broadcasted by Radio RomâniaMuzical.
...and that, I can help it… was how?

It was very beautiful. Like always, the guest of our orchestra are valuable musicians. Among them is Irina Sârbu too.
Irina likes it very much. I think it's the ninth year when she holds the jazz lesson. We have multiple options, but the most liked are the spring ones which also have the subtitle "On your anniversary, mother!" and, as I said, the winter one, "Let's sing to Santa Claus in jazz rhythms". Now we have the spring one and, as a surprise, we have two guests from the Radio Big Band. Until now we didn't have a trombone on our stage at the jazz lesson and Florian Raducame with his wonderful trombone and he will explain and show us its role in jazz. And until now we never had on stage - and I think many stages can say that - a woman that plays the saxophone… our wonderful Diana Suciuwho will came with her wonderful instrument as well and will unite her voice with the one of the quartet. They will all sing together, of course. We always have, you know well, this educative side, to tell something about what can be heard, seen, about history, about the present, past and perhaps the future of the music we're presenting.

In this interesting project you announced in the press release that you have four Saturday mornings in March, April, May and June. What will those projects be? What can you tell us?
If nothing changes, and I hope it won't, in April… We have to make programs with few people on the stage, but these people will fill up the stage… We have scheduled "The Flute and other amazing instruments from the same family". We have Ion BogdanȘtefănescuwith his famous golden flute on the classical side and we have the Cazanoi brothers with all the popular wind instruments. It will be spectacular, especially because they will be joined by Irina, who sang the Concert in A minor by Bach for violin, so she can duel with the classical flute.And The Skylark and other folkloric works in which it chirps will be the collaboration themes with the folkloric instruments. In May there will be a surprise that excites me too. In Classic is fantastic we had a lot of times we had the means to understand music… and literature and theatre. Now we have "How to understand music and street dance". We have as a guest an elite club, the members of an elite club that will tell us everything we don't know about this form of dance, which is steady, imposed and appreciated, but that many people find superficial. It has strong roots and we will discover them. We will get to know the evolution of street dance gradually. And at the end, in June, as usual, we bring a Childhood from the stage of the Odeon Theatre, where we haven't performed for a long time and where we don't really have the chance to perform any time soon. And because we launched the Rossini book, it will be Rossini and The Story of Wilhelm Tell. The ones who celebrate their birthdays in these months - it's an interesting and pleasing moment from our shows - will receive as a present each of these books. That would be the complete program.I hope we'll be able to do it. Unfortunately, until now, we'll have to limit ourselves at the same 210 tickets. We have hope. Anyway, I was very glad that those 210 tickets were sold in two days. It's not the same thing to watch on a screen, but it's better than nothing to have contact and to be in a way or another implicated and to enjoy Classic is fantastic.

Cristina Sârbu, thank you for this discussion and I wish you that in the shortest amount of time Classic is fantastic to have a numerous audience in the concert hall and applauses at open stage. That's what all of us are eager for.
Interview by Gabriel Marica
Translated by Codescu Paula-Silvia,
University of Bucharest, Faculty of Foreign Languages and Literatures, MTTLC, year I
Corrected by Silvia Petrescu