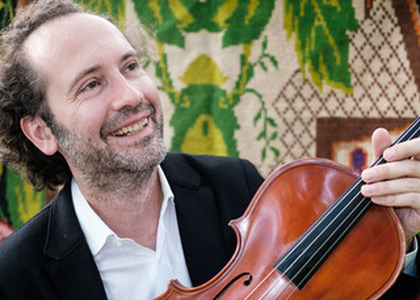 Interview with the violist Răzvan Popovici
Tuesday, 9 March 2021 , ora 15.12

A recital by the violinist Mihaela Martin, violinist Răzvan Popovici and the pianist Mara Dobrescu will take place on Sunday, March 7th, 2021.They will perform on the stage of the Romanian Athenaeum starting at 7 PM.The title of the event is "Mărtișor" Concert. We will find out more details from the violist Răzvan Popovici, in an interview by Petre Fugaciu.

You have collaborated over the years with both the violinist Mihaela Martin and the pianist Mara Dobrescu. However, as far as I know, it is the first recital that takes place in this formula. How did this ensemble come into existence?
I wouldn't necessarily call it an ensemble, but rather a musical encounter. As you said, yes, we are connected by concerts and unforgettable moments spent together -all these connect me to both Mara Dobrescu and Mihaela Martin. And I think this so-called concert "on March 1st (Romanian Mărțișor)" is extremely important not only for me as a musician, but also for Mara.We shared the last concert with an audience in Bucharest before the beginning of the pandemic and we somehow wanted to announce this revival of the musical activity with an audience. Of course,we will do what we can do following the Government measures, but we are glad to have even a small number of listeners in the Athenaeum. And, obviously, it is a great joy to have Mihaela with us. Last year it was the Munich violinist Sarah Christian. Therefore, the event is yet again a tribute to the ladies and not only for those from Bucharest.

I would like us to talk a little bit about the program. I would like us to talk about the works which the public is perhaps less familiar with. Why were they chosen and what is the idea behind this program?
We want to honor the ladies of the city. Obviously it's a musical bouquet. And, in addition to this, there are some songs and parts in the trio to appear, as you said, in the form of an ensemble. Taking into account that we are all soloists, there are obviously pieces for violin and piano, or viola and piano. Mihaela will sing, among others, the Melody of Pyotr Ilyich Tchaikovsky and Three Romances by Robert Schumann. And for this concert I picked several songs "about being in love", including Josef Suk's Love Song, Fritz Kreisler's splendid La Gitana, then from the FAE Sonata, the part written by Schumann, an absolutely magnificent and overwhelming intermezzo. Because the fact that it so full of emotions,I don't even know how to describe it properly. We will also perform four pieces by Max Bruch for violin, viola and cello. And we want to cheer up the audience a little bit at the end of the concert. We really need joy and happiness and smiles in times like these, especially in this early spring. We prepared five pieces for two violins and piano by Dimitri Shostakovich. It also a part of a soundtack of a movie. Dimitri was very inspired to compose the version for violin, viola and piano.
Photo Credit: Șerban Mestecăneanu

Translated by Ioana Oacheșu,
University of Bucharest, Faculty of Foreign Languages and Literatures, MTTLC, year I
Corrected by Silvia Petrescu