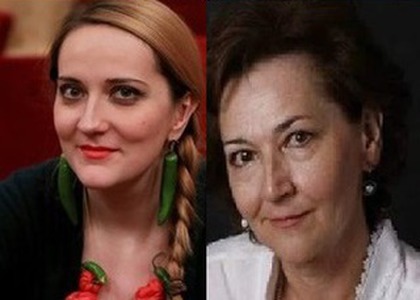 Mirror interview - Doina and Diana Rotaru
Wednesday, 10 March 2021 , ora 15.26

Thank you very much for the opportunity and honor to talk to you on this day, under the sign of International Women's Day. We are talking about the idea of feminism, which is both a pretext and a very serious reason for a discussion on this topic. In the shade of the big trees - it is said - the grass does not grow, and the quote is from Brâncuși, who thought so when he chose to leave Auguste Rodin's workshop and build his own road. However, it is not a rule because sometimes teachers choose to give up their experience to their disciples, to protect them and to support their first steps. You were in the situation of the disciple of some masters, you are in the situation of the master now, for the young composers. What is the way for such strong personalities to develop in the shade of the big trees?
Doina Rotaru: Before, I would like to mention the master Vieru, who said that the composition classes enrich himself. So the teacher always has something to learn from the students. Regarding this connection between teacher and student, know that at the Conservatory Composition, unfortunately, come a bunch of students who did not sing or have not heard of Debussy, Prokofiev or Stravinsky. So, the first thing we need to do is broaden their musical culture and somehow force them to listen to the masterpieces of the twentieth century. Mandatory, this then leads to the analysis of these masterpieces and this is an extraordinarily good school to offer them the tools with which they will then build their own music. From here it is only a step to discover their own inclinations and sensibilities, because it is very important to find in the student what is particular in him and what he would like to do. I have always answered students, both here and in the world, to the question that a student must ask that he must write music that he would like to listen to. So, you have to really like what you do so that you can convince others afterwards. Or, of course, this means many conditions, but first of all it means to learn to write coherently, to be able to communicate what you want to say to this audience and you need a deep musical thinking, which accumulates during the few years of studies and then accumulates all his life.
Diana Rotaru: I must say that I was incredibly lucky. I was lucky to be part of the last generation that studied with Ștefan Niculescu, who was a solar personality from all points of view. It is not yet appreciated at its fair value in the world. Then, I benefited from the advice and guidance of another extraordinary teacher, Dan Dediu. My mother was more of an advisor, a friend, we always exchange impressions between us, she was never my official teacher. And now of course I can't compare myself to such personalities. What seems to me is that the composition teacher is, rather, a gps, ie he has the function of anticipating, of seeing the path or paths that a young composer could take depending on his sensitivity and, practically, to help him get there with the information he possesses, especially with the experience he accumulates not only as a creator, but also as a music listener, a music analyzer. After a few years, you are already forming reflexes and you know what works quickly in a certain type of language and I think that for a young composer this is very important. And of course the most important thing is to have a human communication between the disciple and the teacher. The student should be taught, and the teacher should know exactly how much freedom to give him and when.

For a piece of music to come to life and its existence to make sense, what should it not lack? The idea, the evolution, the symbol? What do you start with when you are in front of a white sheet of music that needs to be filled with music?
Diana Rotaru: There are several options. Depends on situation. Sometimes it's an extra-musical idea - a text, a movie, a thought, a poem. Sometimes, very often, it is about the personality of the performer you are writing for. Sometimes it's just an abstract sound crunch. But I strongly believe that a piece should have a strong idea behind it and the stronger this concept is, the greater the challenge of making it through sounds. But, on the other hand, the chance of music being more convincing and, let's face it, more valuable increases.
Doina Rotaru: For me, the idea is essential. It determines the evolution of that music, it determines the structure, the musical substance, the state, the time, everything. The ideas came to me from literature, they came to me from poetry, from the visual arts, from very strong emotions and, many times, from symbols. I tried to look for universal musical ideas in the universal symbols, but also in the specific Romanian ones. So let the symbol become an idea. As Mircea Eliade said, any resumption of a symbol, any re-evaluation of it means a new coronation and serves it even better. When I say symbol, it simply means circle, or magic circle, or spiral, or roboros, or crucifixes, crystals… all these are tutluri from my works. At the same time, the symbol is a key for the listener, to decipher the idea of ​​the work very quickly. So the symbol-idea or just the idea are the ones that underlie any work. Let me give you an example: Masks and Mirrors is the title of the second saxophone concerto I wrote for Daniel Kientzy, as well as the first and 7-8 other works, and I tried to combine in this work different hypostases of the mask and mirror symbols. At the same time, however, the work has another inspiration, namely a short short story by Borges that I adore and that since I first read it made me believe that it can be translated into music; it's called the Mirror and the Mask. It is a beautiful plea for deep, moving art. These are three variants that the poet of a royal court writes to describe a winning battle and, at the request of that king, he writes more and more emotional and more and more condensed and more and more authentic art. , so that the last variant is only a transfigured essence of the battle and is a kind of inner prayer that he whispers in the king's ear. So, it's about the essence and the true art that excites us. On the other hand, it is about what the king says, that man is not allowed to know beauty, as a result of which this short story has a sad end, but its philosophy is extraordinary.

So, the idea is that art, in whatever stylistic rigors it is anchored, it has to excite first of all, right? That would be the conclusion of the question.
Doina Rotaru: To move, to raise spiritually, to transform if possible. That was the conclusion of Borges's short story. And for me, the work ends with a kind of prayer that Kientzy sings only with his saxophone mouthpiece and his voice. So, it's a transfiguration of the saxophone from the beginning, which is the one we know, and by the end of the song it turns into something else. And the music is changing.

If you were to name a favorite piece from your creation, Mrs. Doina Rotaru, which would it be and why?
Doina Rotaru: The most beloved work is the Fifth Concerto for flute, The Angel with One Wing… because of the interpretation, I could tell you, and the investment of love for flute that this work actually contains. It is a work with many sources. The title is taken from a sad poem about a toy angel with a broken wing that hung in the window of an orphanage. In the middle of the play, the drama of the angel is that of the angel in Marquez's story - a very old gentleman with huge wings, in which an old angel falls in the yard of a poor fisherman and remains there muddy simply because of the huge wings, can no longer pick up. And yet, being the mockery of the village and the people and being treated like a circus animal, yet, in the end, he manages to get up… it's also about Marquez's magical realism, which makes him a divine force to help this angel continue his journey in the light and in the air. The whole work is in fact an evolution from light, from an image of an angel into a heavenly light, the descent to earth in shadow and darkness, and then rising again into the air. It is also a metaphor of the contemporary artist, who all his life seeks, seeks, seeks and I consider that many are not yet valued for the work they put in to find a personal aesthetic, for the love they put into what they do - I mean artists in general - because man in general, contemporary man loves very much contemporary art or contemporary music in particular. That's another discussion.

But a favorite work signed by Diana Rotaru, your daughter?
Doina Rotaru: Well, here you should know that many of Diana's works fascinate me and I even envy them because her music has some very special features. The dream, the hypnotic state between sleep and daydreaming, then the playfulness, the humor it has and, last but not least, the drama, the tension it puts in the pieces impress me and make me admire and say that I am hard to choose a song. And yet, it is one dedicated to me, which includes all these features that I have told you so far, namely the Opera in the body. It is a work of about 50 minutes, which has many polystyrene elements mixed with dream, trance, play and a lot of drama.

Many of the great masterpieces of music were born from the orders of performers given to composers out of friendship - the Brahms-Joachim case is a famous one - and there are also many situations in which composers gave in to the performers' arguments, reviewed works and probably given an improved shape. Do you have such collaborators-interpreters who motivate and inspire you?
Diana Rotaru: Certainly, the composer-performer relationship is bizarrely intimate. Basically, through music, through the twinning of musical sensibilities, people manage to communicate much more deeply than through words. Even people who don't know each other or maybe don't even like each other manage to communicate on another level. For me, that's one of the main reasons I write music. I find it absolutely fascinating! And of course I was lucky enough to meet some fantastic musicians again. I can't list them all, but I have to mention my godfather in music, Ionuț Ștefănescu, who performed my first piece, written in the 10th grade, on the flute, it was called "..." and I was fainting with emotion in the hall. I have to mention the saxophonist, small at the state and very, very big at the council, Daniel Kientzy, a great friend of Romanian music for whom I wrote a saxophone concert that won two very important international awards. I have to mention Irina Ungureanu - soprano, with a magical, unreal voice ... and of course there are many, there are many, many ... George Kentros, a fantastic violinist from Sweden, a lump of energy and enthusiasm. And then, you write for them, your music is already built just by seeing how much pleasure they play, in very different ways, for sure.
Doina Rotaru: It's a very special relationship when you write for a performer because you admire him a lot. It's almost like a kind of love story, platonic of course, because as long as I write for a performer, I have the performer in front of my eyes on stage, somehow, on an imaginary stage, and I have his sounds in my head. So, I know perfectly well what Kientzy's saxophones sound like and what sounds I want from them. I know perfectly well what Karoly's flute sounds and how it enchants me. In fact, Karoly's magic is absolutely unique. He is probably the number one performer for flute music, especially in contemporary music, because he has such a love for what he sings and such a pleasure to sing that everything he sings turns to gold, as they say, they turn into prayer, they turn into light, they turn into everything we find most beautiful in this instrument for which I have written over 30 works without being a flutist. The first man to open my ears and somehow my mind for the flute was the flutist Pierre-Yves Artaud, a big name in French music, the coolest flutist of the '80s, whom I met in Darmstadt and who , through his demonstrations on flutes, made me discover something that can exist in me, that it is not in vain that my name is Doina - I have some traditions, a love for the whistle. Simply the magical colors that the flute can play and all these special states ... and there's something else ... you know, maybe it's all from my name, I especially liked the flute and because I have this inclination towards music that comforts one's soul. And the sweetness and refinement of the flute, but also its special possibilities to express drama and tension attracted me in particular. There were many other performers ... It is very difficult to say all the conductors and all ... with the master Bacs, for example, I collaborated extraordinarily and he asked me for works and I always thanked him and I continue to thank him for this privilege of considering me a composer on which he always wanted to play on the Radio with the orchestra. And many others ... from here and from the wide world. There are too many to list.

Do you know another case of mother-daughter composers? We don't know anymore.
Diana Rotaru: I don't know either.

More than once you have expressed your admiration for the works written by your mother, Doina Rotaru, and I would invite you to do an exercise - difficult, I am convinced - to argue. If you could choose one of her works, which of them would you like to have as your author?
Diana Rotaru: I have to admit once again that my mother's music seems brilliant to me. Even veryobjectively said, I think it is a very particular language and very strong and delicate at the same time, extremely recognizable, yet managing to never be repeated. It's like a kind of magic kaleidoscope, running all kinds of miracles. As a favorite piece, I think I would call Flute Concerto No. 5, The One-Winged Angel, which, by the way, I had a very strong story behind it and an extremely painful concept - the artist's situation in society - and of course it also had a great importance in the fact that it was written for Mario Caroli. Speaking of which I was talking about the composer-performer relationship, Mario Caroli is a magician of sounds as few are at present. So, the one-winged angel.

How is your relationship with what we, in general, call inspiration in general? Is it a harmonious relationship? Does it come when you need it or does it involve exercise and patience?
Doina Rotaru: Master Vieru also confessed to us that, especially after he retired, he would sit at his desk for six hours every morning and try to find ideas. I think the inspiration comes on the street and everywhere, and in the subway ... I think I'm not the only case of a composer who quickly takes out the subway card and writes down some notes there. And Master Stroe told us about the tram tickets on which he wrote down his ideas. Now, inspiration can come as a reason for some sounds that obsess you or it can come as a musical image, and then it can be drawn, it can be expressed somehow through words. So, as far as I'm concerned, so far I've had a particularly good relationship with inspiration and I hope to keep it going. But I have something else, I need an isolation, a kind of special state, like in a kind of imaginary bell, in which it is created like this, a kind of trance, it creates a kind of magical world somewhat in which I the feeling that some things really come to me from somewhere, through other supernatural forces. It is a state that I need, that I enter, and that state actually means something more than inspiration or it means inspiration plus those ideas that I was talking about, that come from books, from the plastic world. I wrote a violin concerto inspired by Dimitrie Paciurea's Chimeras, for example, and I had to sit and think a lot about what each chimera I chose means and how many musical possibilities there are to play and to be expressed ... plus all the elements of philosophy and mythology that are in that chimera and that can be valued musically. It's very complicated, but everything is solved with a lot of patience. You were talking about patience in question ... I don't know, I haven't had the exercise to call inspiration so far, but patience ... I know it took me almost nine months to write that flute concert and almost as much to write violin concerto. So, it's about grinding, bringing only what deserves to be brought ... so much to remain in the work.
Diana Rotaru: What I try to tell my students is that inspiration is a muscle that must be practiced. And the more you cultivate it constantly, the better it will bear fruit. So, in no case should we wait for it to come from somewhere, from above, because it is in us but it must be practiced. Effectively, like a muscle.

Do you have the perception that there is or is not something that defines the general imprint of sensitivity and musical construction when it comes to women composers?
Doina Rotaru: First of all, I think perceptions have changed. From the '50s, or' 30s, or the first half of the twentieth century and what is happening now is something else entirely and a demonstration or, if you will, a reinforcement of what I say are some famous composers, such as Salvatore Sciarrino, Francesco Filidei - Italians or Japanese Toshio Hosokawa, who are famous and loved for the refinement and subtlety of their sounds. So, you see, it's a border that has already been crossed, I say. There are, at the same time, women composers who are very energetic and very dramatic and who look even more masculine, somehow. What does this "manly" mean? It simply means energy, vitality and maybe the pleasure of richer and heavier sounds, the delicate ones remaining, as I told you today, the prerogative of any composer, that he is a boy or a girl, that he is a gentleman or a lady.
Diana Rotaru: To be honest, I believe that this man-woman dichotomy is more artificially imposed by society. I know extremely strong music that was written by women, just as I know extremely refined and sensitive music written by men, so I think that what really matters is the temperament and personality of the person writing, whether it is male or female.
Monica Isăcescu and Ștefan Costache
Translated by Alma Teodora Miron,
University of Bucharest, Faculty of Foreign Languages and Literatures, MTTLC, year I
Corrected by Silvia Petrescu