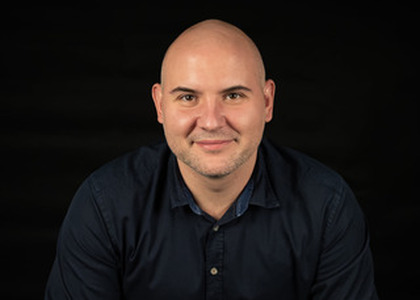 Interview with Ovidiu Andris, manager of the Artistic Tribe Association
Monday, 15 March 2021 , ora 11.48

Starting with the 13th of March, a series of educational music videos will be available on the online platform of the Musical Pavilion program launched by the Artistic Tribe Association.

On Saturday 13th of March, a new series of musical lessons will be launched for the Musical Pavilion Program. This is not the first endeavour of this type that the Artistic Tribe Association has realized. As such, what caused you to move forward with an online version this time?
It was very important for us to continue this endeavour that we started in November 2019, when we held educational concerts in various villages in the Timis county. Then, in May of 2020, we managed to record the first six episodes of the Musical Pavilion in which we presented the violin, piano and percussion instruments. Now, in the latest edition, which will begin on the 13th of March, we will approach all genres of music. I noticed that the need for modern materialsis quite high. Thanks to the institutional partnership with the Timis District School Board, I learned from the professors that these materials are quite imperative for them.

Why do you consider a platform that is to become a resource centre for musical education so important for bothstudentsand teachers?
After I recorded these episodes and after doing a bit of research on the internet, I realized that there is no platform where both teachers and students can find resources for musical education. As a result, we got together and created this virtual library of study materials. It is a very important thing! We are trying to gather all materials regarding musical education - not only video and audio materials, but also many other things, whicharenecessary for musical education as well. On this platform, the teachers will become the content creators. They can upload materials that they created or that they have seen in other places, we will always verify said materials after which they will appear in this virtual library, which we are hoping will be the biggest in the country.

The structure of the episodes suggest a theoretical component, a practical one and moments of interactivity where students interview artists. How do all of these elements meld together in the videos?
The structure is very well defined. As for length, we tried to make it so that the videos can be used in musical lessons, as such they do not surpass 20-22 minutes. We have several milestones in these episodes. For example, we have the Minute of Musical Theory where we learn new things about musical theory, but we also have interactive games for kids to play at home. Through interactivity, kind words and music, we are attempting to seamlessly integrate all of the above in one episode.

What artists joined you in the creation of this project?
25 artists - including local artists from Timis as well as national and international artists. We even had the help of two pianists from Salzburg, which arrived during the pandemic. If I could go by episode, I could say that in episode 1 we had the Cobzality band. Episode 2 consists of Madalin Luca together with two members of the Timis Ensemble. Episode 3 consists of the PlaCello ensemble lead by Razvan Suma. Episode 4 contains the pianists I mentioned earlier - Andrei Gologan and Roxana Circiu - Along with Eduard Antal who is a very good organist and is actually from Bucharest, from the Saint Joseph Church. Episode 5 consists of DJ K-lu and MC Woodie, whichpresent rap and beatboxing. Episode 6 consists of three musicians from the Transylvania Philharmonic in Cluj - Răzvan Poptean, Raluca Ilovan and Rareș Sangeorzan. Episode 7 consists of a band of brass and jazz - Seven's TM Show Band and episode 8 consists of Johnny Kui, Ana Kui and the Beyond Walls band.

As we are in the middle of a vaccination campaign, do you personally consider this to represent a possible solution for the revival of concert halls?
I greatly support vaccination as I think it is how things can return to normal. I am sure that the vaccine will help support concerts and also help us instrumentalists to re-establish this connection with the public and to be able to truly enjoy said connection in the future.
Interview by Alexandra Scumpu
Translated by Yang Jin Cristian,
University of Bucharest, Faculty of Foreign Languages and Literatures, MTTLC, year I
Corrected by Silvia Petrescu