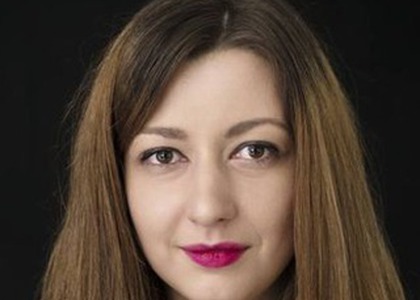 Interview with Șerban Sturdza - President of the Pro Patrimonio Foundation and Raluca Negulescu-Balaci - Executive Director of UiPath Foundation
Wednesday, 17 March 2021 , ora 13.47

Pro Patrimonio Foundation and UiPath Foundation announce the continuation in 2021 of the "Academy of Music and Education for Children" program held in the communities around the Memorial House "George Enescu" in Mihaileni, historical monument in Botosani County, and the initiation of a new project, "Experimental Center for Studies and Education at the Neamțu Mansion in Olari" - historical monument in Olt County.
Details are from Serban Sturdza, President of the Pro Patrimonio Foundation and Raluca Negulescu-Balaci, Executive Director of the UiPath Foundation:

Mr. Șerban Sturdza, after a restoration process that lasted seven years, last year you gave back to the community and the cultural circuit the house from Mihăileni, one of the houses of George Enescu's childhood. What can you tell us about the end result of this approach and the impact on society?
I think that so far, the steps have been done correctly and, progressively, we have managed to restore the house. At this time, we have a good quality piano. We are going to buy another piano. I think that during the construction site we had already started to have good relations with the community, and, after that, we developed them even more by organizing small meetings and workshops with children, but also with the inauguration of the house, last year, with a small concert by Raluca Știrbăț. I think that opportunities are now opening up, provided we are very attentive to the relationships that are born beyond the perimeter of its property; I promise a lot of things. In the sense that there is a groping regarding a small festival.
The building part is perhaps one of the good and correct examples of restoration. We have kept a lot of the original substance of the building, including some furniture, and we are now going to make a suitable setting for residences for musicians and education.

Currently, you are in the process of restoring the Neamțu Mansion from Olari, Olt County. How did you choose this new goal and how important is it for the community to complete this approach?
The Olari mansion has a completely different story. It was donated to the Pro Patrimonio Foundation in a rather advanced state of destruction and there we try to do, again, the restoration together with an activity of education and pedagogy in the field of constructions; therefore, each operation is done together with volunteers, but also with explanations about construction techniques. The destination will be, clearly, a public one, as well, for education. But not being at all on the public route, on an important tourist route, things will be organized there depending on the opportunities offered by the space and the closest relations possible, for the beginning in Craiova and Slatina. Further, of course, with the whole country. It is interesting that it is a house built by the Neamțu family with Italian craftsmen, a house of very good quality made by arranging an old cul-de-sac; it was designed by architects Constantin Iotzu and Ion Mincu. We are only doing a restoration and a redevelopment of the spaces.

When do you expect to complete the work?
It all depends on the funds. We are not a very rich organization, and then we preferred to do a slow architecture action depending on the funds. Completion ... we don't know when it will be. What we can say is that this year we are trying to make the facades, and the building will probably be inhabited soon after. Hopefully in the fall, but probably a little later in the spring.

Mrs. Raluca Negulescu-Balaci, the "George Enescu" Memorial House from Mihăileni, Botoșani County, was inaugurated in August 2020, the "Academy of Music and Education for Children" that you manage thus becoming functional. Who were the beneficiaries of the project and what courses did you take in the meantime?
We are at UiPath Foundation, a global non-profit organization, partners with the Pro Patrimonio Foundation since the end of 2019. Our mission is to support children from socially vulnerable families to have access to quality education and to develop their skills for the 21st century. We joined the Pro Patrimonio Foundation in the process of restoring the "George Enescu" House in Mihăileni precisely in order to bring back to the rural communities' educational opportunities that do not exist in these areas. As you know, many children living in Romanian villages did not have access to education, and the pandemic of the last year has greatly accelerated this situation. We work in five other areas in Romania and implement educational programs that offer integrated support for children and this is exactly what we do in Mihăileni, and the "Academy of Music and Education for Children" is such a long-term program, which aims to support children from the community from Mihăileni and other villages around the commune, to discover their potential through music, but also through other educational activities, which are focused on literature, mathematics and English.

What can you tell us about the team of teachers / trainers who got involved in the teaching activities?
24 children from Mihăileni and Vărful Câmpului localities from Botoșani county participated in the music workshops established in October 2020, together with a teacher working in the community, Paula Gavriliță, and we are glad that she joined this initiative. It is very important for children to follow their passion through this program. The workshops took place both online and offline, when they could take place in the garden of George Enescu. We support another 20 children from socially vulnerable families, children with an absolutely extraordinary potential - and I think this is the most important thing we all need to see in Romania, that in these rural areas there is an incredible potential that we can capitalize on it both through music and other educational activities - and we offer children an integrated support package with a monthly scholarship, clothing, school supplies, sanitary ware to help prevent infection with Covid 19, as well as tablets with because that was the context in 2020, when children were completely disconnected from formal education, and then we adapted and offered them the support to be able to stay connected to the educational process that matters so much in their efforts. to support them.

From this year, in parallel with the program from Mihăileni, you will run a new project - "Experimental Center for Studies and Education" from the Neamțu Mansion in Olari. When do the courses start and what is their schedule?
It is, indeed, a new initiative because we are going to Olt County to support the children there, from the communities around the Neamțu Mansion, but, at the same time, it is part of an initiative that we are carrying out at national level with partners, including the Pro Patrimonio Foundation. In the partnership for the renovation and transformation of Neamțu Mansion into an educational hub for the community, it has already started, and educational activities will start in the summer, especially through non-formal education workshops that are coordinated by our partners from Pro Patrimonio Foundation, but We will also continue our efforts to identify children from vulnerable families to join our Future Acceleration Program. They will also be able to participate in camps. We hope that the year 2021 will allow us to run the educational camp that in 2019 was a success for all the children in our programs. Last year, unfortunately, it took place online, but the children were excited because they were able to connect to the community. We continue with the activities in this area as well, involving the local community, because we believe that it is very important to look at the educational ecosystem and support children to have access to quality education in their communities.
Interview by Florica Jalbă
Translated by Crețu Elena,
University of Bucharest, Faculty of Foreign Languages and Literatures, MTTLC, year I
Corrected by Silvia Petrescu