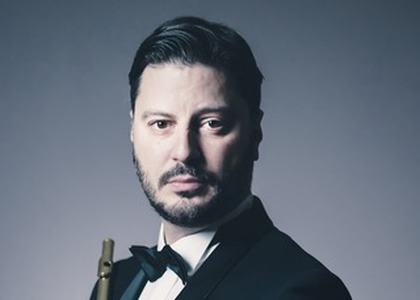 Interview with the flute player Matei Ioachimescu
Monday, 29 March 2021 , ora 11.04

On this occasion, Radio Romānia Muzical and the Romanian Radio Chamber Orchestra have set up an anniversary concert conducted by the renowed conductor Nicolae Moldoveanu. The concert features the harpist Maria Bīldea and the flute player Matei Ioachimescu.

Mr. Matei Ioachimescu, you are going to perform on today's concert held with the participation of the Romanian Radio Chamber Orchestra conducted by Nicolae Moldoveanu. Have you worked together before?
As a matter of fact, the original format features two performers. It's Mozart's Double Concerto for Flute, Harp and Orchestra. It's not my first collaboration with conductor Nicolae Moldoveanu - whom I have been friends with for a long time - yet it's my first collaboration with another exceptional artist, harpist Maria Bīldea. She is a celebrated harpist, known by everyone who after her return to Romania has had memorable performances. She has devoted much time and energy to promoting harp music as well as to building up a remarkable repertoire. Why am I telling you this? Because this Double Concerto is known to be difficult for the harp section given that it was composed at a time when the the modern harp, as we know it today, did not even exist. Wolfgang Amadeus Mozart must have composed this piece using a clavichord, which makes the performance technique for this concert even more difficult. The music, however, is really enjoyable. It's no accident that Mozart's Double Concerto is one of the the most loved and widely- performed Mozartpieces. However, as I said, it can pose problems for the harpist as it is really difficult to perform - this is what I am trying to emphasize here. For this music piece which, on the surface, seems so simple and enjoyable, the harpist has to work assiduously. So I can only feel privileged to perform alongside Maria Bīldea.
As, for me, though it is a concert that both harpists and flute players often perform in, I am overjoyed at the idea of performing once more, especially in this difficult times, as this Double Concerto spreads joy and optimism, the joy of life and the joy of reaching out your audience, even though, sadly enough, people won't be able to attend tonight - we hope, however, that they will be with us both online and while listening to the radio.It is, as previously mentioned, a concert that is likely to bring joy and maybe some sort of renewed forbearance for the difficult times we are in.

Today marks the anniversary of Radio Romānia Muzical. How would you describe your collaboration with our radio station? Do you have memories?
Oh, there are are so many memories! Radio Romānia Muzical has been a reliable partner - also a reliable friend, I might say. Almost each and every project I have had here in Romania involved Radio Romānia Muzical. They have been of great help with promoting my projects and in so many other ways. Legends, my latest project for example, took place this autumn with the help of Radio Romānia Muzical. I am glad there is such a day to mark and I do hope that Radio Romānia Muzical will have a long history, filled with good music and successful collaborations.

Towards the end of our interview, given the situation we are still in - which obviously does not favour music events - I'd like to know your opinion about vaccination as a way of getting our lives back. What do you think? Would you accept to take the vaccine?
I'll give you the perspective of someone who has already taken the vaccine. I personally don't see any other way out. Sure enough, this vaccination campaign has brought some improvement in the general attitude towards vaccination. I, for one, have all the trust in these remarkable scientists whom this global problem has brought at the front and who have managed to accomplish amazing things. I might say I believe in science and scientists as much as I'd like people to believe in me as an artist.
Interview by Maria-Isabela Nica
Translated by Elena Florea,
University of Bucharest, Faculty of Foreign Languages and Literatures, MTTLC, year I
Corrected by Silvia Petrescu