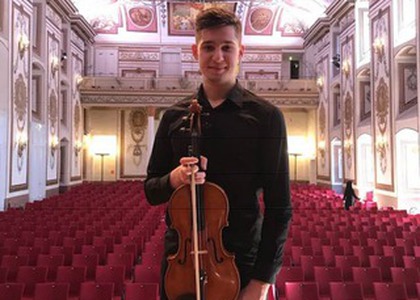 Interview with violist Andries Cigulea
Thursday, 1 April 2021 , ora 15.14

The European Union Youth Orchestra - known under the acronym EUYO - announces that this year most of the pre selections for new members will take place in the autumn. For more details about the meaning of this ensemble for the young European musicians we're listening to an interview conducted by Petre Fugaciu with Andrieș Cigulea, the only Romanian member of the European Union Youth Orchestra.

At this moment you're the only Romanian from the European Union Youth Orchestra. I'd like for us to talk first about your first contact with this institution!
It's a pretty popular ensemble in the European Union; it's hard not to hear about it, so, honestly, I don't remember exactly. But I know I had colleagues who were there and who talked to me about it with very much interest and I said, okay, I must try.

How did you become a member of this orchestra?
First of all, I put a bet with a friend of mine. I was member in another orchestra that had a similar name. And I said we should go and try. I didn't talk to that friend anymore, but my word is my guarantee that I must go, I must apply. Being also young and with a lot of energy, I simply got in a train and left, that after I signing me up online first. I got on the train and came to Bucharest.

How would you describe that collective?
Given the fact that the members are people absolutely passionate about the occupation - or not the occupation, it's a profession or a vocation… besides that the collective showed me that Europe can be culturally and ethnically united through this diversity. Having colleagues from Malta, Germany etc., you learn new things, you become more open minded and you train your mind to be more perceptive to certain particularities of the nations. Therefore, first of all, I can say that everybody is really open minded. Includingthe organizers put emphasis on this democracy and on the collective diversity.

What are the professional standards there? What have you been learning since you got there?
I realized that I must learn to be more punctual, because there were times when I lost the train; first of all, I learnt that I must get up earlier. I've confirmed myself once more that I must be conscience to always go with my program learned, like the other colleagues. You have to honour certain responsibilities.

How was the orchestral activity itself affected by the pandemic? And maybe even more important, how was the moral of the musicians during these times?
The members weren't so badly affected, maybe because they're strong people too. Interesting is the fact that the members of the orchestra and not only them, people of culture in general, having this fire inside them, keep going further despite of all the hardships. We don't have an open gallery to admire an exposition… In certain countries the concerts with audiences aren't allowed… Everybody had a smile on their face like nothing had happened. Yes, indeed, there were certain restrictions. Even if we're tested at 2 or 3 days, we couldn't interact with the audience, which is hard for an artist, but we had the possibility to sing for like 200 people - that's the most the Austrian govern has allowed. As for the rest, cheerful people… there was always this calling: "Let's sing, let's study!", I especially like that there's a traditional bis for this orchestra. After the concert was over the members of the orchestra asked insistently for us to sing the bis, which seemed out of this world for me. I liked it very much! Even though I didn't know the notes that well, I had to improvise, but it was awesome! It worth it!

I wanted to know if there are any plans for the next EUYO projects in the near future.
Yes, there are certain plans. The ideal scenario would be two tours - one in the summer, one in the autumn. The autumn tour being a replacement for the spring tour, the situation being pretty critical now and they're waiting to see what will happen with the pandemic situation.

Translated by Codescu Paula-Silvia,
University of Bucharest, Faculty of Foreign Languages and Literatures, MTTLC, year I
Corrected by Silvia Petrescu