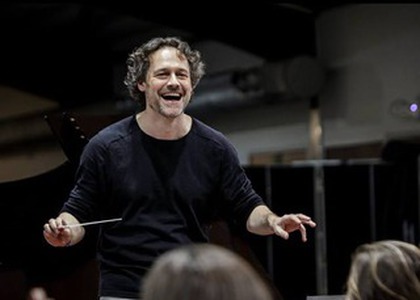 Interview with Sascha Goetzel
Monday, 19 April 2021 , ora 13.33

Today, April 16th, on the frequencies of Radio România Muzical and Radio România Cultural, it will be possible to listen to the concert given by the National Radio Orchestra on the stage of the Radio Hall, under the baton of the Austrian conductor Sascha Goetzel. It gives us details about the rehearsals, program and stylistic coordinates of the concert.

How have the rehearsals go so far?
I think the rehearsals were very beautiful, because we started to immerse ourselves in the Beethoven score, not only showing through music the elements of nature, but the feelings, because that was Beethoven's intention - it doesn't matter so much the images, but the feelings transmitted through music . Especially now, during the pandemic, when spring comes and we all want to go out, to be free, to enjoy nature, I think it is very important to give this feeling of freedom through music.
In such a concert where you can combine an early Mozart, Haydn and Beethoven, you can see how this music began to grow, to evolve, in the second half of the eighteenth century.
We now have a lot of information about how this music was played in those times and also about how it was received, so we can try - even with a modern orchestra, playing with modern instruments - to create that feeling of music. , which I did. Every day we had discussions about sound, phrasing and articulation - these are the three main elements when performing any piece; you try to find the right sound, the right phrasing and the right articulation, that's what we usually do in rehearsals.

Do you see a connection between the three works?
Just stylistically, I don't think there's a connection between them, because there are three different composers, so there are three different personalities, three different types of feelings that approach music. Haydn, Mozart and Beethoven each have a very different compositional style, even if they were inspired by each other. We can't compare them. I always believe that each composer has a specific sound language, a very specific sound cosmos, if you will, that we discover with the orchestra. Because of this I hope that on the radio frequencies you will be able to hear the differences between the way we play Haydn, Mozart and Beethoven. We approach them a little differently, due to the differences in sound language.

Photo credit: Özge Balkan
Interview by Petre Fugaciu
Translated by Dărăban Denisa,
University of Bucharest, Faculty of Foreign Languages and Literatures, MTTLC, year I
Corrected by Silvia Petrescu