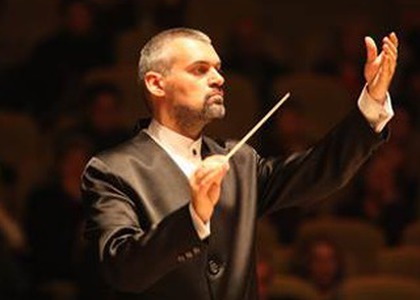 Interview with conductor Joszef Horvath
Friday, 23 April 2021 , ora 8.51

On Wednesday, April 21st 2021, on the Radio România Muzical broadcasting frequencies, you will be able to enjoy a concert given by the Romanian Chamber Orchestra under the baton of conductor Joszef Horvath. The music program for the night consists of Felix Mendelssohn's Violin and Orchestra Concerto in E MinorOp. 64 with AlexandruTomescu as soloist and Jan Voříšek's Symphony in D major.
We have got further information on the event - as well as the rehearsals preceeding it - from Joszef Horvath himself who was kind enough to talk to Petre Fugaciu:
''The rehearsals, as usual, went well - we have been in a long, happy and fruitful collaboration with the Romanian Chamber Orchestra.
Mendelssohn's Violin Concerto is, of course, well- known to classical music lovers. Jan Vaclav Voříšek's Symphony, however, is not. He was born in 1791, the year Mozart died. As he wa unable to find employment in Prague, he moved to Vienna where he met Beethoven and Schubert. At first, Voříšek showed no interest in the Romantic period movement whose elements were transparent in Beethoven's compositions, for instance. However, as those who are going to listen will surely notice, there are elements of romantic expression in Jan Voříšek's Symphony, typical of Schubert, to be exact. He mostly composed in the late Classical style, but one can also detect elements of the incipient Romantic period. His symphony is, beyond doubt, the work of a virtuoso. I personally like it a lot and I hope those listening will do too. Jan Voříšek was 30 years old when he wrote this symphony- as a matter of fact, he didn't live long, he was 34 when he died. So the two of them, Voříšek and Mendelssohn, composed at a distance of 10- 15 years. One more thing on Voříšek: the term impromptu, as we know it in music, was first used with reference to one of Voříšek's compositions. After that, Schubert and Chopin also used it. In the world of music, this is of great importance, you see''
These two musical compositions work very well together. It is all 100% romantic music. Mendelssohn is, undoubtedly, an ealy romantic, and so is Voříšek. As a result, these two compositions complete one anothernicely''

Translated by Elena Florea,
University of Bucharest, Faculty of Foreign Languages and Literatures, MTTLC, year I
Corrected by Silvia Petrescu