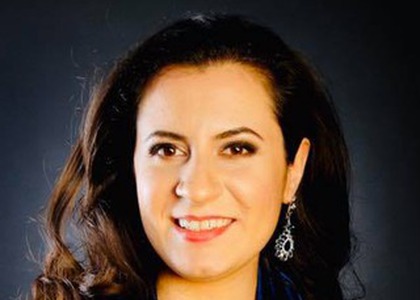 Interview with soprano Rodica Vică
Friday, 23 April 2021 , ora 8.56

Between April 20th and May 4th, the "Jazzt Vivaldi" project takes place, initiated by the "MusicaRicercata" Association. The protagonists of the project are the soprano RodicaVică and the ensemble "ImpRoWien". I talked to RodicaVică about this project:

I invite you to tell us about a new project that starts on April 20th this year. What is it about?
This is the Vivaldi Jazzt Tournament, organized by the Musica Ricercata Association and co-financed by AFCN, starts on April 20th and ends on May 4th, an online tour that includes four concerts broadcast from Vienna, with fusion music, a project of chamber music, which has as its main character Antonio Vivaldi, the great composer, whom we, this year, commemorate - 280 years since his death. Along with the organizers and co-sponsor we have extraordinary partners, who have supported this project and who have encouraged it, in such a difficult period, this pandemic, which I will ask you to allow me to name, The Romanian Cultural Institute through the Romanian Institute of Culture and Humanistic Research in Venice and through the Romanian Cultural Institute in Vienna, the Austrian Cultural Forum, the National Center for Romanian Youth Art, UCIMR, the Austro-Romanian Society Vienna, Radio Romania Musical and the Association for Music, Art and Culture.

You said that Antonio Vivaldi is at the center of this music. What other areas have you related to Antonio Vivaldi?
Following last year's experience, in which Ludwig van Beethoven could not be properly celebrated, we wanted to properly celebrate and commemorate other composers, such as George Enescu, Bela Bartok, Camille Saint-Saens, Tomaso Albinoni, Giuseppe Verdi, Gustav Mahler, Astor Piazzolla and Igor Stravinsky. All these great composers are united by the technique of improvisation, hence the title of our project Jazzt Vivaldi, a mandatory technique in baroque music and Vivaldi's music, so we mixed and merged Antonio Vivaldi's music with quoted fragments or improvisations from the other composers I told you about earlier.

You will play alongside the ImpRoWien Ensemble. Tell us a few words about this ensemble.
That's how it is. It is about a new ensemble created in Vienna, an ensemble composed mostly of Romanian musicians, which I will call, Cristian Spătaru is the pianist and orchestrator of these improvisations I was talking about, Cristian Ruscior, violinist, Grațiela Aranyosi, violinist, Hannah Berghofer, violist and Florian Dragomir, double bass player.

Where will these concerts take place? They are broadcast online. Where will you sing?
The concerts will be broadcast online on April 20th, 25th, 27th and May 4th, will be broadcast on the facebook page of the Musica Ricercata Association and on the facebook page of our partners. They are recorded in concert halls in Vienna, and the last concert will be broadcast from the great church of St. Carol, the church next to which is the place of death of Antonio Vivaldi.

What's next after this online tournament. Do you hope to return to the stage?
We hope to return to the stage. For me, there are some opera debuts that I will talk about at the right time. I will come to the George Enescu festival in September, so I will return to Romania. In October I am preparing another international tour, which I hope to do physically, so not online, but I will inform you about them in due course, because, as you well know, too big plans we can not make in the distant future.

Rodica Vică, thank you and I wish you success and the listeners of Radio Romania Musical will be able to listen to you in a concert that will be broadcast on the facebook page.
That's how it is. On May 4th, the closing concert of our online tour, Jazzt Vivaldi.
Interview by Jeanine Costache
Translated by Alma Teodora Miron,
University of Bucharest, Faculty of Foreign Languages and Literatures, MTTLC, year I
Corrected by Silvia Petrescu