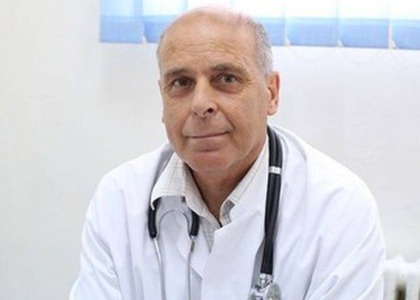 Interview with Dr. Virgil Musta about the project 'Let's breathe together'
Thursday, 20 May 2021 , ora 9.03

Between April 23rd and May 16th you could watch on our facebook account the series We breathe together, initiated by the mezzo-soprano Aura Twarowska - and you can do it anytime and now, by accessing the video gallery on our fb account. Great Romanian opera singers, along with doctors and recovery specialists, with breathing exercises for those who are convalescing after COVID. Marius Budoiu, Veronica Anușca, Laura Tătulescu, Cellia Costea, Cleopatra David, Ruxandra Donose, Mariana Colpoș, Aura Twarowska, Valentin Vasiliu, Teodora Gheorghiu, Silvia Micu, Daniel Zah responded to this idea, which was also supported by doctor Virgil Musta, head of department at the "Victor Babeș" Infectious Diseases Hospital in Timișoara, who spoke about the importance of the existence of such a project. We breathe together, a project supported by Radio România.

"I had the pleasure, at some point, to be contacted by Aura Twarowska, who asked me for her opinion on a project she wanted to develop in Romania, she, together with her colleagues, singers of Seeing the idea, I thought it was an extraordinary thing, because in addition to its role in the lung recovery of patients who suffered from COVID and were affected during the disease, many of them were not able to do this recovery for various reasons, some because they did not have recovery services in those areas, others because these services are quite busy.For example, in our hospital, the appointment is done with a one month in advance to be able to access the pulmonary recovery services of patients with SARS-CoV2 pneumonia.

And then, it was a helping hand outstretched to these patients and to doctors to better manage post-COVID syndrome. But, the value that I consider to have been the greatest of this project was in fact the desire for solidarity with us, with those who are in the country, with those who fight and with the patients who are also fighting for their health. This desire for solidarity opened my soul and I saw it at that moment when the whole community was struggling to like or not to follow the rules, to understand the importance of maintaining the mask, of social distance, in this general management of infection, because the health system was under extraordinarily high pressure due to the large number of cases. In this ordeal, in this war, came this ray of light, which even gave me hope that things would go well. If there are people who think of others, to do them good and who give of their free time to create good things is a great thing.

So I immediately accessed this project, I said yes with great pleasure, provided I participate. Everyone was very happy, I had the pleasure to meet great artists, extraordinary people. Moreover, during this project, I was surprised to discover how many exercises there can be for breathing. I knew the exercises that were done in the pulmonology department, in recovery, which we recommend to our patients, but I saw that these professionals, in their profession are obliged to learn to breathe, are obliged to practice breathing and it was extraordinary. Moreover, every evening was a divine evening, in which we met great artists who recounted different events in their lives, their experiences; some of them, even going through COVID, telling their experience and how they managed to overcome the breathing disorders through these exercises.

Each had a guest and he had to complete in everything that means the main objective of this project: for the world to find solutions for the recovery of lung damage. Moreover, the project was addressed not only to people who were sick, but to all those who want to improve their breathing, because breathing is the basis of life, it is the basis of the energy we receive. Breathing brings the necessary oxygen to all the cells in the body. If you breathe properly and breathe well, your body is healthier and this seemed fantastic to me.

I think the project has achieved its goal. Shortly after the project started, it was accessed by people from all over the world, so we had participants from Europe, America, Latin America, Australia, all enjoying the evenings we spent together. At one point, it was kind of like having a great time with the great Romanian artists, something you normally wouldn't have had the opportunity to meet. This project was really useful. It was a soul project for me and I am convinced that it left its mark, in the sense of friends in the future, which showed that together we can succeed and we can do good to the community and to ourselves. "
Statement taken by Cristina Comandașu
Translated by Alma Teodora Miron,
University of Bucharest, Faculty of Foreign Languages and Literatures, MTTLC, year I
Corrected by Silvia Petrescu