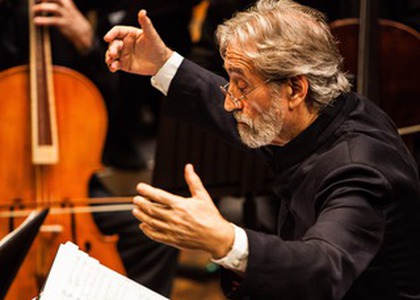 Interview with musician Jordi Savall
Monday, 24 May 2021 , ora 12.59

The 21st of May is declared UNESCO World Day for Cultural Diversity, Dialogue and Development. On Friday evening, from 9 P.M, Radio România Muzical presents the hearing of the concert held on August 10th, 2018 by the "Orfeus XXI" Ensemble at the Royal Monastery "Santa Maria de Poblet" in Spain. The conductor was Jordi Savall, European Union Ambassador for Intercultural Dialogue. The concert program entitled "Music for Life and Dignity" included specific moments, some of the traditional music, of different folks of Europe and Asia.
We find out about the significance of this day from the interview given by the musician Jordi Savall, on April 29th, 2021, to the journalist Carmina Malagarriga from Radio Catalunya:

We are now talking about UNESCO World Day for Cultural Diversity, Dialogue and Development. As an ambassador of intercultural dialogue, why did you give that speech on cultural equality during your concert? Did you want to give away something more?
Ever since I started making music, I have shared it with many performers from Arabia, Israel, Turkey ...So I learned, while making medieval music, that I could not interpret it well without taking in the oriental one. Because this oriental music is still performed in the same way with that that is practiced in the Middle Ages. So this was the only possibility I had so that I could understand how music was made in the Middle Ages. And in this way I realized that, despite my knowledge, and with my mastery as a viola da gamba performer, I was no better than a lute player from Morocco or one from Turkey at kanoun. They both knew as much as I did and performed as well as I did at viola da gamba. So we were equal. I couldn't tell myself "I'm superior to them because I make European music". No! We had the same conditions.That allowed me to understand that the only way we could really achieve harmony between our cultures, which are really different, was to accept that we have to respect this other way of being, this other way of feeling or believing. And for me, that is the necessary condition to embody other cultures into ours.
We often go somewhere and hear the speech "we must be tolerant with all these immigrants." Of course, saying that is better than saying "we don't want to." But if we are tolerant, that means we consider ourselves superior. We are superior, but we still tolerate others doing things we don't like. Therefore, tolerance is not enough. There must be a real acceptance of the beauty of other cultures, of the possibility that we can believe in a different way. The only problem we have in this context of dialogue is radical people. Whether you are from Europe or other regions, as long as you consider that only your faith is the right one and that is the only way to be saved, you become a fanatic and there is no room for dialogue. It is something we know happened in Spain during the Renaissance. If you were not a Catholic Christian, you could not be saved and you had to be driven out of the country. So, if you were an Arab or a Jew, you could not stay in Spain. An expulsion campaign took place, and those who had lived in Spain for seven centuries were mercilessly driven out of the country for their lives and they were evicted from their homes. They had to leave with nothing.
In 1492, the Jews were warned to leave three months in advance. The same Jewish bankers who had helped the Catholic monarchs fight the Arabs. And when the Jewish bankers came before the King and said to him, "But how can you do this to us?" the Cardinal came out in from of them. He took out the bag of gold in front of Queen Isabella and said "Will you sell Jesus again?" But despite the fact that the argument was very strong, the King and Queen of Spain signed the expulsion order. It's an incredible story. And that was the action the Catholic Church took. Families living in Spain who had no other sin than having another faith were driven out the country.

There is still the cultural dignity, that of considering our culture as equal to that of others… Because there are many people who believe that their culture is worth nothing...
I think this is about something very important. The more ignorant a culture or person is, the easier it is to turn to fanaticism. I always say that ignorance is perhaps the worst enemy of a man. Apart from hatred. Because ignorance turns us into slaves of atrocities, from the moment we do not know the truth. We are the prisoners of any blunted, manipulated discourse...This is why, reading the Bibe has been forbidden for centuries, even in the Catholic Church. Because we preferred to have uneducated people who couldn't ask annoying questions. And this is the great force of Protestantism, which has allowed everyone to have access to the Bible, so that they can ask questions. This highlights the fact that those in power are always interested in keeping knowledge secret, so that the access to the whole knowledge to be not for everyone. And that gives power. To know means to have power. Being ignorant means that you can easily become a follower of false theories, of bigotry, whether religious or otherwise.
Interview by Carmina Malagarriga – Radio Catalunya
Translated by Ioana Oacheșu,
University of Bucharest, Faculty of Foreign Languages and Literatures, MTTLC, year I
Corrected by Silvia Petrescu