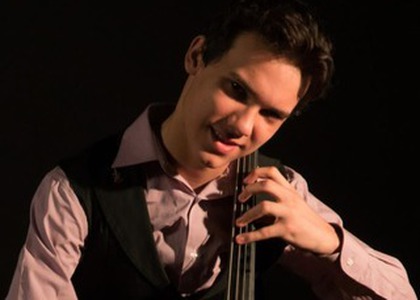 Interview with cellist Valentin Simion
Wednesday, 26 May 2021 , ora 10.13

On Tuesday, May 25th, at the Small Hall of the Romanian Athenaeum, cellist Valentin Simion and pianist Verona Maier will give a chamber recital. The program proposed by them will rely on diversity, including works by Schumann, Beethoven, Enescu and Bartok, among others. The recital will take place with the public, as the hall will be occupied at half capacity.

Valentin Simion, together with the pianist Verona Maier, will give tomorrow, May 25th, a chamber recital with the public during the Tuesday evening Season at the Romanian Athenaeum. How did you prepare to return to the stage in front of the audience?
It is a very good experience. So far, I have had other recitals, but only online. Now the experience will be more real and lively. We will feel again that specific emotion of singing right in front of the audience, on stage. We are very happy to have this opportunity.

The program you chose for Tuesday's recital is varied. It will include works signed by Schumann and Beethoven, but also Romanian compositions. How did you create it, given the fact that it includes known and lesser-known works as well, such asObstinando, by Laura Ana Mânzat?
I thought for the event to be as varied as possible . I will start with Fantasiestucke op.73 by Robert Schumann, three extraordinary pieces that are of great sensitivity and present a lyricism full of emotion, but also a continuous and lively movement. I chose to select them for the intro because they have this aesthetic of opening curtains, ready to make way for the great acts. After that, I chose Seven Variations , inspired by a theme from The Magic Flute by Wolfgang Amadeus Mozart and written by Ludwig van Beethoven. These are a perfect combination of the personalities of the two great composers. The third act of the recital is concerned with Romanian compositions, more precisely compositions by George Enescu - Nocturnă and Saltarelo, which he wrote in his youth, at the age of 15; but they are of an expressiveness and complexity far beyond this age. Then I went back in time and chose something from a contemporary of Beethoven, some variations based on thetheme of Don Giovanni by Wolfgang Amadeus Mozart, written by Franz Danzi. Then comes the work Obstinando, written by Laura Ana Mânzat, my mother, to whom I have offered certain suggestions related to the cello technique, I might add. Also included in the program are the 6 Romanian dances by Bela Bartok, which will bring beautyand humour to the recital. I will conclude with Bohuslav Martinus, Variations on a Slovak Theme.

For which of the performed works does the cellist Valentin Simion have a special affinity and why?
One of my favourite works is by Robert Schumann, because it reflects in a way my personality. I could say that I am a person who likes to move as much as possible, who is not static, and this is particularly noticeable in the play.
Interview by Maria-Isabela Nica
Translated by Popa Zafiriadi Carol,
University of Bucharest, Faculty of Foreign Languages and Literatures, MTTLC, year I
Corrected by Silvia Petrescu