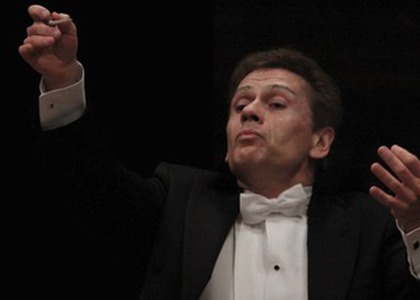 Interview with conductor Christian Badea
Monday, 31 May 2021 , ora 10.17

Maestro Christian Badea, this week you will return to the desk of the George Enescu Philharmonic Orchestra to present a new 100% Mozart program that includes this time the overture to The Magic Flute, the composer's last work, Symphony no. 41 in C major, Mozart's last symphony and the glorious concert no. 21 in C major. What is the story behind this program?
It can be quite a complex and simple story at the same time. It is simple because all humankind, and musicians in particular, are in a situation of transition. After a year spent in silence, we now come back into the hall, with the public, following all current conditions, but still being extremely happy to be able to make music in front of a real audience, in the flesh. It is reasonable and natural that we go back to normal life with an extraordinarily universal and authentic composer, important to every culture, a man who resonates with the people in a way that transcends any theory. That is the reason for creating a program composed of well-known and loved works, masterpieces of human genius. Therefore it will be a meeting with pleasant, known pieces and sounds, after so long a break.

You are collaborating again with pianist Josu de Solaun, the piano section winner of the George Enescu International Competition in 2014. How do you get along with him?
I get along very well with Josu. I invited him to the philharmonic several years ago. I found it odd that he, as a winner of the Enescu competition, had not been invited to the philharmonic. In fact, this is something that seemed strange to me with many others. For instance, Alexandra Conunova, who won the competition and had an exquisite career. Well, the first prize wasn't awarded back then, I did not understand why, because she was exceptional, but it was a generalized situation. Then I thought of inviting Josu and we continued collaboration. We performed Bernstein, Rachmaninoff, so a lot of pieces and concerts with Josu, who is a skilled and sensitive musician and loves music. This is not a cliché, as there are musicians that make too much of a profession out of music and less of a passion. He is passionate about music. It seemed very appropriate to me to return in front of the audience after the pandemic with a person that puts his entire soul in what he is doing.

Next week we will have the pleasure to see you again at the desk of the Bucharest Philharmonic, with Mozart but also with Schubert. What will we listen to?
We will perform the overture to Don Giovanni. I have my own concerts that I perform until the end of the season. I tried to schedule a Mozart overture in each concert, some sort of red thread. Afterwards we will have concert no. 25 by Mozart, which is absolutely fantastic, a sophisticated work performed by a very young pianist, Cristian Sandrin, who studied in London and performed abroad and made great progress. I have known him for a very long time and I was pleased to observe his evolution and thought of inviting him to the philharmonic. Of course, I did not know then whether it would be a concert with the public or without, but I am delighted that he will manage to perform in front of an audience, at least 50% of it. Then we will do Symphony no. 5 by Schubert. As you can see, I stick to my Viennese programs also because the sanitary regulations do not allow a larger orchestra, so we built a small chamber orchestra, trying to make a repertory that suits this type of orchestra.

Cristian Sandrin will make his debut as a soloist of the George Enescu Philharmonic Orchestra, and I wanted to ask you how do you usually approach collaboration with a soloist on whom, without doubt, an additional spectrum of debut emotions is hovering?
I had debuts at the philharmonic before, with very young soloists. I am happy to be able to invite them. Those who are talented, promising, serious, who advanced on an upward trajectory. There are certainly emotions, but I do not believe that they will be so timid at this level. I think they will be enthusiastic and they will enjoy the fact that they are making their debut at the philharmonic. I think they realise I do it with all my heart and all my support, so they have a friend in me. I regard them as colleagues, I am not trying to teach them lessons, to tell them how to make music, I let them express themselves and thus we collaborate.
Interview by Ioana Marghita
Translated by Lica Alexandra,
University of Bucharest, Faculty of Foreign Languages and Literatures, MTTLC, year I
Corrected by Silvia Petrescu