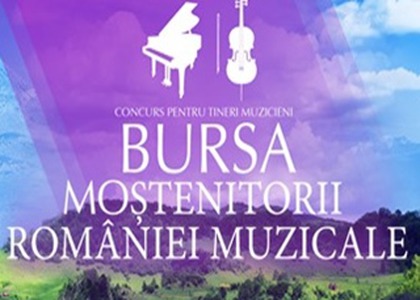 Interview with Dan Popescu, Rotary Club Pipera member
Monday, 31 May 2021 , ora 10.20

Today, the jury of the competition for obtaining the scholarship "Musical Romania's Heirs" will announce the winner of the second edition of the contest. Young musicians aged between 16 and 24 have signed up to obtain a scholarship worth 4,000 euros, as well as the opportunity to give a recital on the stage of the Radio Hall. The project is initiated and realized by Radio Romania Music in collaboration with Rotary Club Pipera.
Dan Popescu, member of the Pipera Rotary Club, tells us more about the Club's implication in this project:

The end of the second edition of the "Musical Romania Heirs" Scholarship competition, made by Radio Romania Musical and Rotary Club Pipera, is close to ending. We will soon find out the winner. How do you comment on this new edition that is the result of the pandemic regulations, a pandemic we are all hoping to end soon?
The last year has been a challenging year for the whole society in all respects, but I think particularly for artists. It was a difficult year especialy for musicians, a year in which many projects had to be revised, repositioned, which is why I believe that our partnership, Radio Romania Musical and Rotary Club Pipera, opened this new opportunity for Romanian performer. The "Heirs of Musical Romania" scholarship is, therefore, especially important, in order to offer the young talents the oportunityto be highlighted, to have the opportunity to present themselves to the public and, why not, to compete for a scholarship that allows them to realize their musical projects.

How important is it in the work of the Pipera Rotary Club to be a part of this project?
Since its inception, we have set out to focus, to focus on projects related to leadership, education and to inspire the younger generations to achieve excellence, to transfer the experience of either some of our club colleagues or to other outstanding personalities, to offer these people some experience, some experience from the people which us, as a society, can be proud of. To offer this experience to the young generation and to the act of educating one or offering an oportunity.
In particular, the music and the projects we developed in partnership with Radio Romania Muzical within the "Heirs of Musical Romania" Project are very important for us because ... what can we be proud of as a nation more than with artists and with culture ?! Real life, business life, economic life and the rest of the professions are very important, all are important, but sometimes, what elevates us the most are the culture and the aspirational values ​​that attention to beauty can generate, attention to excellence in this field - culture and music - I think it can inspire the younger generations very strongly.In conclusion, the "Musical Romania's Heirs" Project is very important for us. We have a great pleasure to collaborate with Radio Romania Muzical and we want to develop together the project on new domains in the future.

In Romania we still can't say that the business substantially supports musical projects. From a businessman's point of view, how important are such initiatives in support of cult music?
There are many civic, social, educational, cultural and, why not, health priorities, especially in the last year, which need to be addressed by potential donors or sponsors, or corporations that want to get socially involved. And then, among these priorities, music is one of them. I could not prioritize because, for example, for us and for the corporations that support us, music is a very important priority. It also depends a lot on the passion of the people who are in these organizations, which ultimately direct the interest in certain areas of social and civic involvement. I mean the interest of our club, Rotary Club Pipera. It is very important for us to set an example - both in music and in other fields - and, why not, to inspire others to join us and support these projects that give young people an opportunity, an idea, an inspiration even if it is not to pursue a music career, a business career, IT, medicine or any other profession. It is an inspiration for everyone an example of excellence in a young man we are proud of, a world-class young man - like all those who participated in the Project "Heirs of Musical Romania" at the Radio Hall or online. From my point of view, they are the inspiration for any young person in any field.
Interview by Florica Jalbă
Translated by Popa Zafiriadi Carol,
University of Bucharest, Faculty of Foreign Languages and Literatures, MTTLC, year I
Corrected by Silvia Petrescu