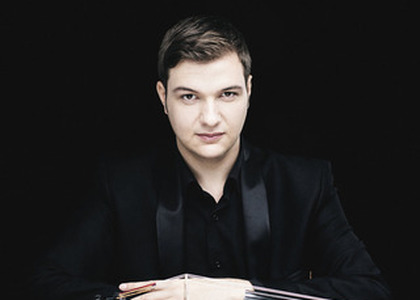 Interview with cellist Andrei Ioniță
Wednesday, 2 June 2021 , ora 16.14

June 13th, 2021 is the date of the first recital in the series Musical Romania's Heirs performed in the presence of the public on the stage of the Radio Hall, featuring cellist Andrei Ioniță and pianist Daria Tudor.

On the 13th of June you will return to the Radio Hall for a recital in the series Musical Heirs of Romania, performed in the presence of the audience. How are you looking forward to the event?
I am extremely happy to finally be able to perform in front of a Romanian audience after such a long period of waiting and I am extremely grateful to Radio Romania Muzical for the opportunity to give this wonderful recital as part of the Musical Romania's Heirs season. This time I will be accompanied by another Romanian pianist, who lives in Berlin. We are very good friends and we have already collaborated many times, even before we went abroad, and I am very happy to play with Daria Tudor on the stage of the Radio Hall!

Pianist Daria Tudor, as you said, is one of your frequent recital partners. How would you describe your collaboration with her?
I've known Daria since we were both in middle school. During high school we even built a trio, Trio Sternin, with violinist GeorgetaIordache. Georgeta also lives in Koln, Germany. We have known each other for a long time, we get along very well, and we have also collaborated several times in Berlin. I also invited her to a chamber music festival in Schwartzenberg, where I was artistic director in 2018. We made a sensation there with the Romanian repertoire and in chamber music! In February, we both performed, at the invitation of Daniel Hope, in concerts broadcast on ARTE TV, which were called Europe @Home. We represented Romania there and it was an honour to participate together in this broadcast. And we are also happy to be back on a stage not only a Romanian one, but also in Bucharest - Bucharest is my hometown - and to share the joy of singing, especially after so many months of silence.

Some of the works included in the June 13 recital programme were also featured in your recital in Berlin in the Hope@Home series. How is freedom, the theme chosen for the Radio Hall recital, reflected in the works you will perform?
I have tried to construct a little narrative thread to this recital. It will actually be in two parts. The first part will remind us of oppression, of a certain melancholy about the past, perhaps a sadder past, including our country's. That's why the first works will even have a minor tone. We'll start with this mourning of Paul Constantinescu's Old Song - a work we also played, as you mentioned, on Daniel Hope's show. Then we'll play Dmitri Shostakovich's Sonata in D minor - a work we both love; it's a work that I'm impressed by every time I hear it or play it on stage. I still have such vivid memories of the Tchaikovsky Competition six years ago, when I was brought to tears on stage performing this work. Then, we chose to end with a contemporary work by composer Dan Popescu, In memoriam; we thought it fit this narrative thread and somehow gives a conclusion to this first section. After that, we'll end the recital in sunny, optimistic tones and focus on freedom in Ludwig van Beethoven's Sonata No. 3 Op. 69 in A major.

Recently, you performed a concert together with the Brasov Philharmonic and conductor Cristian Oroșanu, in which you played the double solo role of cellist and pianist. How did you feel this experience?
It was a pandemic project. The public probably already knows that the first instrument I studied, the instrument through which I was introduced to the world of music, was the piano, at the age of 5. It wasn't until the third grade that I started studying the cello. Well, the piano has always remained a somewhat unfulfilled passion for me. I remember that at my first cello recital - I was 15 - I also played two pieces on the piano. Sadly, that was the last time I officially appeared on stage as a pianist. Now, in pandemic, I have finally had the time to devote to studying the piano. Incidentally, just a few months before the pandemic started, I rented a piano at my home in Berlin. When I received an invitation to play as a cellist soloist with the Brașov Philharmonic from DragoșDimitriu, the orchestra's manager, I initially accepted, and then... so I dared to ask him if I could program a piano concert in addition to the cello concert.I adore this Mozart Concerto No. 23 in A major; it's a work that has been with me for many years and was somehow on my piano repertoire bucket list. So it was the perfect motivation to get serious about studying piano again and adding to my repertoire. It's not about me boasting about this ability to play two instruments, but actually the pleasure of discovering other musical repertoire and enjoying the sound in as many ways and facets as possible. It was a unique experience for me, really exhausting, but it was worth the effort and I am glad that I managed to break the ice as a concert pianist in Romania.
Interview by Alexandra Scumpu
Translated by Dărăban Denisa,
University of Bucharest, Faculty of Foreign Languages and Literatures, MTTLC, year I
Corrected by Silvia Petrescu