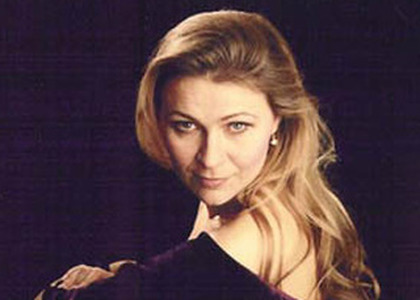 Interview with mezzo-soprano Ruxandra Donose
Tuesday, 8 June 2021 , ora 15.03

Mezzosoprana Ruxandra Donose will mark 30 years of career on the big stages of the world during the Anniversary Gala that will take place tomorrow evening, at 6.30 pm, at the Bucharest National Opera. Ruxandra Donose will be accompanied by the Opera's Orchestra, and Tiberiu Soare will be at the rostrum. The directorial concept is under Paula Stoica's signature.

We will fiind out more details from Ruxandra Donose:

On Saturday evening, at the Bucharest National Opera, the fourth gala dedicated to the three decades of his career will take place. Last year, with all the syncopes caused by the pandemic, you managed to hold open-air concerts in Sibiu and Iasi, and a concert took place in the Great Hall of the Romanian Athenaeum, in Bucharest. What is it like to be on the stage of the Bucharest Opera again and what musical program are you preparing for the public?
It's wonderful, especially since I haven't been on the stage of the Bucharest Opera for many years. It's like a return home, in a different sense than the other, because that's where I passed the Conservatory graduation exam, on the Opera stage. So, I am very happy, I am very excited and I have prepared a program of well-known, loved areas that will somehow reflect my artistic career's progress in these thirty years.

For each gala you collaborated with another orchestra, and now you meet the conductor Tiberiu Soare again. I remember that in December you told me that, for the gala at the Athenaeum ,you had only one rehearsal, which was not comfortable, and the public only had access online then. How are things this time? Regarding the audience, we know that it will be in the hall.
I will have only one rehearsal. I think that somehow this pandemic forced us to limit ourselves to fewer meetings; I don't even know how to describe this situation. Of course, there are well-known areas, which makes us believe that it will work out like that, especially since the master Tiberiu Soare is, indeed, a conductor with a lot of experience and with whom, from a musical point of view, I get along very well.

What does your agenda look like for the next period? Will the anniversary Tournament continue?
The anniversary tournament is planned to continue with a few more stops around the country. As for the rest of the agenda, it is now slowly starting to come to life. A few concerts that were planned are to going to be held soon. The very next week I will go to Madrid for a concert with Vivaldi's Orlando Furioso and even hope the opera productions will be held. I lost an overwhelmingly beautiful calendar this year, filled with some wonderful projects, which were to take me to London, several times to Covent Garden, with some fantastic titles - Tristan and Isolde by Wagner, Don Carlos by Verdi ; I had Walkiria in London, in Lisbon ... so, some wonderful things and, in addition, some recitals that have moved now, in part, to the next season, and others have completely disappeared. I don't want to start listing them, but to answer in one word - yes, some of them are starting to come back.

We are very happy! We hope to see you back soon, on the Romanian stages, where it is easiest for our audience, of course.
Yes, and where I always come back with great love and excitement because, as I said before, when you sing in front of parents, friends, colleagues, teachers, you're the most nervous, but also feel the greatest joy.
Interview by Florica Jalbă
Translated by Lazăr Marius Alin,
University of Bucharest, Faculty of Foreign Languages and Literatures, MTTLC, year I
Corrected by Silvia Petrescu