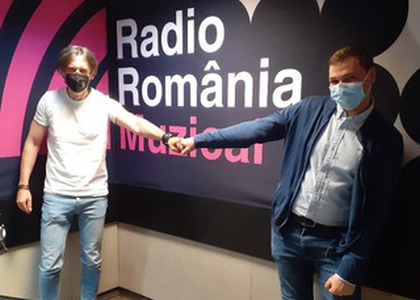 Cellist Andrei Ionită before his first public recital this year. A dialogue with Gabriel Marica at Perpetuum Mobile
Monday, 14 June 2021 , ora 14.47

Ladies and gentlemen, I have the pleasure to have as my guest in the Radio Romania Muzical studio the cellist Andrei Ioniță. Welcome!
Thank you! I am very happy to be back in the country and in the Radio Romania Muzical studios!

On Sunday, June 13th, you will perform the first public recital of 2021, from the project "Musical Heirs of Romania". First, I'd like to ask you how this period of restrictions has been for you?
I should add that this recital is the first audience recital I will be playing in 2021. I think the answer also applies to the question you asked me. Obviously it was a time that somehow we all want to forget, to wipe away with a sponge. Time has stood still for our branch, for our field, but at the same time, I still had a few opportunities for which I am grateful, such as this appearance on Arte TV with Daniel Hope and Daria Tudor, who will be singing with me next Sunday. And I would also mention the fact that I finally had time to dedicate myself to studying the piano, which is why two weeks ago I had an extraordinary experience at the Philharmonic in Brasov, where I ventured to play two different concerts in two different guises - both as a cellist and as a pianist. I started the concert with a Mozart piano concerto, Concerto No. 23, and ended the whole tour de force with Haydn's Concerto in C major for cello and orchestra.

How did you feel on stage?
How did I feel on stage... the first moments were terrifying though.

Why?
Because the last time I played the piano, I think I was 15, I had a debut recital, my first recital - I played the whole evening - at the Conservatory in Bucharest.

Only on the piano?
The cello. But in that recital I also included two piano pieces. I really missed this first love. Listeners probably already know that I started studying the piano when I was 5 years old and didn't take up the cello until 3rd grade. Obviously the cello became my first love, but chronologically, the piano is my first. For me, it's not necessarily about the ability to play another instrument as much as the repertoire possibilities and finding this new way of musical expression that the piano offers me. I like to find myself in the world of sound, and if I feel able to express myself in ways other than on the cello, I do so with great pleasure every time. What can I say... obviously I was extremely nervous, but I was also happy, and grateful, and full of energy and it was a beautiful concert.

It was a concert with audience, right?
First orchestra and audience concert of the year for me.

And how did the audience receive you as a pianist?
The audience was so welcoming and warm! It was really a great pleasure!

It's been a tough time, as you said a little earlier. You mentioned Daniel Hope's project, but I'd like to mention that you performed a recital with the legendary Martha Argerich, didn't you? How was it with her on stage?
Martha Argerich... Happy birthday on this occasion! (She turned 80 on 5 June!) is an artist who exudes energy. Even in her music, no sound is the same... it's as if she never has a state, everything is in constant motion. And for me, this was really fascinating and gave me energy and somehow a freedom to express my fantasy in turn.

Because you were talking about the piano, now I have to ask you... Has the cello found a rival in Andrei Ionita's artistic life?
It depends on the number of concerts as a pianist.

A career on the rise, Andrei Ionita, for you. Everyone knows you as the first Romanian to win the Tchaikovsky Competition in Moscow. People you have met, very important people - I mentioned Martha Argerich, I mentioned Daniel Hope... but also the conductor Valery Gergiev is a landmark in your career. I'd like you to tell us what that means to you.
First of all, it is commendable the initiative of Maestro Gergiev in the whole organization of the Tchaikovsky Competition, because after the end of the competition there are already clearly established concerts for the winners of each edition. Well, this is not the case in all international competitions, at least in these years. For this I am extremely grateful. Thanks to him, I have performed at Carnegie Hall in London, at the George Enescu Festival in the company of the Munich Philharmonic and also in the company of the Munich Philharmonic at the Gasteig and the Musikverein in Vienna.He's also one of those conductors that if you meet them in person they're not necessarily arrogant, they seem down to earth. I can share a secret with you, he answered my New Year's message this year. Yes, I was really surprised because he is so busy and I didn't expect him to reply to my text. However, he made the time and did it.

Great! Small gestures mean so much! Your discography so far includes one solo album, the 2018 one.
Yes, and a trio album.

Do you have any such projects in mind for the future?
Yes. There are a few projects that have already been registered and I hope to bring them to market in the near future. Just last week I recorded Ernst Dohnanyi's Konzertstuch with the Rheinland-Phalz Philharmonic Orchestra. It was a wonderful project. I took a trip to Germany last week and now I'm back in the country for more concerts.

The guest in the Radio România Muzical studio is the cellist Andrei Ioniță, who on Sunday, June 13th, will perform a recital as part of the project "Musical Romania's Heirs" organized by Radio Romania Muzical and Rotary Club Pipera, a recital, finally, with an audience. Please tell us something about the works you have chosen for this recital!
First of all, I am very grateful to Radio România Muzical and Rotary Club Pipera for this invitation. Two years ago I participated in this season. And, because June 13th has a less positive historical connotation in the recent history of Romania and Bucharest - it coincides with the "mineriad", we thought of centering this recital around the theme "Freedom".
The recital follows a narrative thread. It begins with an evocation of nostalgia and a sadder time full of drama through Paul Constantinescu's Old Song, followed by Dmitri Shostakovich's Sonata. Shostakovich is one of my favourite composers and his heartbreakingly profound music touches the hearts of listeners every time. After that, we'll play another work also from this first part with a slightly sadder aspect, In memoriam by Dan Popescu. Then we will end this concert in major, sunny and hopeful tones, because this recital is about freedom, with Ludwig van Beethoven's Sonata III in A major for cello and piano.

So, there is light at the end of the tunnel!
Yes. I think this narrative thread somehow also fits the times we live in, and especially this summer which seems to be looking a bit more promising than last summer and the year we went through.

You collaborated with the pianist who was your classmate during your school years, Daria Tudor. Is she the ideal partner for you right now? I mentioned earlier that you played on stage with Martha Argerich, for example.
I don't know if there is an ideal scene partner. There are many people with whom I collaborate with great pleasure. Two years ago I played with Naoko Sonoda, also a fantastic pianist with whom I have played on many stages around the world. A few weeks ago I know that she also won the prize for the best performance of a George Enescu sonata at the George Enescu International Competition.Daria, too, I've known her for so long, we've often performed together as a trio and as a duo, like on Daniel Hope's show. She is an extremely serious pianist and musician; she has such a depth of playing and a delight in learning repertoire, accumulating, collaborating with as many wonderful people as possible. This also works for him in Berlin. I'm not Daria's only collaborator. She has an absolutely wonderful career developed over the last few years. And, yes, for this recital I think it's a perfect combination.

What's next for Andrei Ionita after Sunday's recital?
Next Thursday, June 17th, I will play with Daria and violinist Ioana Cristina Goicea the Beethoven Triple Concerto at the Iasi Philharmonic. It will be the end of their season. Also, on 25 June I will play the Rococo Variations (by Tchaikovsky) at the Cluj Philharmonic, in a concert conducted by Gabriel Bebeșelea. I am very happy to finally collaborate with him.

You've never collaborated before!
We were discussing several concert dates that were postponed by the pandemic. And now, finally, I'm making my debut with the Cluj Philharmonic Orchestra. From there I'll go on to give a masterclass in Malaga, Spain. And in July I have quite a few concerts in Germany.

You will be reunited with the audience in your hometown on Sunday, and on the waves of Radio Romania Muzical, everyone who listens to us will hear you. I would like to ask you to invite them to your recital, Andrei Ionita!
Good evening to all Radio Romania Muzical listeners and to all music lovers in Bucharest and in the country! I return every time with the greatest pleasure in the country and, especially, on the stage of the Radio Hall. I have the feeling that every concert I play in the country and especially in Bucharest is charged with a special energy. I feel a constant tingling in my spine every time I go on stage and see so many people I know. It is every time an experience that somehow gives me a lot of comfort, but at the same time it seems to charge me with an almost electrifying energy. I find this mix fascinating every time. I want to encourage audiences to come back to the concert halls. From my experience and from last summer, for example, when certain restrictions were lifted in parts of Europe, you can safely come to a concert hall to listen to music. Even I missed not only the experience of playing on stage, but of sitting in a concert hall and hearing that natural sound of an instrument, of a human voice. There is nothing like that live experience in a concert venue.

Good luck on Sunday night!
Thank you.
Interview by Gabriel Marica
Translated by Dărăban Denisa,
University of Bucharest, Faculty of Foreign Languages and Literatures, MTTLC, year I
Corrected by Silvia Petrescu