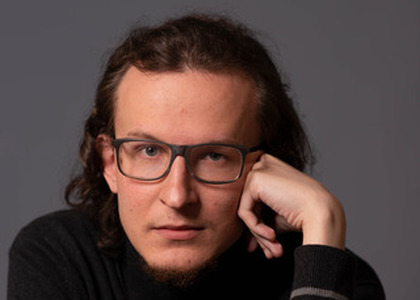 Interview with the pianist Daniel Dascălu
Thursday, 17 June 2021 , ora 22.10

The last recital on Tuesday evening takes place on the 15th of June, in the "Sala Mică" of the Romanian Athenaeum.Daniel Dascălu will be in the limelight, who will be interpreting pieces written by Claude Debussy, Franz Liszt and Franz Schubert.
The piece I will be playing on Tuesday evening is indeed the first piece belonging to Schubert that I have tackled in my career as a pianist. It is the piece that expanded my appetite for this music and, thanks to it, I could emerge in this breath-taking world of "Schubertian" music. I am thrilled to be able to play it again on stage.

Given the effort that you put into studying these sonnets of Schubert's, how did the planning for the concert on Tuesday go along? What connects the pieces we will be listening to?
For this recital, I thought of including a series of symphonic poems for piano, of various lengths and styles, beginning with the very intense preludes of Debussy and "The Study for Five Fingers", which is more of prelude rather than a very technical study, and continuing with Liszt's great symphonic poem for piano, "Obermann's Valley"-a description of art through a different art. In this piece, Liszt describes his emotions after reading "Valléed'Obermann" by Étienne Pivert de Senancour; he manages to create an impressive musical work: a description of a literary creation through music. Schubert's sonnet is, in its turn, akin to a series of poems, of lieder which are connected similarly to a lieder cycle. Lieder cycles are perhaps the most representative musical style for Schubert's compositions.

The recital will have a public, half of the capacity of the hall. How did this lack of contact with the public affect you over the course of the last year?
It has been a rough time, I admit. It is very difficult to find the motivation to study. This can become the main issue, if there are no prospects of future recitals, concerts, and so on. I am very glad that things seem to be taking a turn for the "normal" and I am eager, again, to be playing at the Athenaeum on Tuesday evening.
Interview by Petre Fugaciu
Translated by Grigoruță Ioana,
University of Bucharest, Faculty of Foreign Languages and Literatures, MTTLC, year I
Corrected by Silvia Petrescu