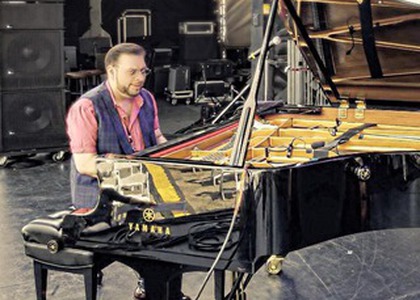 Interview with pianist Sorin Zlat
Saturday, 24 July 2021 , ora 16.27

On Thursday, June 24th, a concert will take place on the stage of the Radio Hall.The soloistis the pianist Sorin Zlat. He will perform together with the members of the Big Band Radio, led by Ionel Tudor. The guests of the evening will be double bassist Mike Alex and double bassist Iulian Nicolau. We learn more about the event from pianist Sorin Zlat:

It is a new program for the Big Band Radio as well, but it showed a great professionalism and the rehearsals exceeded my expectations. And, indeed, it is the first concert with audience. I mean, I can't wait to feel the energy I felt at concerts again. It will probably be even bigger/more impressive after such a long break and I am looking forward to perform at this concert.
Thursday night's program will include compositions of mine that will be on the next album. I will play them in the combo formula, with Mike Alex on double bass, Iulian Nicolau on drums. I will also have the saxophonist Cătălin Milea from the Big Band Radio invited to the combo. With the Big Band I will play some known song, but also a composition of mine, which was arranged by a great Italian double bass player living in New York, Gianluca Renzi. I collaborate a lot with this musician.He arranged for me a composition called Involution; in fact, we worked on the arrangement together. I will also sing a composition by saxophonist Woody Witt, also a musician I collaborate with; I collaborated with him on the tours I had in America. It will be a very complex program.

What can you tell us about this album?
I promised to release the album for a while and ... it was very hard. This year, due to the pandemic, I decided to wait to performfor an audience. I wanted to release the album during this concert, but I decided, together with the record company, to wait a little longer. And in the fall, I have a promise that I'll do a concert here again at the Radio Hall, and I'll release it then.
Interview by Petre Fugaciu
Translated by Gruia Alexandra,
University of Bucharest, Faculty of Foreign Languages and Literatures, MTTLC, year I
Corrected by Silvia Petrescu