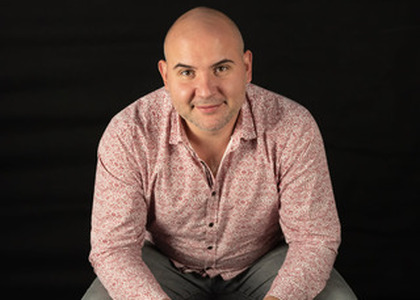 Interview with Ovidiu Andriș, interim manager of the "Banatul" Philharmonic
Monday, 18 October 2021 , ora 11.27

About the "Banatul" Philharmonic's participation in this event, as well as the current season's schedule, we have details coming from Ovidiu Andriș, the Philharmonic's interim manager:

Starting from October 1st until November 7th, the "Banatul" Philharmonic is carrying out, with the help of the Opera, the 45th edition of the "Timișoara Muzicală" International Festival. How did you come up with the Philharmonic's artistic programme for its participation in this event?
This artistic programme was created by the artistic Secretary in collaboration with the artistic Director of the Philharmonic. As you well know, I became this institution's interim manager two months ago, and my contribution lays in the adjustment of certain components in the festival, and in trying to diversify it a little, so we could have all kinds of pieces and music within it.

The concerts scheduled for this festival are part of the concept of a musical caravan, which will stop in different localities of the Banat region. Where do you plan to hold these concerts?
When Timișoara surpassed the 6 cases per one thousand inhabitants threshold for Covid, we tried to find a concept so that these recitals could take place. We thought about taking them outside of the institution and to places like Lugoj, Caransebeș, Reșița, and thus become a regional institution, just as the "Banatul" Philharmonic of Timișoara name implies. After a few days we found out we can still host certain recitals, and for now they will be held in the Banatul Philharmonic, on the philharmonic's stage, at 50% of guest capacity.

The Philharmonic's actual season will begin after the festival's closing?
The festival has been rescheduled from May to October and we've managed to celebrate the season's opening, as well as the festival's opening on October 1st. These two things happened in conjunction on October 1st, when the season premiered with this festival, "Timișoara Muzicală".

As you were saying, you've been the "Banatul" Philharmonic's interim manager for two months now. In this new temporary position, what do you plan to accomplish, from artistic, as well as organizational standpoints?
In these terms, I firstly wish to revive the audience's interest for classical music and to bring the "Banatul" Philharmonic back into the public spotlight. From an artistic standpoint, I wish to have a coherent schedule, with important names from the world of recitals, from soloists to conductors. We've already managed to schedule a few for the beginning of next year. From an organizational standpoint I want us to become a leading institution in this system's revival. We very much wish for the processes within the institution to be assimilated with those in foreign institutions.

Could you disclose some of the names of those already scheduled for the beginning of next year?
Of course. We've already discussed this matter with maestro Măcelaru and with maestro Bebeșelea for the next season. We've got important conductors that have already participated and we want a further collaboration. They hold international renown, such as Ștefan Geiger or Radu Paponiu, coming all the way from the United States of America. Next, we've been in contact with Alexandra Dariescu, who wishes to play in Timișoara, with Răzvan Popovici and other pretty important names, which are bound to bring a large audience to the concert hall.
Interview by Florica Jalbă
Translated by Bianca-Maria Ciucașu,
University of Bucharest, Faculty of Foreign Languages and Literatures, MTTLC, year I
Corrected by Silvia Petrescu