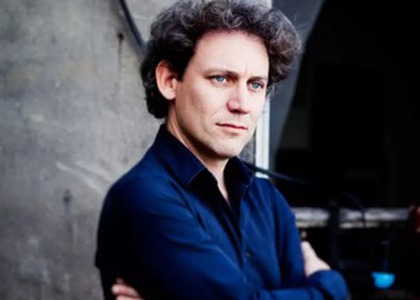 Interview with violinist David Grimal
Thursday, 21 October 2021 , ora 15.47

On October 20th 2021, Radio Chamber Orchestra's season will have its debut tomorrow, with an opening concerto where violinist David Grimal will perform as both soloist and conductor. After his concerti during the George Enescu International Festival and Competition, the musician will come back to Romania to perform a complete Beethoven program. More details on David Grimal's performance in the following interview.

Mister David Grimal, what were your thoughts and feelings on receiving an invitation to come back to Romania to perform the opening concerto for Radio Chamber Orchestra's season?
I am really happy to be here and work with musicians. Given our fight against this virus, I think this type of work is important during these difficult times for Romania, times that France and other countries might experience again. Moreover, it is also important that music is alive, that events are not banned again, and that musicians are performing and showing the world how valuable music is, for us and for the audience.

We were able to see you perform during the concerti of this year's George Enescu Festival edition, as both a soloist and conductor for the Les Dissonances orchestra. Are you going to have the same double role on Sala Radio's stage? Double role which became the norm for you in the collaboration you have with the orchestra above-mentioned, whose founder you are. How do these two roles fit together while performing?
I am a particular conductor, because I am not conducting. I am doing the work of a conductor, but I want the instrumentalists to play as if we're performing chamber music, so I am sitting among them. This is always an interesting experience when I start collaborating with a professional orchestra that is not used to work like this. At firs they are curious and confused, but in one day, as we've been rehearsing since yesterday evening, it is wonderful to see how things evolve, instrumentalists listen to each other and establish relationships, they commit to the piece and play it better, which is amazing. This is a psychological matter because many of them heard of Les dissonances, and that allows them to be open-minded and believe that the result can be amazing. That brings them a lot of happiness.

The program you will perform consists solely of Ludwig van Beethoven pieces, namely the Concerto in D major for violin and orchestra, and Symphony No. 7. How do you feel about these pieces?
I frequently play these pieces, so of course, the Concerto for violin by Beethoven is one of the most remarkable pieces, and I always have a different experience playing it. For me, this is a very important piece. And actually, the Symphony No. 7 is one of my favorites. It is a marvelous piece.
Interview by Alexandra Scumpu
Translated by Monica Andreea Găman,
University of Bucharest, Faculty of Foreign Languages and Literatures, MTTLC, year I
Corrected by Silvia Petrescu