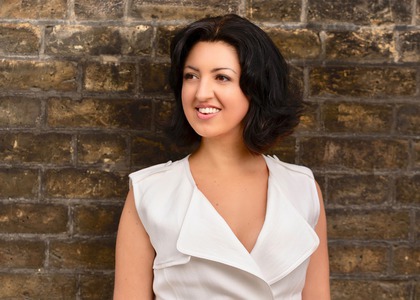 Interview with pianist Alexandra Dariescu
Thursday, 28 October 2021 , ora 20.29

Pianist Alexandra Dariescu is currently in Detroit preparing the American premiere of George Enescu's Piano Concerto with conductor Eric Jacobsen and the Detroit Symphony Orchestra. Details about the concert on the 29th of October and the next events on the artist's agenda can be found in the following interview with Alexandra Dariescu.

On the 18th of October you performed the German premiere of George Enescu's Piano Concerto, which you will also perform in its American premiere with the Detroit Symphony Orchestra on the 29th of October. How did you discover this concert? How would you describe it?
The last few years there has been a lot of research and, especially during the pandemic, a lot of research. And I had the extraordinary opportunity to discover this concert. I discovered it a few years ago when it was played in Cluj-Napoca. I was performing with Gabriel Bebeșelea and the Cluj Symphony Orchestra and I heard this concert which I understood was then a world premiere. I was very fascinated by Enescu's writing... who, although he wrote this concert at 16, had an extraordinary musical language that really fascinated me and I said I really had to learn this concert. It's only an excerpt, it's Part I; I understand it's a draft of Part II, which has not been edited, cannot be edited. But, this concert part is extraordinary in combination with Clara Schumann's Concerto. Clara also wrote her concerto at 16 and it's a very nice connection. Musically, first of all, these two concertos go together extraordinarily well, and the age of these composers... to both write at 16... is extraordinary! I am so glad that the Detroit Symphony Orchestra and conductor Eric Jacobsen have accepted this beautiful musical combination. We will have three concerts in Detroit - October the 29th, 30th and 31st - and I am very happy to share with all of you the second concert on Saturday, October 30th. It will be streamed on the Detroit Orchestra's website, so everyone will hopefully be able to log in and watch this concert.

What are some of your upcoming plans?
My agenda is very busy. Honestly, I thought at the beginning of September, when all the concerts began, that it would be nice and easy to get back on stage after the pandemic. But really, there have been six really busy weeks! Of course, I came back to the George Enescu Festival and was so happy to see my musical family back home. I had my debut in Finland with the Turku Orchestra, where I played Nadia Boulanger. Then I was in Finland again with the Lapland Chamber Orchestra, which was amazing. And I had 24 hours notice to step on stage at the Royal Albert Hall again; that was the fourth time I've been there and performed the Rahmaninov Concerto No. 2. Now, I thought it was going to be so nice and easy working, but, look, now after Detroit I'm going back to Germany, where I'll be performing the Clara Schumann Concerto again with the Wurttembergische Philharmonie Orchestra in Reutlingen. Then my Nutcracker project, which I'm taking on tour to Germany and the UK. So there's a lot of nice activities... I'm also coming back to the UK for a solo recital... I can't wait to get back to normal even more!
Interview by Alexandra Scumpu
Translated by Lenuța Bejenaru,
University of Bucharest, Faculty of Foreign Languages and Literatures, MTTLC, year I
Corrected by Silvia Petrescu