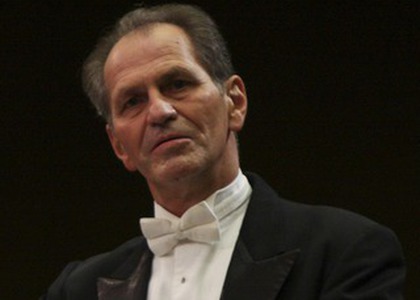 Interview with conductor Cristian Mandeal
Monday, 1 November 2021 , ora 13.44

The 1st of November, when Radio România celebrates its 93 anniversary, is marked tomorrow night by a concert of the National Radio Orchestra. Along with the ensemble, the pianist Constantin Sandu and the conductor Cristian Mandeal will be on stage, from whom you will find details about the importance of the moment and about the evening program in the next interview.

Mr. Cristian Mandeal, you will be in charge of the National Radio Orchestra in the concert that celebrates the 93rd anniversary of the founding of Radio România. As someone who is always close to the ensemble, what is it like to return to the stand at this anniversary?
I have always enjoyed coming back in front of these two orchestras- the big and the small alike- and of course, I found them very prepared, very willing, with enthusiasm, they enjoy singing, they are engaged, they are interested, they are very involved in the program of this concert.

You have included in the concert program a musical work by Filip Lazăr, Music for radio op. 18, which we rarely have the opportunity to listen to in concert. How do you describe it?
It is a dynamic musical work, extremely spectacular, in the end, a neoclasic musical work, and in terms of language, Filip Lazar lived in the first half of the 20th century. It was influenced by the French composers of the era, who lived in Paris, such as, Honegger, Brussels, the pleiad of the six composers. In a way, the musical work is written in this language, but it also has evocative moments of Romanian melodicity, in the slightly slower parts.In perspective, however, it is a dynamic musical work, as I said, with two moments of inner breath. Extremely difficult, I would say for the orchestra, with a high coefficient of virtuosity, but also of spectacular nature.

The evening program continues with Concert no. 21 in C major for piano and orchestra by Wolfgang Amadeus Mozart, performed by Constantin Sandu. What can you tell us about collaborating with the musician?
We have rarely saw each other during our careers, but nevertheless, I remember other meetings, right here on the Radio stage, about 25 years ago and then in Portugal with another orchestra, where we happened to collaborate being both invited to the same orchestra from abroad. He is a pianist of great seriousness, style, culture and of course the meeting with him will make us all happy. The program ends with Beethoven's 2nd Symphony in D major, a great work, great musical content and maturity, somehow preceding the 3rd, Eroica, in any case making a big leap forward from a dramatic point of view compared to the first symphony, which is a musical work of great brilliance and with a festive look, as befits the chosen moment, the celebration of your institution.
Interview by Alexandra Scumpu
Translated by Alexandra Gruia,
University of Bucharest, Faculty of Foreign Languages and Literatures, MTTLC, year I
Corrected by Silvia Petrescu