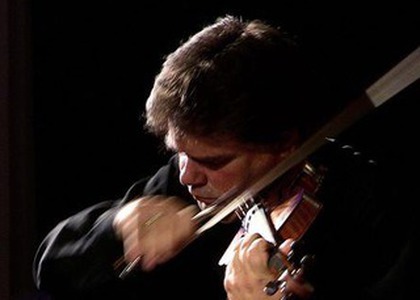 Interview with violinist Gabriel Croitoru
Tuesday, 2 November 2021 , ora 19.24

National tour "Enescu's Violin" returns with the 10th edition with four recitals that will take place between the 1st and 6th of November 2021. On the stage with be the violinist Gabriel Croitoru - soloist of Radio Orchestras, who is playing on the Guarneri del Gesu violin, the Cathedral, next to the pianist Horia Mihail.
More details will find from violonist Gabriel Croitoru:

A month ago, we were talking about the tenth edition of the Tour Duel of the violins. Now, another national tour that you are developing has reached the tenth edition: Enescu's Violin. With what thoughts are you opening this anniversary series next to your stage partner, the pianist Horia Mihail?
With good thoughts, with opening thoughts that we are hoping for - us, as interprets on the stage, but also the audience, as, I am sure. Having only positive reactions in this way. Everyone wishes that everything to come back to normal as soon as possible. In this idea, we didn't even discuss. We continued, even though the pandemic hasn't allowed us. That is the reason why this year edition is a little bit narrowed. But, going further hoping everything will be better.

You will concert in 4 cities - Deva, Brașov, Slatina and Caracal. Three of these cities were also included in the calendar of Duel of the violinis. How is the public from these cities that you chose to come back?
The best reason is that the public is extremely warm and eager for good music, and we decided to offer them good quality music. And then, here we are again, even though these cities haven't appear on our cities list… showed up - Deva, Alba Iulia - all kind of places that we wouldn't think we will go. It seems like this pandemic opened some doors for us.

Mozart, Beethoven, and Brahms are composers that appears on the program of Tour Enescu's Violin. What is the concept that stood at the base of choosing sonatas from the program?
If in the previous editions we thought of offering parts of a wide variety, this time me and Horia decided to create a program of sonatas, from which, two of them are very popular - is about Spring Sonata by Beethoven, with which we will be closing the program and Second Sonata by Brahms. Mozart Sonata is in B-flat major, and I don't know how much is this known, maybe only melomaniacs that usually comes in the concert halls, but is a wonderful work, good enough to complete the program that we consider to be very beautiful.
Interview by Florica Jalbă
Translated by Laura-Elena Dobrin,
University of Bucharest, Faculty of Foreign Languages and Literatures, MTTLC, year I
Corrected by Silvia Petrescu