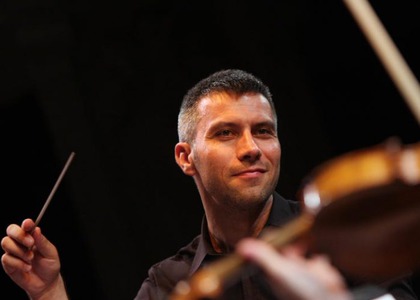 Interview with Conductor Tiberiu Soare
Thursday, 4 November 2021 , ora 19.51

Tomorrow, the 3rd of November 2021, the Radio Chamber Orchestra will perform a concert on the stage of the Radio Hall under the direction of conductor Tiberiu Soare, with cellist Răzvan Suma as soloist.
More details from conductor Tiberiu Soare:

Wednesday evening you will be at the helm of the Radio Chamber Orchestra for a concert taking place in the week in which Radio Romania celebrates its 93rd anniversary. So, an evening with a certain emotional significance. How do you see this anniversary?
Every anniversary of public Radio has been a source of joy for me, ever since I've had, in one way or another, a connection with the activity of Radio Musical Groups, so I'm very happy. I wish Public Radio Happy Birthday! and a lot of energy to carry out the mission it has for society, which is often not an easy one, as we can see nowadays. But, in any case, for me it is an honour and I am very happy to be on the stage of the Mihail Jora Concert Studio that evening.

Classical and contemporary are the elements that make up the evening's agenda. A famous concert by Haydn, with the cellist Răzvan Suma as soloist, a symphony from Mozart's early work and, last but not least, the work that actually opens the concert - the Suite from Codex Caioni in the version for string orchestra signed by Dan Voiculescu. What were the ideas behind the conception of this programme?
We tried to combine the two styles, so to speak. It is very true that Dan Voiculescu's work for string orchestra, Codex Caioni, dates from 1996. It can be considered contemporary music, can't it, but at the same time, the reference it makes is to a 17th century past. We are of course talking about a work inspired by that collection of the Franciscan monk IoanCăianu. He had set up a printing press in Transylvania, at some of the Franciscan monasteries there. Moreover, he had started printing manuals at those printers, manuals that were appreciated pretty much all over this area of Eastern Europe and the Balkans. So, the work of the monk IoanCăianu is one that brought a lot of value to culture and education in general in that area at that time. It is a double homage, if you like - it is on the one hand to this man, IoanCăianu, and on the other hand, it is a homage to Dan Voiculescu, a master whom I had the privilege of knowing before his too early death. It is also a tribute to him, because I have very beautiful memories of the first time I conducted this work, with the Radio Chamber Orchestra (but it was somewhere in 1999 or 2000). As for the other works, the Symphony in A major No. 29 is one of the most famous symphonies of Wolfgang Amadeus Mozart's early work. The composer was 18 years old when he wrote it, he was of course in Salzburg. It is a symphony that has deservedly earned its reputation. It is one of his most famous works, as I said, because of a very concise style, a somewhat late rococo style or a certain language. The setting can already be seen, the setting of a certain language that points towards early classicism. This transition zone between late rococo and the first creations that we can consider truly classical has always been a fascination for me in terms of repertoire. Joseph Haydn's Concerto No. 1 in C major for cello and orchestra is also in the same realm. There was some doubt that it belonged entirely to Joseph Haydn. These doubts have since been dispelled. Yes, we are dealing with a work in its entirety by Joseph Haydn. An entry has been found in his thematic catalogue, written in his own hand, in which the theme of this concert appears in 1765. In other words, it was at the court of Estherhazy and it seems that this concert was played by Josef Weigl, who was the first cellist in that exceptional orchestra where Joseph Haydn was chaplain, at the court of Prince Estherhazy.
Interview by Florica Jalbă
Translated by Andreea Grințescu,
University of Bucharest, Faculty of Foreign Languages and Literatures, MTTLC, year I
Corrected by Silvia Petrescu