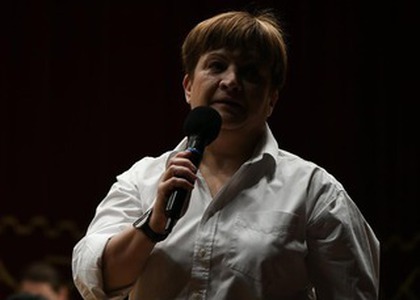 Interview with Cristina Sârbu, about the debut of the 2021-2022 season, "Classical is fantastic"
Monday, 15 November 2021 , ora 8.56

A new season, "Classical is fantastic", starts on Saturday, November 13th. Cristina Sârbu, the coordinator of this project, talks to us about the debut of this season.

"Classical is fantastic. How to understand music" Finally, we are opening the season, as our season, the 11th one, should have started with a contradiction on Saturday, October 23rd, with "PetruGhenghea" Engineers Orchestra, but the concert had to be suspended for objective reasons well-known to everyone. I am glad that I can now announce what should have been the second concert of the season. It is a very attractive program, which brings together famous songs from musicals known all around the world, interpreted by, you've guessed it, beautiful and talented young people who were noticed during the first edition of the National Contest for Musicals, the first event of this type in Romania, organised in August this year by the National University of Music Bucharest through the Institutional Development Fund. Indeed, it was a very, very interesting initiative, and Laura Gabriela Oana, MirunaDascălu, Sidonia Doica as well asCătălin Petrescu, Andrei Ciorcâleaand the pianist Raluca Ouatu will present a selection of the most popular and beloved musicals. "Chicago", "Cabaret", "Les Miserables", "Mary Poppins" are a few of the currently legendary scores from which the very young performers chose to sing well-known arias, highly appreciated by the public everywhere. When? Saturday, November 13th, 11 AM, at the Romanian Athenaeum, "Classical is fantastic. How to understand music". Tickets have already been put up for sale at the ticket office of the Romanian Athenaeum ticket house and online.

Can you tell us a little bit about the following events as well?
Gladly, because exactly 10 minutes ago I had a phone call with Marin Cazacu who, no more, no less, proposed to me to have a full rehearsal of a concert which he will hold in Dubai with the National Youth Orchestra and the maestro Bebeșelea, and do the rehearsal of this concert for "Classical is fantastic"on December 4th, at 11 AM. We have already had full rehearsals that we have received from the National Youth Orchestra as well; from the maestro Mandeal, for instance, we've had even two, and their success has been quite remarkable because the youngest music lovers to say so can cast a look behind the scenes, behind the closed doors, and see how a full rehearsal is done, where you stop and still correct something - you have almost everything done, for sure, but there is something to improve every time. So the next "Classical is fantastic" concert (and now the "How to understand music" name is really fitting) will be a symphonic one, on December 4th, at 11 AM, when the maestro Bebeșelea will conduct the National Youth Orchestra.
Interview by Petre Fugaciu
Translated by Camelia Diaconu,
University of Bucharest, Faculty of Foreign LanguagesandLiteratures, MTTLC, year I
Corrected by Silvia Petrescu